(860) 455-4969
In Manchester, CT, there are a number of events that can result in damage to commercial buildings, such as  blizzards, vandalism, hurricanes, springtime floods, heavy winds, and more. When they occur, property owners may be forced to shut down or limit operations for an unknown period of time and pay for needed demolition and restoration services.
At ServiceMaster by Mason, we offer comprehensive commercial restoration services in Manchester, CT to get you back in business swiftly, cost-effectively, and with quality results. We are available 24 hours a day, 7 days a week to take your call and respond swiftly to limit the extent of the damage and costs.
Fire and Water Damage Restoration Manchester, CT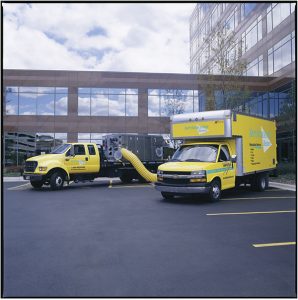 While we are qualified to respond to a number of emergencies, one of the most common situations that we address is water damage. Major storms, burst pipes, sewage backups, and similar events can all lead to water damage. When they occur, your building and its contents are at risk of sustaining permanent damage. At ServiceMaster by Mason, we offer the services of our highly trained technicians to provide water damage restoration from your commercial property and restore affected areas and belongings.
Similarly, many property owners are affected by fire damage, smoke, and soot. While the fire can damage your building and belongings rapidly, its resulting smoke and soot can cause etching and corrosion for days following the event. We provide proper treatments and reconstruction services to fully restore your commercial property.
Business Disaster Recovery
No matter the size of your operations, we have the unique capability to help, including helping your business create a Disaster Continuity Plan, with our FREE "Pre-Loss Planning Guide." We offer these services to the following facilities and more:
Office buildings
Hospitals and other healthcare facilities
Universities and schools
Small to large stores and warehouses
Government buildings
Manufacturing facilities
Garages and Storage facilities
Apartment buildings and Condo complexes
Commercial Disaster Restoration
At ServiceMaster by Mason, we make use of state-of-the-art equipment, products and procedures to return your property and belongings back to their original condition, and minimize interruption. While we rebuild and restore your building and equipment, we can improve your building's indoor air quality, and utilize powerful deodorizers to eliminate any lingering odors. Additionally, we will address any hazardous elements that have appeared following the property damaging event (such as mold and mildew).
Immediate Response
At ServiceMaster by Mason, it is our goal to provide you with superior quality and peace of mind. Through our commercial restoration services, we do this by restoring your building and belongings efficiently, and with high quality. To learn more, or to schedule emergency services, contact our representatives at (860) 455-4969. We are available 24/7, and are proud to assist those in need in and around Manchester, CT.
---
Related Commercial Restoration Services:
Commercial Restoration Westerly, RI
Commercial Restoration Company Providence, RI
Commercial Disaster Restoration Warwick, RI
Commercial Restoration Services Waterford, CT
Commercial Restoration Contractors in Hampton, CT
March 12, 2021
David Lucchesi
Charlestown, RI
December 10, 2020
Corrine Brzys-Mihlek and John Brzys
Somers, CT
We were so relieved to have actual professionals taking care of our mold find, especially after we inquired about a couple "treatment plans" from other companies. Ryan came in with his gear and showed us the real deal the others missed (like, 98% of the mold). He took air samples to send out. He had a logical plan forward that we felt absolutely positive about. This team made the others look like clowns and charlatans. We were thoroughly informed of what was being done and why, and I actually felt safe in my own home. There were many layers of inspection and testing, yet it was all done quickly. I'd recommend anyone with a mold problem to seek this team immediately. You'll be wasting your time and money with anyone else!