(401) 622-4156
Sustaining severe property damage in your workspace or business building can be overwhelming. It can not only disrupt your daily work activities but cost your company a fortune in time and repair costs. While there are numerous types of natural disasters in which can leave your building in a devastating condition, it is imperative to have it restored as soon as possible in order to limit the spread of the damage.
These damages can include destruction from water, fires, mold, mildew, storms, hurricanes, flooding, and more. After ensuring that all of your tenants have safely evacuated the building, it is essential to call a commercial disaster restoration company right away. ServiceMaster by Mason has years of experience in repairing business buildings and schools from severe property damage. We are available 24/7 in Warwick, RI to not only restore the damage, but secure the area to prevent it from spreading. We can also improve the indoor air quality in which will increase worker efficiency and productivity.
Commercial Restoration from Disasters
Upon experiencing a disaster in your workspace, it is most important to begin the restoration work as soon as possible. Therefore, any hesitation in initiating the repair process can result in higher costs and further interruptions in work activities. ServiceMaster by Mason understands that you and your employees need to get back to work as soon as possible, which is why we work efficiently and effectively to have the damage restored right away.
Our technicians use advanced cleaning products and equipment that are guaranteed to handle disaster restoration cases of all sizes. Finally, calling us immediately upon sustaining significant damage to your commercial property is the most efficient way to save time and repair costs.
Creating a Healthy Work Environment Through Disaster Restoration
While the restoration process must be started right away in order to waste time and money, guaranteeing the safety of everyone affected by the property damage is the first priority. Be sure that all tenants and employees have evacuated the building safely before calling restoration services. It is also essential in restoring clean air within the property as the damage may have produced smoke or mold odors that must be removed completely. Finally, by restoring a healthy working environment, you and your workers can return to work knowing that it is safe and sanitary.
Our commercial disaster restoration services restore the following types of properties:
• Office Buildings
• Schools/Universities
• Corner Stores
• Retail Stores
• Government Buildings
• Garages
• Healthcare Facilities/Hospitals
• Manufacturing Facilities
Commercial Water Damage Restoration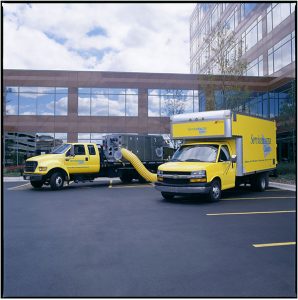 Although it does not always cause the most destruction, water damage can be the most frustrating type of natural disaster. Because it is derived from numerous sources, it can occur at anytime, anywhere, and without warning. Common sources of water damage can include flooding, thunderstorms, burst and frozen pipes, sewage backups, sprinkler head breaks, and more. But if not treated right away, it can spread quickly and even result in mold growth and permanent damage.
This makes it important to call ServiceMaster by Mason immediately for emergency commercial water damage restoration services in Warwick, RI. Our technicians not only have years of experience in restoring commercial properties from water damage, but they undergo frequent training in order to remain updated on the latest techniques and drying equipment. Finally, our techniques and equipment allow us to be prepared to handle any size water loss for commercial properties.
Commercial Fire Damage Restoration
As property fires can be extremely overwhelming to experience, it is most important to remain calm in order to limit costs and repair time. While many property owners believe that once a fire has occurred, their building and belongings have become lost forever. However, ServiceMaster by Mason will restore many of the damaged building materials and content with emergency fire damage restoration services. As long as we are called right away, we will not only restore the damage but prevent it from spreading. Even after the flames have been put out, the smoke and soot are left to cause etching and tarnishing within the affected materials.
In order to prevent permanent damage from the smoke and soot, we will use advanced products in order to create complex chemical reactions and completely remove the corrosive byproducts from the building structure and content. We can also restore documents, equipment, and products so you don't have to worry about important records becoming lost. This will be done with our effective content cleaning and pack out services. Finally, when called right away, our technicians will effectively restore fire damage from commercial damage, ultimately saving you time and costs in repairs in the future.
Emergency Response for Commercial Restoration
If you have recently experienced a natural disaster in your commercial building, be sure to call emergency commercial restoration services as soon as possible. ServiceMaster by Mason will not only arrive quickly to restore the damage, but prevent it from spreading. Our technicians are trained and equipped to handle commercial losses of all sizes, working quickly to get your company or school back up and running in no time.
We are available 24/7 at (401) 622-4156 in Warwick, RI and the surrounding communities.
---
Related Commercial Restoration Services:
Commercial Disaster Restoration Westerly, RI
Commercial Restoration Services Providence, RI
Emergency Commercial Restoration Services Waterford, CT
Commercial Disaster Restoration Company Hampton, CT
Commercial Restoration Company Manchester, CT
Commercial Disaster Restoration Norwich, CT
March 12, 2021
David Lucchesi
Charlestown, RI
December 10, 2020
Corrine Brzys-Mihlek and John Brzys
Somers, CT
We were so relieved to have actual professionals taking care of our mold find, especially after we inquired about a couple "treatment plans" from other companies. Ryan came in with his gear and showed us the real deal the others missed (like, 98% of the mold). He took air samples to send out. He had a logical plan forward that we felt absolutely positive about. This team made the others look like clowns and charlatans. We were thoroughly informed of what was being done and why, and I actually felt safe in my own home. There were many layers of inspection and testing, yet it was all done quickly. I'd recommend anyone with a mold problem to seek this team immediately. You'll be wasting your time and money with anyone else!