(401) 622-4156
We all know a friend or family member that simply cannot keep their living space clean; however, those affected by hoarding tendencies take these habits to the extreme. In fact, hoarding is actually considered a legitimate mental disorder because of the severe fear and anxiety felt when these individuals are faced with throwing items away.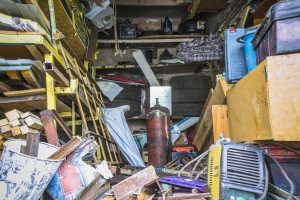 Our ServiceMaster by Mason technicians understand this, which is why we always work with compassion while providing our hoarding and estate cleaning services in Warwick, RI. We work with affected individuals to clean their homes, and return them to safe, livable conditions once more.
Problems Associated with Hoarding
The root problem in any hoarding scenario is the complicated mental challenge to overcome. Because of the complex psychological factors involved with hoarding, the resulting messes cannot be blamed on laziness or poor organization. Hoarders actually risk facing anxiety attacks in some cases, and are oftentimes too embarrassed to seek help.
If you are a friend or family member of a hoarder, we recommend bringing up the second biggest issue with hoarding, which is safety. Risks of fires, mold growth, tipping hazards, blocked avenues of escape, and poor air quality due to allergens are all common results of hoarding behaviors. When you intervene with respect and understanding, you may be saving the life of a loved one.
A third problem with hoarding is the simple loss of valuable items. Jewelry, money, important documents, family heirlooms, expensive clothing, and more can become lost or destroyed in hoarding situations. Here at ServiceMaster by Mason, we will assist you with all of these issues and more.
Hoarding Cleanup Warwick, RI

For over 30 years, ServiceMaster by Mason has been a trusted name in hoarding and estate cleaning services. This reputation is built upon our understanding of the unique factors at play when hoarding tendencies are involved, as well as our highly trained technicians, and proven approach.
We utilize a tried and true 3 phase hoarding cleanup approach:
Phase 1: Develop a relationship with the affected individual and establish trust.
Phase 2: Create and implement a cleaning plan.
Phase 3: Leave behind a cleaning schedule for the hoarder, and follow up with them and their family to ensure that it is being implemented effectively.
We fully understand the complexities of hoarding cleaning, and always make sure to allow the affected individual to lead the sanitization process. We do not want to overstep any boundaries, as this only impedes progress from being made. If needed, we also have access to therapists and social services, and can help with determining which items should be thrown away, recycled, donated, or saved.
Free Estimate
To take advantage of our hoarding and estate cleaning services, simply contact our representatives at (401) 622-4156. We are happy to answer any questions or concerns that you may have. We proudly assist those affected by hoarding tendencies in Warwick, RI, and look forward to working with you soon.
---
Related Hoarding Cleanup Services:
Hoarding and Estate Cleanup Westerly, RI
Estate Cleaning Services Manchester, CT
Hoarding Cleanup Providence, RI
Hoarding and Estate Cleanup Hampton, CT
Hoarding and Estate Cleaning Services Waterford, CT