When the outside temperatures drop below freezing, New Englanders know all too well the challenges it can cause inside our homes and businesses, like frozen and burst pipes and sprinkler heads. When temperatures dip, the ice within the pipes expands and pressure within the pipe builds, significant water damage to the surrounding areas, furniture, and belongings. And while burst pipes are common in the winter, they unfortunately, can happen at your home or business at any time throughout the year.
ServiceMaster by Mason provides burst pipe water damage restoration in Norwich, CT to restore the water damage caused by a burst pipe.  Our technicians will ensure that the water is removed as well as thoroughly dry and restore the affected areas.
How to Prevent Frozen Pipes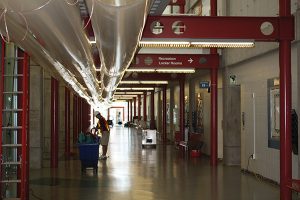 The cold winter weather of the northeast can easily cause pipes to freeze.  The best thing you can do is take simple steps to prevent your pipes from freezing and avoid costly water damage.  You can help prevent frozen pipes by doing the following:
Turn on faucets so that water trickles out. Keeping the water within the pipes moving will decrease the risk of frozen pipes.
Keep cabinet doors below the kitchen and bathroom sinks open to allow the heat to reach
Use pipe insulation, newspaper or electrical tape to insulate pipes in vulnerable areas.
Use a space heater to help keep uninsulated pipes warm.
Shut off your outdoor water supply and spigots, and move your garden hose inside.
Thawing Frozen Pipes
It is still possible for your pipes to freeze in cold weather, even when you take preventative measures.  When a pipe freezes, it is important to thaw the pipe immediately before it bursts and causes water to spill into your home or business.  The most common signs of a frozen pipe are low water pressure and frost appearing on the pipes.
If you believe you have frozen pipes, consider these steps to locate and thaw the pipe:
Follow the pipeline that includes the frozen pipe.
Look for pipes that are bulging or covered in frost to find the frozen pipe.
Use a hair dryer or heat lamp to thaw the pipe. Never use an open flame because this is a major fire hazard.
Remove drywall if you have to for access to the frozen pipe. This is less expensive than paying for the damage from a burst pipe.
Make sure the faucet is on to a trickle while thawing the pipe as the movement of the water will help thaw the ice.
Recovering from Burst Pipes
Any time the outside temperature drops below freezing, frozen pipes are a possibility.  Burst pipes cause such immense damage because hundreds, and sometimes thousands of gallons of water can quickly spill out and flood into your property.  When this occurs, shut off the main water supply and call our professionals to address the water damage.
Our technicians are experienced with water damage mitigation and can dry and restore your property after a pipe burst.  We will remove standing water using advanced water extraction equipment and dry the affected furnishings and materials.  We can also provide needed demolition to remove porous materials like drywall, insulation, ceiling tiles and flooring that were damaged.
ServiceMaster By Mason offers state-of-the-art technology to effectively dry properties, including our 800K BTU 5K CFM Heat Drying Trailer. This self-contained heating and drying unit runs off its own generator, creating its own heat source, and gradually warming a property to 80 degrees or more. This gradually thaws and dries frozen pipes and properties without heat, prevents further damage, and shortens the normal water mitigation and drying process, returning properties to their pre-loss condition faster, while limiting costs.
Available 24/7
If a burst pipe has caused water to spill into your home or building, call our professionals at ServiceMaster by Mason to remove the water and repair the damage.  Our water damage restoration services after a pipe burst are comprehensive as we will remove the water and moisture, dry and restore the area, and provide mold remediation if needed.
You can call us 24 hours a day at (860) 455-4969 for pipe burst water damage restoration in Norwich, CT and the surrounding areas.
---
Related Services:
Burst Pipes Westerly, RI
Burst Pipe Flood Cleanup Warwick, RI
Burst Pipe Water Cleanup Waterford, CT
Burst Pipes Flood Restoration Manchester, CT
Burst Pipes Water Damage Restoration Providence, RI
Burst Pipes Water Mitigation Hampton, CT
June 1, 2022
P.A.C.S.
Vernon Rockville, CT
More Reviews