When a home or building sustains serious exterior or structural damage from strong storms, vandalism, or a disaster, it must be stabilized to prevent further damage.  Broken windows and other openings in the exterior of a building leave it open to further damage from weather, vandals, and animals, and damage to the structural core of a building could lead to collapse.  If a disaster such as a storm, flood, or fire causes severe damage to your home or building, you need to call a professional to stabilize your property immediately.
ServiceMaster by Mason provides emergency board-up and tarping services to secure and protect heavily damaged homes and businesses in Norwich, CT.  Our technicians will ensure your property is boarded up and covered with needed tarps to secure openings and stabilize the structural core of the property.
Emergency Board Ups in Norwich, CT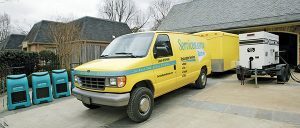 Several disasters like fires and storms can cause significant damage to a home or building, resulting in broken windows, shingles and doors and damage to the siding and roof.  These openings leave your property vulnerable as weather conditions like rain and wind can cause damage to the interior.  Your property is also open to unwanted guests such as animals and vandals or thieves that can add to the damage.  Any open spots on your home or building need to be boarded up immediately.
Our technicians have the materials necessary to effectively board up and secure damaged homes and buildings.  We will quickly cover broken windows and doors to keep the elements and unwanted visitors out.  This will also help stop the damage until your property can be rebuilt and restored.
The following are included with our board-up and tarping services:
Board up of broken windows, doors, siding, and roofing
Coverage of holes and openings
Stabilization of structural damage
Tarping over the roof to protect from wind and rain
Help with your insurance claims
Emergency Stabilization
If the damage to your home or building has caused it to become unstable structurally, it's important to act fast to have it stabilized.  Our professional technicians will ensure that your home or building is structurally stable with our board-up services.  Your property will be stabilized and secured until it can be properly repaired or rebuilt.
Available 24/7
Our technicians at ServiceMaster by Mason are available 24/7/365 to provide emergency board-up and tarping in Norwich, CT and the surrounding towns throughout Eastern Connecticut for heavily damaged homes and businesses.
You can reach us at (860) 455-4969 for emergency services.
---
Related Services:
Board Up Services Hampton, CT
Board Ups and Tarping Warwick, RI
Board Up and Tarping Services Waterford, CT
Board Up and Tarping Company Westerly, RI
Tarping Services Providence, RI
Board Up and Tarping Professionals Manchester, CT
June 1, 2022
P.A.C.S.
Vernon Rockville, CT
More Reviews