If your furniture, clothes, and other personal items have been damaged due to a fire, flood, mold, vandalism, or act of Mother Nature. ServiceMaster by Mason is available in the Hampton, CT area to provide packout, storage, and content cleaning for residential and commercial properties.
In order to have these items fully restored, we will apply our professional products to remove damage caused by the disaster, cleaning and restoring them at our climate-controlled facility.
Content Restoration Hampton, CT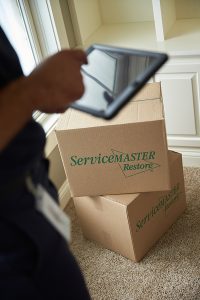 While the property structure may take on severe damage, there are many precious belongings that can also sustain damage. These can include important documents, inventory, electronics, upholstery, furniture, collectibles, antiques, and other items with high monetary or sentimental value.
ServiceMaster By Mason will have these items carefully cleaned to prevent further damage. We will also work with your insurance provider to sort through the items to determine which can be restored and those that would be more cost-effective to replace, and also donate any items to your preferred charity.
Packout Hampton, CT
If conditions from your disaster prevent the effective restoration of the content to take place on-site, ServiceMaster By Mason will carefully and professionally pack each item and create a detailed inventory that is provided to both you and your insurance agency.
Your personal belongings will then be transferred and restored at our climate-controlled facility, and even remain in storage short or long term.
While it can be deeply traumatic to find that your personal items have taken on severe damage in a natural disaster, action must be taken quickly to prevent permanent damage.
Available 24/7
ServiceMaster by Mason is available 24/7 at (860) 455-4969 in the Hampton, CT area to fully restore all damaged content to their original conditions, either on-site or at our facility.
---
Related Content Restoration Services:
Pack Outs and Content Cleaning Warwick, RI
Content Cleaning and Pack Out Professionals Waterford, CT
Content Cleaning and Pack Outs Westerly, RI
Contents Restoration and Pack Outs Providence, RI
Emergency Content Cleaning and Pack Outs Manchester, CT
December 5, 2019
Donald Madura
Waterford, CT
I have a list of likes: 1. Quick response to my request for service. 2. Competent Crew - They worked together to get the job done expeditiously. 3. Courteous Crew - they listened to and understood my needs. 4. They were respectful of my home and property 5. The finished product was excellent - The odor from the damage was gone 6. I could easily move on to the restoration stage of the damages.
More Reviews