When mold appears within a home or business, it can cause extreme damage. Mold may be growing elsewhere on your property and is able to spread its spores by dispersing them into the air and affecting new areas. As soon as you encounter mold, you should have it cleaned and removed by a professional to contain and limit damage, and prevent adverse health effects. ServiceMaster by Mason is available to provide effective mold remediation services to both homes and buildings in the Hampton, CT area.
Property Damages Caused by Mold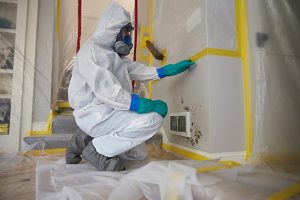 When mold develops, it is usually the result of untreated water damage or high moisture content within an area. Although it can develop on most surfaces, it is commonly found in the following areas: attics, basements, crawlspaces, behind walls, underneath carpets, showers, and other areas where moisture can occur.
Because it can develop and grow anywhere, mold only requires moisture and an organic building material, called cellulose. When mold develops, it can start to "eat away" at the building structure, causing significant damage. This is why ServiceMaster by Mason must be called as soon as possible to clean and remove mold from all affected materials.
In addition to structural damage, mold can also be a danger to everyone in the home or building, especially to humans and pets that experience asthma, allergies, or respiratory concerns. They may suffer from coughing, sneezing, watery eyes, and other breathing and allergy problems.
Mold Testing in Hampton, CT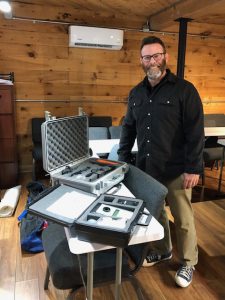 ServiceMaster by Mason's owner, Ryan Mason, is certified by the Professional Mold Inspection Institute, allowing us to conduct air quality testing to identify the presence of mold. As many types of mold may be hidden, these tests will aid in discovery and remediation process, allowing us to identify all cases, remove them, and prevent them from returning.
Our team proudly works with real estate agencies, property owners, assisted living facilities, and healthcare offices throughout the Hampton, CT area to provide air quality testing. When conducting the tests, our equipment will identify microbial growth (mold), the type of mold, and total spores/air count and determine if they are normal, abnormal and more. We will then carefully collect swab, tape, air, or bulk item samples and send overnight express to a Certified Laboratory, allowing you to receive your results quickly.
Don't hesitate to give us a call if you are concerned about the presence of mold in your home or business as we can conduct air quality testing, visual inspections and mold removal services.
Mold Removal Hampton, CT
For professional mold removal services in the Hampton, CT area, call ServiceMaster by Mason at (860) 455-4969.
Mold Remediation
While finding mold in your home or business can be frustrating, you should avoid using any home or over-the-counter remedies to remove it yourself. Any improper cleaning techniques can cause mold to spread further, and also be ineffective in removing the mold and additional mold spores.
In order to have mold removed completely from your property, call ServiceMaster by Mason. Our technicians have been IICRC-certified to use advanced products and equipment to locate and remove the mold, followed by restoring the affected area. We also use personal protection equipment (PPE) to remove it safely while preventing it from spreading.
Mold Restoration – What to Do:
Call ServiceMaster by Mason to secure the affected area and professionally remove the mold.
If there is a high concentration of moisture outside, close all windows and doors on the property.
Turn on the dehumidifier or fan to lower the moisture level throughout the home or building.
When present around mold, wear protective gear, including eye wear, gloves, and a breathing mask.
Wipe down any walls containing condensation but do not have mold growth.
Mold Cleanup – What NOT to Do:
Do not use any products to clean the mold yourself.
Do not place a fan directly in front of the mold.
Avoid all direct contact with the mold.
Do not paint or caulk over any moldy surfaces.
You can expect the following from our mold restoration services:
Mold inspection assessment
Environmental engineering controls
Restoration drying
Complete mold removal using advanced products and equipment
Packout, cleaning, and storage of affected items
Contact Us
When finding a case of mold, it is very important to test the air for the level of contamination. If you are suspicious of mold on your property, it is still recommended to call a professional mold removal specialist to identify any affected areas. ServiceMaster by Mason offers a visual inspection of all content, floors, walls, and behind walls and ceilings. If an air reading is necessary, we will also recommend an additional provider.
We are available at (860) 455-4969 in the Hampton, CT area for effective mold remediation services. 
---
Related Mold Remediation Services:
Mold Removal Services Westerly, RI
Mold Remediation Warwick, RI
Mold Removal Company Providence, RI
Professional Mold Removal Services Waterford, CT
Mold Damage Cleanup Manchester, CT
March 12, 2021
David Lucchesi
Charlestown, RI
December 10, 2020
Corrine Brzys-Mihlek and John Brzys
Somers, CT
We were so relieved to have actual professionals taking care of our mold find, especially after we inquired about a couple "treatment plans" from other companies. Ryan came in with his gear and showed us the real deal the others missed (like, 98% of the mold). He took air samples to send out. He had a logical plan forward that we felt absolutely positive about. This team made the others look like clowns and charlatans. We were thoroughly informed of what was being done and why, and I actually felt safe in my own home. There were many layers of inspection and testing, yet it was all done quickly. I'd recommend anyone with a mold problem to seek this team immediately. You'll be wasting your time and money with anyone else!
More Reviews