(401) 622-4156
Fires are always unexpected, but what could also be unexpected is the additional damage after the fire is extinguished. Therefore, smoke and soot damage can be more devastating than the fire itself. When this occurs, call ServiceMaster by Mason immediately for soot and smoke removal services in Westerly, RI.
Smoke Damage Restoration Westerly, RI
Soot is not the only damage to worry about after a fire. Smoke from corrosive byproducts and chemical emissions from burnt synthetic materials will continue to spread to areas that were not affected during the fire. Therefore, without quick and effective restoration, the damage can become permanent.  Our technicians arrive quickly to prevent damage from reaching other areas while treating affected property before it becomes permanently damaged.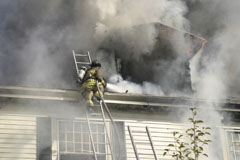 As part of our smoke and soot restoration services, we also provide tarping to help secure your home if it has sustained significant structural damage. For your personal items, we offer content cleaning and pack-out services to keep your items from facing additional damage. With that, we effectively clean, restore, and deodorize all types of personal content. In some cases, we will store your items at our secure, climate-controlled facility until the restoration process of your home is complete. We can also provide water damage restoration services for items that became drenched by the fire hoses.
Our smoke and soot removal services include the following steps:
Pre-cleaning of affected areas
Tarping and stabilization
Cleaning & Restoration of upholstery and fabrics
Deodorization (hydroxyl and ozone treatments)
Soot Removal
The majority of damage from a fire is actually caused by the aftermath, such as smoke and soot.  Smoke can become absorbed into porous building materials such as drywall and paint, therefore, compromising the structural materials.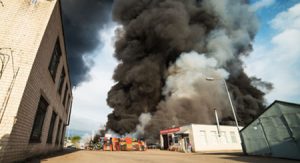 The heat from the fire also causes synthetic materials to release dangerous chemicals when burned.
This will often result in unseen damages and dangers.  Furthermore, the soot from the smoke can also spread throughout a home or building and cause tarnishing and etching to unprotected surfaces. However, ServiceMaster by Mason has the proper cleaning equipment to effectively remove soot and smoke damage from all household surfaces.  We will also remove any lingering odors from the smoke or fire with effective deodorization services.
As soon as the fire is extinguished in your home or building in Westerly, RI, call ServiceMaster by Mason to begin restoration as soon as possible.  We work quickly and thoroughly to repair and protect from soot and smoke damage before it becomes permanent while restoring your home or building to its original condition.
Available 24/7
You can reach us 24 hours a day at (401) 622-4156 for all emergency smoke and soot removal services in Westerly, RI and the surrounding communities.
---
Related Smoke and Soot Removal Services:
Smoke Damage Restoration Warwick, RI
Smoke and Soot Removal Providence, RI
Smoke and Soot Damage Cleanup Waterford, CT
Smoke and Soot Removal Contractors Hampton, CT
Smoke and Soot Cleanup Manchester, CT
September 30, 2020
M.A.D.C.
Killingworth, CT