South Pacific Environmental
South Pacific Environmental is a trusted provider of disaster restoration services in Missoula, MT.  We have been in businesses for more than 30 years and we serve homes and businesses in Missoula, MT and the surrounding areas of Missoula County.  We are a locally owned and operated business with IICRC certified technicians who are trained and equipped to provide effective disaster restoration after any type of disaster.
South Pacific Environmental began business in Vancouver, WA and also served homes and businesses in northern Idaho for 20 years before settling in Missoula, MT.  You can expect our technicians to use the best restoration methods and equipment available to ensure that all damage to your property is uncovered and repaired.  We will immediately take steps to contain and evaluate the damage which helps us create and implement an effective restoration plan.  You will have peace of mind knowing that our professionals can restore your home to its pre-disaster condition.
We provide the following disaster cleaning services: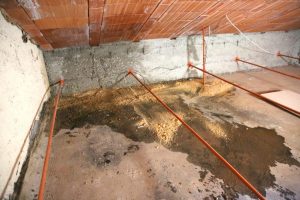 Water damage restoration
Fire damage restoration
Sewage cleanup
Mold remediation
Disinfection services
Air duct cleaning
You can call our professionals at South Pacific Environmental 24 hours a day for emergency restoration services.  We hold multiple IICRC certifications including Water Damage Restoration, Applied Structural Drying, Fire & Smoke Restoration, RRR certification, HazWoper certification, and MICRO Trend certification.  We also work with insurance companies to help with claims.
If your home or business in Missoula, MT is damaged by a natural disaster, call South Pacific Environmental at (406) 780-3848 for emergency disaster restoration services.
Water damage is almost inevitable as there are many different things that can cause water damage in a home or building.  Rain and flooding can result in water damage, but it can also be caused by things on the property such as leaks, plumbing issues, burst pipes, and sewage backups.  The reason water is such a problem in homes and businesses is because it gets absorbed into porous building materials and furnishings and spreads throughout the property.  Structural damage and mold growth can result if water damage is not addressed.  South Pacific Environmental provides water damage restoration in Missoula, MT to help homes and businesses damaged by water and flooding.  Our certified technicians can contain and remove the water and dry and restore the affected areas.
Dealing with water damage in your property is already a serious issue, but the situation is much more dangerous if the water contains sewage.  A problem within the sewage system can cause a sewage backup and homes can also be affected by sewage if they are flooded by water that is already contaminated.  Sewage is dangerous because it quickly causes permanent damage to the affected materials, and it contains harmful toxins that can spread infection and disease.  South Pacific Environmental provides sewage cleanup in Missoula, MT to safely clean and restore affected homes and businesses.  Our technicians can completely remove all sewage water and restore the property back to safe conditions.
When mold appears within your home or building, it is a threat to your health and your property.  Mold generally appears in areas affected by excess water or moisture, and it eats away at the materials it grows on.  If mold growth is not quickly removed, it will cause serious damage to the affected surfaces and spread to other areas.  There is also a higher risk of negative health effects from exposure.  At South Pacific Environmental, we provide mold remediation services in Missoula, MT to remove mold from homes and buildings.  Our technicians will find all mold growth using infrared technology and ensure it is removed using advanced remediation methods.
With so many potential sources of water damage in your home, one that is often overlooked until it happens is burst pipes.  Burst pipes can be caused by rusting, wear and tear, or damage to the pipes and fittings, but the most common cause is frozen pipes.  When water within plumbing pipes freezes, the ice expands and creates pressure within the pipe that will eventually cause the pipe to burst.  Burst pipes can cause significant water damage in your home by allowing hundreds of gallons of water to spill out.
When severe flooding occurs inside your home or building, it can be a frustrating and overwhelming experience.  Standing water can quickly cause serious damage in the affected areas and you may not know what to do right away to deal with a large amount of water.  However, it is important to act fast because the flood water will seep into the surrounding building materials and furnishings which can lead to major damage and mold growth.  You should call our professionals at the first sight of indoor flooding.
Contact us
If you experience any form of damage, do not hesitate to call us. We understand the urgency in such a situation which is why we work all hours of the day. You can call South Pacific Environmental at (406) 780-3848, for water damage restoration in Missoula, MT.
---
Related Links:
Disaster Mitigation Orchard Homes, MT
Water Damage Restoration Lolo, MT
Water Damage Repair, Orchard Homes, MT
Black Mold Removal Missoula, MT
Mold Removal, Orchard Homes, MT