ServiceMaster by Mason
If you have experienced severe flooding on your property, you must call a professional water restoration company, such as ServiceMaster by Mason right away. As the water on your property will spread throughout the areas of least resistance, the porous materials will be the first to sustain the most damage. These will include wood, paint, drywall, fabrics, and more. If any hesitation towards treatment is taken, it can result in discoloration, delamination (separation at the seams), overall decomposition of the material. Furthermore, the more time that is allowed between the time of damage and restoration ultimately decreases the chances of your building structure to be salvageable. Even if the water does evaporate out of the structure, it will affect the higher areas, such as the walls and ceiling.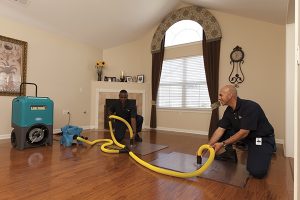 ServiceMaster by Mason is a leading provider of emergency water restoration services. Each of our technicians is insured, licensed, and IICRC-certified to guarantee the quality and professionalism in our work. As they have years of experience, they also undergo frequent training sessions in order to remain updated on the latest cleaning techniques, methods, and equipment of the industry. This includes the following: corrosion control, dehumidifiers, high-velocity air movers, mold remediation equipment, and moisture detection equipment.
While every case of water damage is different, we have provided a guide that includes the general information of the drying process. It may be customized in order to accommodate your property; however, the guidelines will remain the same. If you have any other questions regarding our services, feel free to refer to our FAQ page or you may ask your technician as they are experts in their field. For a complete breakdown of our procedures, you can also check out our water restoration checklist.
While ServiceMaster by Mason offers the most effective and efficient drying methods in the industry, the drying times may vary according to the size of the damage. It may even take up to three days before your building structure is fully dry.
Phase 1: Emergency Services
Upon arrival, your water cleanup technician will first present you with a Statement of Authorization form. This is a documentation in which states your approval of our services to be conducted on your property in exchange for payment. After it has been signed, they will then begin the restoration work right away. The affected area(s) will be examined thoroughly while containing the damage. The materials that are able to be salvaged will then be separated from those that will need to be replaced. If the property contains any standing water, it will be fully extracted in a timely manner. Our advanced drying equipment will then be set up to dry out the remaining moisture. High-velocity air movers are used to remove the water from the structure into the air while the dehumidifiers ensure it does not seep into the ceiling. The technicians will also apply anti-microbials to ensure that your property does not develop any mold in the future. But when drying carpet, it may need to be removed from the tack strip in order to dry the flooring material underneath. In extreme cases, ServiceMaster by Mason will order a replacement padding and reinstall it after the structure has been restored.
Continued Monitoring and Inspections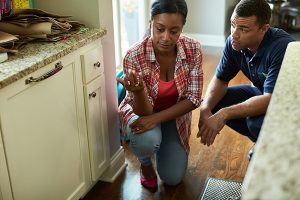 In order to effectively monitor the progress, your technician will need to check in to your property in order to examine the temperature, moisture levels, and drying equipment. You can work with our facility to coordinate the best dates and times that work for your schedule
Phase 2: Reinstallation and Cleaning
When restoring the carpet, ServiceMaster by Mason may need to replace the padding. The carpet will then be restretched and reattached to the tack strip. The technician will then repair or replace the seam and threshold.  Once the carpeting is reinstalled, it will then be completely disinfected and deodorized to eliminate any microbial growth and foul smells. The technician will also repair your upholstery items during this phase if they have been damaged. Once this process is complete, the drying equipment will be removed.
Phase 3: Restoring the Property Structure
All damaged building materials will be restored and cleaned. This includes hard surface floors, walls, and ceilings. If the carpet was not able to be restored, the replacement will be reinstalled in this phase. Keep in mind that it may be necessary to replace the structural materials before the carpeting can be reinstalled.
Finally, did you know that there are also steps you can take to prevent water damage in the future? You can refer to our simple guide in preventing future water damage in order to significantly reduce your chances of a large loss down the road.
---
Recent Reviews
Review by

Deborah & Richard, Warwick RI
for
Disaster Restoration
Rating

Work was done in a courteous, professional manner. Representatives were very knowledgeable. They were very prompt and accomodating in consideration of our time.
---
Review by

Kelley, Groton CT
for
Disaster Restoration
Rating

Efficient, professional, friendly, great to work with. SO QUICK TO RESPOND in a desperate situation…great job.
---
Review by

Rudolf, Mansfield Center CT
for
Disaster Restoration
Rating

Efficiency, speed, courtesy. Excellent crew.
---
More Reviews