ServiceMaster by Mason
Water Damage Related Info
ServiceMaster by Mason would first like to thank you for choosing us as your water damage restoration provider. As we are honored that you have chosen us during an emergency situation, our technicians are committed to providing the highest quality restoration services in the industry that will give you the peace of mind you deserve. As we have over 25 years of combined experience in restoring both commercial and residential properties in the Westerly, Warwick, and Waterford, CT areas, we are proud to assist all families and businesses in emergency situations. The information provided below is a checklist of services that your property may require in order to be returned to its original condition. A brief description of each procedure is also provided to give you a better idea of what is involved and why it is needed.
While not all services on this list may pertain to you, the checked procedures will allow a higher understanding of the process in restoring your home or building. Your water damage cleanup technician will also be available to provide open and clear communication if you do have any questions. If they are not available, feel free to refer to our FAQ section (link to FAQ page).
Locating the Source of the Damage and Securing the Affected Area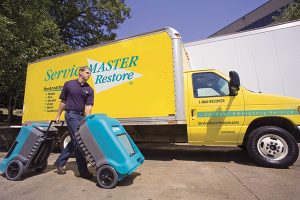 Upon arrival, your water cleanup specialist will use a variety of tools, including: moisture detection meters, probes, and sensors to identify the majority or source of the damage. This helps us to develop the most efficient and effective plan for restoring your home or building. The inspection process may also include working with your insurance provider to take photographic evidence; therefore, we will not begin the work until they have everything they need.
✔Inspect the basement. As water damage is most commonly found in the basement, it will need to be examined thoroughly in order to use the best drying procedure.
✔Examine the duct work. The entire HVAC system will need to be inspected for any leaks, including the return and supply air registers.
✔Inspect the attic. This is also known as one of the most common places for water damage and mold to occur. Any wet insulation, content, and framing may need to be restored or replaced.
✔Inspect the crawlspace. As this area is dark and sometimes, damp, it is one of the best places to harbor mold. As it often contains cracks, moisture is able to seep in and cause severe damage.
✔Preserving your content. In addition to protecting your content, it may need to be cleaned as it could contain water or mold damage. ServiceMaster by Mason will ensure that it is effectively sanitized and dried; however, they may have to be moved or even temporarily stored at our facility.
✔Complete water extraction. This will involve complete water mitigation as well as drying out all affected surfaces. This will ultimately save time during the dehumidification process. High-velocity air movers and dehumidifiers are used for all types of flooring. Keep in mind that they may need to be temporarily removed to allow for effective drying of the subfloors and baseboards.
If you would like to know about carpet restoration and cleaning techniques, please visit our page regarding the drying process.
Carpet Inspection
✔In place drying. In specific circumstances, the carpet can be dried in place.
✔Remove threshold coverings and carpet, open seams. This will allow for enhanced drying and prevent additional damage to your carpeting.
✔Remove padding. In order to prevent secondary damage, the padding may need to be removed. This will also inhibit microbial growth and allow for more effective drying.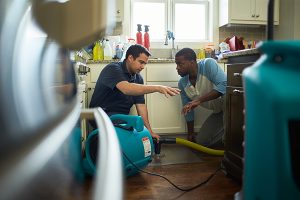 ✔Replace unsalvageable carpet. Due to the current condition of the carpet, it may need to be replaced or it is more cost-effective rather than to restore it.
Inspect Additional Flooring Materials
✔Tile: Replace or Dry in Place (It is more cost-effective to remove this flooring than to dry it in place or it is not able to be restored due to its current condition.)
✔Subfloor: Replace or Dry in Place (It is more cost-effective to remove this flooring than to dry it in place or it is not able to be restored due to its current condition.)
✔Vinyl: Replace or Dry in Place (It is more cost-effective to remove this flooring than to dry it in place or it is not able to be restored due to its current condition.)
Examine walls, cabinets, and ceilings
✔Replace baseboards. It will ultimately depend on the type of baseboard, however, it may need to be removed in order to properly dry out the structure. Moisture will be dried between the wall and baseboard.
✔Drill holes in sheetrock/ceilings/walls for dehumidification/ventilation. As they will allow for increased air circulation, it will also prevent additional damage incurred within the framing and sheetrock. The risk of microbial growth will also be eliminated.
✔Removing sheetrock/drywall. Because of the source of the moisture, the structure may be unsalvageable from the amount of water that was exposed.
✔Inspect the cabinets. Due to the fact that cabinets are not insulated, it may be required to drill holes or take out the toe kicks to allow for better air circulation.
✔Removing doors from the hinges. For heavier doors, they will usually close by themselves; therefore, you may need to have them removed in order to allow for more effective drying.
✔Inspect the insulation. Replace or dry in place. (Due to its current condition, it may be unsalvageable or +­more cost-effective to have a replacement instead of restoring it.)
✔Deodorization. There may be odors as a result of the water drying. We can apply odor removing products to ensure that there are no lingering smells after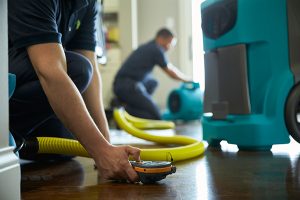 the restoration work.
✔Set up high-velocity air movers. In order to safely and quickly remove the excess moisture from your building structure, a water cleanup technician will need to set up the proper drying equipment. Please do not move or shut these off as it can prolong the drying process.
✔Applying anti-microbials. If the water damage has not been treated right away, the structure will most likely contain anti-microbials. We will apply the appropriate products to ensure that they are effectively eliminated.
✔Explain future appointments. For larger water damage jobs and flood cleanups, it may be necessary to schedule additional appointments. ServiceMaster by Mason will monitor all temperatures, equipment, and moisture levels to ensure that the entire structure is drying effectively and efficiently.
Other.
If at any time you feel overwhelmed by the amount of services that are needed for the effective restoration of your property, ServiceMaster by Mason will work with you every step of the way. Did you know that there are also a number of steps you can take to significantly reduce your chances of water damage in the future? Feel free to visit our page regarding the simple steps you can take to prevent future water damage.
March 12, 2021
David Lucchesi
Charlestown, RI
December 10, 2020
Corrine Brzys-Mihlek and John Brzys
Somers, CT
We were so relieved to have actual professionals taking care of our mold find, especially after we inquired about a couple "treatment plans" from other companies. Ryan came in with his gear and showed us the real deal the others missed (like, 98% of the mold). He took air samples to send out. He had a logical plan forward that we felt absolutely positive about. This team made the others look like clowns and charlatans. We were thoroughly informed of what was being done and why, and I actually felt safe in my own home. There were many layers of inspection and testing, yet it was all done quickly. I'd recommend anyone with a mold problem to seek this team immediately. You'll be wasting your time and money with anyone else!
More Reviews