ServiceMaster by Mason
As soon as ServiceMaster by Mason arrives, your water damage cleanup technician will review a water restoration checklist with you in order to determine what is needed for your home or building. Please use it at any time to allow for a better understanding of the procedures and equipment involved for the effective restoration of your property.
Structural Drying
How long does the drying process last?
The ultimate answer to this question will depend on a variety of factors. This includes the following:
Duration of the damage
Source of the water
Type of materials that were affected
Current weather conditions
How quickly the restoration services began after the damage
Location of the damage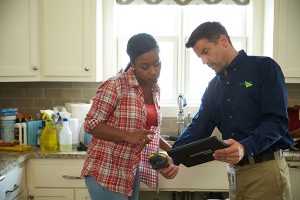 During the drying process, ServiceMaster by Mason will schedule appointments with you to ensure that you are on the fastest road to recovery. But please keep in mind that although your carpet may feel dry to the touch, the subfloors may still be damaged. Your water cleanup technician will notify you as soon as everything is dry by using a moisture detection meter. Ultimately, while each case is different, the drying process will usually last anywhere from three to five days.
How do I know when my property is dry?
With the use of our advanced drying and measuring equipment, your technician will be able to determine when all building materials are completely dry; therefore, do not be deceived if the floor feels dry to the touch.
Can I turn up the heat to speed up the drying process?
This won't necessarily help. Your technician will create the perfect conditions in order to dry out all affected materials as quickly as possible. We do ask that you do not shut off the HVAC system or adjust the temperature of the home or building during this time. This can ultimately prolong the drying process.
Will my hardwood floors need to be replaced?
All types of flooring will be effectively evaluated by ServiceMaster by Mason to determine if they will require replacing or not. As our drying equipment will first need to remove all moisture within the floors, your technician will then be able determine if it is salvageable. However, due to the thickness and finish of the wood flooring, the drying process may last up to three weeks. If you made an insurance claim during this process, your claims agent can also help in determining if it is more cost-effective to replace the material or not.
What will happen to the damage upholstery and furniture?
ServiceMaster by Mason will first examine the amount of damage, then decide if it can be restored or not. Although it must be dried in order to make the best decision. If the furniture or upholstery is not able to be salvaged, we will document all items that will be thrown away. Your technician will also provide you with a customer release form that will require your signature for the approval of the disposal of the furniture.
Will I need to move out during this process?
This is ultimately your choice. Although are factors to consider for each option. If you decide to stay, then you may need to accommodate for the noise of the drying equipment, the property will feel drafty, and you must supervise pets and young children around the equipment. If you decide to move, you will want to think about forwarding mail and temporarily suspending utility services.
What's that smell?
Strange smells are a natural byproduct of drying materials. Although they can be strong and overwhelming if the conditions are humid. But these smells should not be confused with mold or mildew; they will disappear on their own. Upon request, ServiceMaster by Mason can also apply an odor-removing product to the property.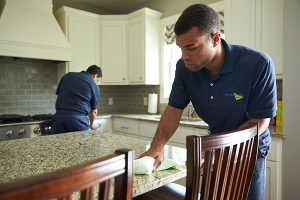 Will you have to remove all furniture?
In some situations this will be necessary; however, this is not usually necessary.
If my ceilings are wet, how will they be dried?
The ceiling will be thoroughly inspected, measuring the moisture levels. The extent of the damage will then be determined. In order to have it dried effectively, a portion of the ceiling may need to be removed in order to increase air circulation to the affected area. Wet insulation may also need to be restored or replaced.
Is it ok to walk on the floors while they are drying?
It is highly recommended to keep all foot traffic to a minimum during this process. However, if it is necessary, please wear shoes for your protection.
Floor Coverings and Carpeting
Can you restore my carpet?
This will ultimately depend on the following factors:
Sewage backup contamination
Loss of adhesion (from prolonged exposure or age of the carpet)
Delamination (when it comes apart at the seams)
Permanent stains
When the carpeting covers wood flooring (to protect the structure underneath)
Why does my specialty flooring need to be replaced?
Porous materials are known to quickly sustain the majority of the damage. However, non-porous materials can also soak up moisture and excess water if it is not treated right away.

There is still wet carpeting on my stairs. Was this left on purpose?
For safety reasons, the carpeting in this area is left for a later phase in the drying process as there may be construction materials, such as nails, staples, or tack strips that are exposed. Although there are some exceptions, such as when the carpeting covers hardwood stairs or sewage contamination is present. But when the construction debris is exposed, be sure to use extreme caution and supervise young children and pets around this area. The carpeting will be replaced as soon as the new one has arrived.
How can you match my carpet padding with a new one?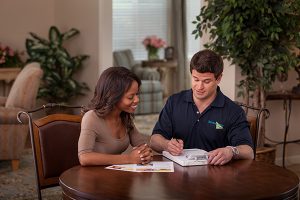 A sample will be taken back to our facility to be identified and matched with a new one. It will then be reinstalled as soon as it arrives. But if the padding is no longer available, a similar type of the same quality, density, and thickness will be used. Just keep in mind that the color may change as a result of the difference in manufacturing date.
What will happen to my wet area rugs?
They will be safely packed out and transported to our facility for special treatment. As a normal wash will cause them to become discolored and bleed, they will be carefully dried, cleaned, and returned to your home or building.
You can also refer to our guide on how to prevent future water damage to significantly reduce your chances of a large loss in the future.
Drying Equipment
Why are dehumidifiers and air movers used?
As the building materials will sustain significant amounts of water damage, they will need powerful equipment in order to be dried effectively. ServiceMaster by Mason's high-velocity air movers will speed up the evaporation process while the dehumidifiers will remove all remaining moisture in the air. This is a vital process in our services. We ask that this equipment not be turned off or moved while it is operating.
Who monitors the drying process?
Your technician will check in frequently to examine the moisture levels, temperature, and equipment in order to allow for maximum efficiency. But it is very important that the equipment remain on at all times. If at any time it turns off, please call us right away.
How much does the equipment cost to run?
This will depend on local electric rates; however, they will vary around $1 per machine per day. For exact rates, you can contact your electric provider.
Sewage Contamination
What will happen when my property has been contaminated by sewage water?
All hard surfaces and non-porous materials will be disinfected and dried thoroughly. Others will need to be disposed of right away. These will include particleboard, ceiling, paneling, wood, and insulation, which will be removed during the first visit.
Payment
Who is responsible for the payment of the services?
You as the property owner are ultimately responsible for the payment of all required services. As soon as your technician arrives, they will provide you with a Statement of Authorization in which allows them to perform the service in exchange for your payment. If an insurance claim was made, ServiceMaster by Mason will only collect the deductible at the time of the service and bill the rest to your provider. However, your mortgage company and their signature will also be listed as a payee if there was a large loss involved. If a claim was not made, the payment will be expected to made in full at the time of service.
March 12, 2021
David Lucchesi
Charlestown, RI
December 10, 2020
Corrine Brzys-Mihlek and John Brzys
Somers, CT
We were so relieved to have actual professionals taking care of our mold find, especially after we inquired about a couple "treatment plans" from other companies. Ryan came in with his gear and showed us the real deal the others missed (like, 98% of the mold). He took air samples to send out. He had a logical plan forward that we felt absolutely positive about. This team made the others look like clowns and charlatans. We were thoroughly informed of what was being done and why, and I actually felt safe in my own home. There were many layers of inspection and testing, yet it was all done quickly. I'd recommend anyone with a mold problem to seek this team immediately. You'll be wasting your time and money with anyone else!
More Reviews