Water Damage Restoration from Leaking Toilet
12/7/2017
Living in an apartment can be more cost-effective than most homes, but many installations, wiring, and plumbing are shared by multiple residents. So when a vacant apartment had a leaking toilet from a faulty supply line, the neighbors in the adjoining apartment were also affected with water damage, spreading throughout their living space.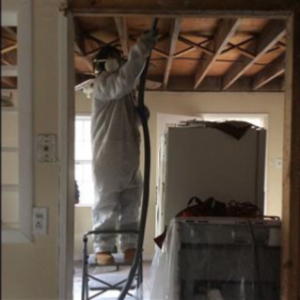 Taking quick action to call ServiceMaster by Mason, our technicians responded immediately to extract the water from both apartments, conduct controlled demolition, mold remediation, and apply anti-microbials to prevent dangerous mold and bacteria from spreading.
After working effectively and efficiently, the technicians were not only able to restore the building from both water and mold damage, but peace of mind for the property owner and tenant.
Mold Removal in Rhode Island Church
11/6/17
Mold can be a real problem during the fall time, but this church in Rhode Island had undergone extensive treatment. Due to a number of moist areas in the East Greenwich, RI Church's "adinistrative" building, head Technician Shawn Demo and Technician David Thompson handled the job professionally and efficiently.
By strategically setting up dehumidifiers, removing mold-contaminated materials, and performing necessary demolition, they were able able to contain and eliminate the spores from the property. They had also set up a containment chamber, performing detailed cleaning, Hepa vacuuming, and sanitizing unaffected surfaces to prevent the mold from spreading.
After hours of disinfecting, demolition, and a final inspection, the technicians had declared a restored, healthy environment for the church staff, parishioners, and members. They can now enjoy this area with peace of mind knowing that it is safe and clean again.
Fire Damage Restoration of Pawcatuck Home
9/26/2017
After a multi-family home was left in a severe condition from a horrible fire, ServiceMaster by Mason was quick to respond, arriving on the scene to stabilize the structure, assess the damage, and restore the building materials.
After providing temporary power, the Head Technicians, Carlos, Brian, Shawn, and Hector wasted no time in the demolition to remove broken plumbing and fixtures, destroyed drywalls, flooring, and drop ceilings, as well as loose debris around the home.
In addition to making the necessary repairs, the property was also treated for water and mold damage, using advanced products and equipment to dry out the building materials, isolate and eliminate the mold spores, and remove the smoke and soot residue from the affected surfaces.
After their hard work and efforts to restore this property to its original condition, the families were then able to move back into their home with much-needed peace of mind.
Hurricane Harvey and Irma Cleanup
9/26/17
With extensive training and experience in restoring homes and commercial buildings from severe water damage, Jeff Moriarty was never hesitant to aid in the restoration of Hurricane Harvey and Irma. Jeff spent weeks in Southeast Texas, from extracting floodwaters, installing and positioning drying equipment, and cleaning other affected surfaces.
Afterwards, he then made his way to Florida to help rescue multiple property structures whose building materials have been destroyed by ripping winds, large debris, and pelting rain. ServiceMaster by Mason couldn't be more proud of Jeff for his bravery, professionalism, and commitment to restoring peace of mind for countless victims of these natural disasters.
December 5, 2019
Donald Madura
Waterford, CT
I have a list of likes: 1. Quick response to my request for service. 2. Competent Crew - They worked together to get the job done expeditiously. 3. Courteous Crew - they listened to and understood my needs. 4. They were respectful of my home and property 5. The finished product was excellent - The odor from the damage was gone 6. I could easily move on to the restoration stage of the damages.
More Reviews