Replacing entire sets of furniture, especially wood furniture, can be very expensive but a professional furniture restoration expert can repair your antique and wooden furniture to restore its strength and extend its life.  Over time, furniture that is heavily used such as chairs, desks, tables, and dressers can become broken or damaged and reliable furniture restoration technicians can fix furniture that has been broken, scratched, gouged, burned, or water damaged for a fraction of the cost of replacement.  They can also replace or recreate broken or missing pieces from your furniture.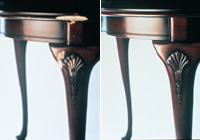 The restoration professionals that provide wood furniture repair use advanced technology, products, and methods to restore your wood and antique furniture to its original condition.
The typical wood furniture repair services include:
•    Precision Repair: Repair of minor surface damage such as scratches, dents, gouges, watermarks, burns, and stains.
•    Re-Gluing/ Minor Adjustments: Repair of structural damage or broken parts with re-gluing and stabilization; readjustment of doors and drawers.
•    Finishing/ Polishing: Professional polishing can help eliminate surface scratches and restore the original look of the furniture.
Each wood furniture repair project has its own unique challenges but the process will still follow this basic guideline:
•    Inspection of all wood furniture to decide on the best method of repair.
•    Wood furniture that has been water damaged may be left to dry for up to 2 weeks.
•    Determine whether the work can be performed on-site or if the furniture must be taken to the shop for work.
•    You may be asked to sign an authorization form to begin the work and a satisfaction form at the end of the job.
Professional furniture restoration experts can provide wood and antique furniture repair for the following:
•    Cabinetry
•    Hardwood Floors
•    Millwork
•    Paneling
•    Doors
•    Banisters
•    Mantels
•    Tables
•    Chairs
•    Desks
Wood furniture is a large investment and professional wood furniture repair services will help restore the strength of your furniture without the hassle or cost of replacing the furniture.  Contact us at (630) 412-1400 to find a furniture repair expert near you.