The countertops in a kitchen or bathroom have a major effect on the appearance of the room and they are used consistently as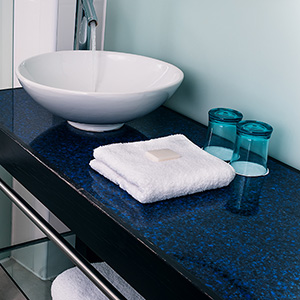 storage space or areas of food preparation in kitchens. While many types of countertops are made of durable materials and have protective seals, consistent use can still cause minor surface damage including scratches, stains, gouges, and burns. These blemishes will take away from the appearance of the countertops and in turn diminish the look of the entire room.   Companies that provide bathtub refinishing and repair services also offer countertop refinishing services to repair minor surface damage and restore the countertop's original appearance. Replacing countertops is an expensive and intrusive process which makes countertop refinishing a reasonable and more inexpensive alternative.
Countertop Refinishing Process
The countertop refinishing services offered by professionals are safe and effective for many types of laminate and natural stone countertops. The first step of this process is to repair the damage to the surface which may include scratches, gouges, burns, and stains. Once the surface damage is repaired, a low maintenance, semi-gloss topcoat is applied to the countertop to restore its original appearance. Some companies may offer different color options for their semi-gloss topcoats to change the look of the countertop.
Why Countertop Refinishing
Replacing countertops, whether in a kitchen or bathroom, can be an expensive project and the work required to replace countertops is intrusive to your home and may take weeks to complete. Countertop refinishing provides a much less expensive alternative to full replacement as the cost for this service is about 30-50 percent less on average. The process of countertop refinishing is also much less intrusive then countertop replacement with no major construction required to complete the job and it takes much less time as refinished countertops are ready for use between 24 and 36 hours after completing the job. The final benefit of countertop refinishing is that it can extend the life of your current countertop by 10 to 15 years.
If the countertops in your kitchen or bathroom have minor surface damage or are showing signs of wear and tear, they can be revitalized with countertop refinishing services. Countertop refinishing is an inexpensive and effective alternative to countertop replacement that can be completed much quicker with less hassle and interruption to daily life in your home. Talk to a bathtub refinishing professional in your area that provides countertop refinishing services to learn more.