In high moisture areas such as the kitchen and bathroom, tile surfaces are very common because they have the durability to withstand the moisture and humidity. However, the finish on the tiles can eventually wear out which causes dirt, mildew, and other debris to adhere to the tile and grout lines. As the dirt and mildew continues to gather on the tile and grout, it will affect the look of the room and cause it to appear dirty. Bathtub refinishing professionals provide tile refinishing services to clean and restore tile and grout surfaces and apply a new finish to keep them protected. These services also include repair of broken tiles.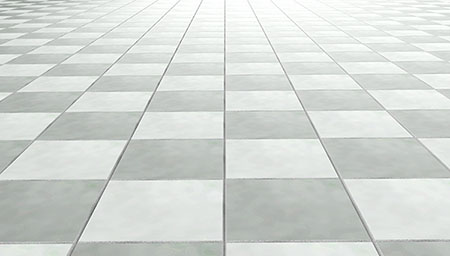 Tile Refinishing Process
Ceramic tiles have a glaze on them which is created in a kiln that can be fired to up to 2500˚ F and re-glazing tiles requires them to be fired in the kiln. Tile refinishing services offer a much easier alternative to firing the tiles in a kiln as they can be refinished without having to be removed. These services start with a thorough cleaning of the tile surfaces to remove dirt and other buildup that has accumulated. During this step, cracks in the tile will be repaired with filler material. Once the tile is clean, a top coat of finish is applied to the tile and grout lines which will restore the look of the surface and protect it from dirt and moisture.
Cost of Tile Refinishing
Once tile is installed for the floor, wall or backsplash, removing it is a major project and the time and cost required just is not practical for restoring dirty or worn out tile. Tile refinishing services can cost half as much as tile replacement and it can be completed in a much quicker time frame. The new finish is heat, scratch, and moisture resistant to provide years of durability and these services are effective for shower or bathtub tiles, countertops, floors, and vanities.
Tile surfaces have a significant effect on the look of your kitchen or bathroom because they cover so much space and allowing the tiles to become dirty or worn out can cause the room to appear dirty. Tile refinishing services are a much more convenient and affordable alternative to tile replacement and the new finish will revitalize the original look of the tile while also providing protection from dirt and mildew. Contact a professional in your area to discuss your options for tile refinishing services.