Burst Pipe Water Damage Cleanup in Westerly, RI Business

2/4/18
Burst pipes are among the most disastrous type of water damage that have been known to devastate homes and businesses. When they freeze and burst, water is sent in all directions, drenching all surrounding building materials. If left to sit, the water can spread to affect additional materials, harboring the perfect conditions for mold growth.
When this situation had occurred to the lower level of a local Westerly, RI business, the owners took immediate action to call ServiceMaster by Mason! Our technicians had responded quickly, arriving with professional water extraction and dehumidification equipment. They quickly mitigated all standing water and began controlled demolition to remove the soiled porous materials, including: carpeting, insulation, drywall, and cabinets in all hallways, kitchen and conference room, offices, and closets.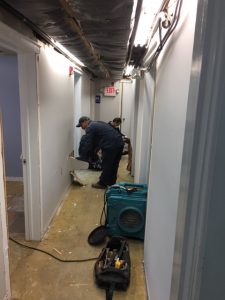 They had also addressed the secondary damage caused by the moisture seeping through from the wet floor above. Our technicians quickly set up and monitored professional drying equipment to prevent the damage from spreading. This was followed by HEPA vacuuming finite dirt and debris and applying anti-microbial spray to prevent any potential mold growth.
Using the latest products and processes to restore the business from the damage, ServiceMaster by Mason had finished the job while minimizing overall downtime. The owners had deemed the work a job well done!
Puffback Cleanup in Bolton, CT Home
Furnace puffbacks are common in the New England area, being that many homes are still equipped with oil furnace systems. Puffbacks occur when the furnace malfunctions, sending finite soot and oil residue throughout the room and sometimes multiple levels of the home. This was exactly what happened to a historical Bolton, CT home. As soon as the owners noticed, they called ServiceMaster by Mason for help!

Our technicians responded right away, arriving on time to assess the damage from the puffback. There were considerable amounts of soot and oily residue on the walls, floors, ceiling, fabrics, furniture, clothes, and other personal belongings throughout the home and attic. While being careful not to disturb the integrity of the home, the technicians had set up a unique containment chamber to avoid contaminating the unaffected areas.
All permanently damaged belongings were removed, including carpet and furniture. The rest of the home and items were cleaned and sanitized using professional products and perfected processes to remove the soot and oil residue. Our technicians proceeded with using HEPA vacuums to along the walls and ceilings to remove the remaining dust, dirt, and debris.
After multiple days of cleaning, sanitizing, and packing out personal belongings to be cleaned and restored in our climate-controlled facility, ServiceMaster by Mason had worked diligently to restore all items to their original conditions. Next, the home was prepared for Phase 2 of the cleaning process: water damage restoration and mold remediation.
Fire Damage Restoration in Westbrook, CT Home
Nothing can be more traumatizing than to find your home and personal belongings covered in smoke and soot byproducts leftover from a property fire. When the flames had spread throughout a bathroom and master bedroom of a Westbrook, CT home, the owners had little time to react. The rooms and personal belongings inside had suffered from fire, smoke, and water damage, a mess that needed immediate attention in order to be restored.
The owners wasted no time in calling ServiceMaster by Mason. Our technicians responded immediately, installing portable generators for required power, made use of specialty equipment to remove the heavy smoke smell from the air, conducted controlled demolition throughout the home to remove hardwood floors, drywall, and 800+ square feet of insulation.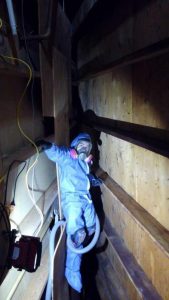 Following demolition, our trained technicians used specialized cleaning products and processes to clean and dry out each room that was affected by water and smoke damage. This was followed by setting up containment chambers to prevent additional contamination to other areas of the home. Finally, after hard work and determination, both the property and homeowners peace of mind were restored.
ServiceMaster by Mason Helps with Cleanup in Georgia from Hurricane Michael
11/7/2018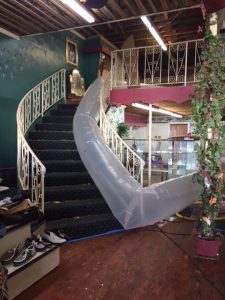 After ripping through the southeast coastline, Hurricane Michael has left some major damage in multiple states. But after weeks of hard work and persistence in a small Georgia town known, as Donalsonville, GA, ServiceMaster by Mason's technician, Jeff Moriarty, has returned to Rhode Island!
Throughout his stay in Georgia, he conducted both water and mold damage cleanup, restoring local properties to safe living conditions. Among these properties included Pearlie's Women & Men's Apparel retail store.
In addition to water damage cleanup and mold remediation, Jeff also aided in necessary demolition, reconstruction, and provided emergency power throughout the service. Working on both small and large properties, he worked efficiently and effectively to restore both the structures and residents' peace of mind.
Mold Remediation in Connecticut Elementary School
11/6/2018
Mold is never something to be taken lightly; action should be taken immediately as soon as it's found. That's exactly what the staff at a local elementary school in Connecticut had done, by calling ServiceMaster by Mason.

Our owners, Ryan and Phil Mason, responded immediately with a team of experienced technicians. As soon as they arrived, they began cleaning out hallways, classrooms, stages, as well as other areas affected by the mold growth.
One of the areas affected proved to be more challenging, with walls reaching over 21 feet. But our team made use of professional equipment to address the area, using harnesses and scissor lifts to remove the mold from the high areas.
The team then progressed to remove content from each classroom, packing it out into hundreds of boxes to be cleaned later. They then isolated the affected areas to prevent the mold from spreading, creating containment chambers on the property. After using Personal Protective Equipment (PPE), our technicians conducted detailed cleaning and sanitizing in the affected areas, used an anti-microbial spray to prevent future growth, and HEPA-vaccuumed the remaining mold spores.
Finally, negative air chambers were set up to keep the environment safe for the kids until the cleaning was completed. But our technicians made sure to only work in the evenings and weekends to not disturb classroom sessions. After restoring a clean learning environment for the faculty, staff, and students, ServiceMaster by Mason was proud to call it a job well done!
Water Damage in Salvation Army Building
10/23/18
Water damage is never something to be ignored. As soon as it affects one area, it will spread to others, developing the perfect conditions for mold growth. This was exactly what happened to a local Salvation Army building in Hartford, CT. As soon as the staff noticed the damage, they called ServiceMaster by Mason.
Our technicians responded immediately, providing all of the following services:
Set up drying equipment on the 1st and 2nd floors of the building
Conducted controlled demolition to the affected areas

Removed damaged drywall and ceiling layers

HEPA vacuum mold growth, dust, and other debris using advanced products
Applied anti-microbial growth spray to prevent the spread of mold
Set up containment chambers to prevent the mold from spreading
Deep cleaned the following:

Contents
Kitchen
Bathrooms
Carpets
Floors
All of the work provided by ServiceMaster by Mason was performed in accordance with a number of plumbers and electricians. To ensure a team effort in restoring the facility, everyone worked together efficiently and effectively. After providing a number of social services for the local residents and homeless individuals, everyone was able to return to a fully restored facility.
Drain Pipe Backup in Westerly, RI Building
8/30/2018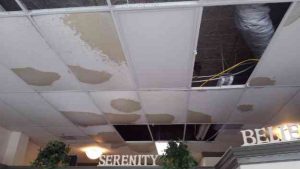 While water damage is common and causes a number of inconveniences for property owners, businesses are left in a sticky situation. This was exactly the case for a local business in Westerly, RI when they experienced a drain pipe backup that had flooded the walls, floors, ceiling, and even the businesses below!
As soon as the staff had noticed, they took immediate action to call ServiceMaster by Mason. Our owners, Phil and Ryan Mason, were quick to respond with a team of experienced water damage cleanup technicians. Upon our arrival, they extracted all standing water, followed by drying out the remaining materials with professional restoration equipment, using advanced products to prevent microbial (mold) growth, and then removing and hauling away soiled structural materials.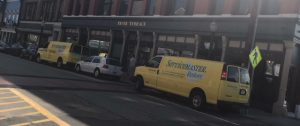 At ServiceMaster by Mason, our professionals are quick to restore a number of materials, including drywall, ceiling tile, floor tile, wood flooring, and tin. With business environments like offices, storage closets, hallways, and store-fronts experiencing water damage, they must be restored right away to limit interruptions to their daily operations. So our team worked late into the night in order to put the business back in business by the following day.
Flooded Basement in Connecticut Church
8/13/2018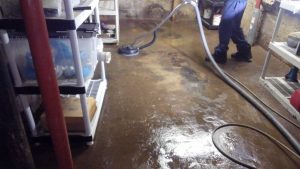 Sump pumps are the best defense against basement flooding, but if they fail, the effects can quickly become disastrous. This was what happened when a water line failed at La Iglesia De Eios Church of God in Hartford, CT. The basement had taken in over 3 feet of standing water and it wouldn't be long before mold started to grow.
As soon as they noticed, the staff quickly called ServiceMaster by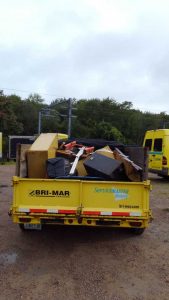 Mason for help. Our technicians responded right away to extract the water, dry out the basement, and install a temporary power panel to supply the drying equipment with power. All of the basement's contents were cleaned and dried, using an anti-microbial spray to prevent mold growth.
HEPA vacuums were also used to remove finite dirt and debris as well as mitigate additional water damage within the joists and floorboards. Finally, they pressure-washed the concrete walls and floors to remove all remaining debris. After working quickly to minimize disruptions to the churches operations, they were able to restore the affected area to its original condition.
Animal Nuisance Cleanup for 2 Rhode Island Homes
8/9/2018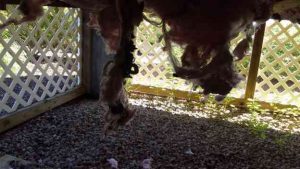 Nuisance animals like bats, raccoons, and other rodents can be a major problem for any property owner. As they squeeze through small holes and openings, they can leave behind foul odors and biohazards. Calling pest control is the first step that should be taken to prevent the problem from becoming worse, but these professionals are not responsible for cleaning up the mess. So when this problem happened for 2 homeowners in Rhode Island, they called ServiceMaster by Mason right away.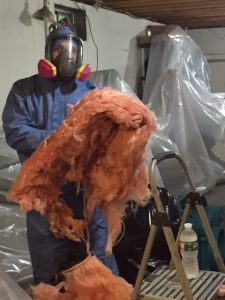 One home had been infested with mice within an unfinished basement while a family of raccoons made themselves at home under their porch. Before tackling the dirty job, our experienced technicians wore personal protective equipment (PPE) as well as respirators. The cleanup job then took off by removing all hazardous waste products, removing the damaged insulation and structure, disinfecting the remaining hard surfaces, including pressure-steaming the floor,  and using an enzyme treatment to remove lingering odors.
Personal content was also addressed, preventing the content from becoming contaminated by using HEPA vaccuums to remove dirt, dander, and other debris while applying anti-microbials to the affected space. As our technicians only use professional products and proven methods, they were able to effectively remove the evidence of the critters and damage, fully restoring the area to a safe and clean environment again.
Dorm and Classroom Cleaning at ECSU
8/6/2018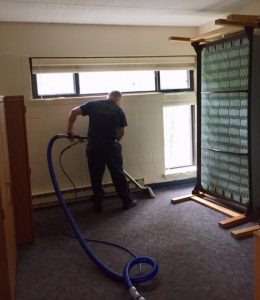 Summer is almost over and it's that time to prepare for going back to school! A local university, Eastern Connecticut State University in Willimantic, CT, including High Tower, was also preparing when they needed help to have their dorms cleaned and sanitized. Our Head Technician Hector Lopez and Roberto Roque were quick to respond, cleaning several dorms, including floors, furniture, walls, restrooms, counters, equipment, carpets, floors, and more.
They also cleaned over 400 chairs in the Student Center, preparing them for upcoming meetings and events. These technicians use only the latest products and methods in order to fully sanitize ECSU's facilities. They do not contain any volatile organic compounds (VOC's) that have been known to trigger health problems such as asthma. After a thorough cleaning job, ServiceMaster by Mason had proven our dedication to creating a healthy learning environment for all students, faculty, and staff.
December 5, 2019
Donald Madura
Waterford, CT
I have a list of likes: 1. Quick response to my request for service. 2. Competent Crew - They worked together to get the job done expeditiously. 3. Courteous Crew - they listened to and understood my needs. 4. They were respectful of my home and property 5. The finished product was excellent - The odor from the damage was gone 6. I could easily move on to the restoration stage of the damages.
More Reviews