Water Damage Restoration for 2 Rhode Island Churches
8/2/2018
When leaks occur within homes and buildings, they can easily spread unnoticed and create a disaster for everyone. This was exactly what happened for Christ Church in Westerly, RI when a hot water valve burst in a storage closet, spreading steam and water damage to the closet's contents and structure. As soon as the staff noticed, they took immediate action to call ServiceMaster by Mason. Our technicians responded quickly, extracting the standing water, removing the damaged content, and disinfecting the building materials.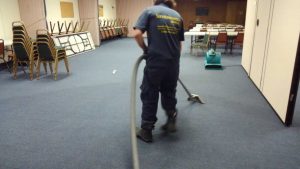 Soon after this job, we received another call for another water emergency at St. Vincent de Paul Church in Bradford. There had been an overflowed toilet in the restrooms, creating a mess of standing water in the restrooms, classroom, and hallway. ServiceMaster by Mason was quick to extract the water using powerful restoration equipment, install professional dehumidifiers and air movers to dry out the affected spaces, disinfect tile flooring and carpeting, and apply anti-microbial spray to prevent mold growth. Our staff was able to perform the work quickly while minimizing disruptions to operations, contain the damage to the affected area, and finally restore both churches to their original conditions as well as the peace of mind for its staff.
Hard Floor Cleaning in Pawcatuck, CT
5/11/2018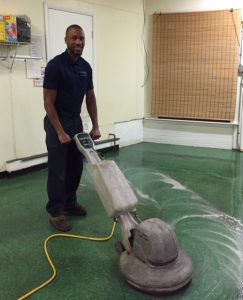 Nobody knows spring cleaning like ServiceMaster by Mason. Especially when it comes to the floors and carpets, these are the materials that will need the most attention! And when a popular pizza restaurant in Pawcatuck, CT needed deep floor cleaning services to keep their business looking clean and professional, they called our professionals!
ServiceMaster by Mason was quick to respond by sending Head Carpet Technician, Dave Thompson, and Head Technician, Hector Lopez, to handle the job. They cleaned all floors in the restaurant, including the lobby, dining area, and kitchen. After using the latest cleaning products and techniques, they were able to remove tough stains, embedded dirt and debris, and even freshen up the high traffic areas.
To avoid any accidents during and after the job, the technicians were sure to use non-slip products. They were also able to work around the restaurant's busy schedule, starting the job after the business had closed and finishing in the late evening. After the job was completed, the floors were ready to use again for the restaurant's employees and customers. Be sure to check out the results in person at The Pizza Lady and grab a pizza before you go!
Carpet Cleaning in Willimantic, CT Church
4/13/2018
Did you know that your carpets are the largest furnishing on your property? They are also those that receive the most wear and tear from foot traffic. Over time, the damage will take its toll on the  fibers, wearing them down to become faded and discolored.
This was exactly what happened to carpets at United Baptist Church in Willimantic, CT. When they noticed that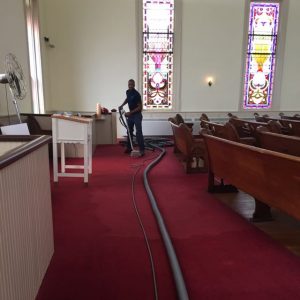 the original color was starting to fade, they called ServiceMaster by Mason. Our experienced carpet cleaning technician, Dave Thompson, covered the area rugs and carpets in the office, entryway, ramps, aisles, hallway, and finally the sanctuary area, concentrating on high traffic areas. After using the latest cleaning techniques and products, the embedded dirt, debris, and stains were fully removed.
By the end of the job, the carpets were not only ready for the guests and parishioners, but they added to the overall aesthetics of the church.
Water Damage Cleanup and Mold Remediation in Westerly, RI Home
3/26/2018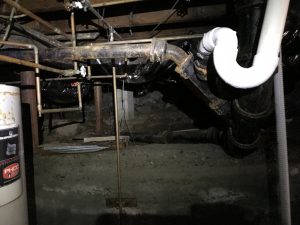 When water affects any type or amount of building materials, the damage will only become worse with time. In fact, mold development can occur in as little as 24 hours later. This was exactly the case for an unfortunate home in Westerly, RI when a frozen pipe burst and leaked water throughout multiple rooms.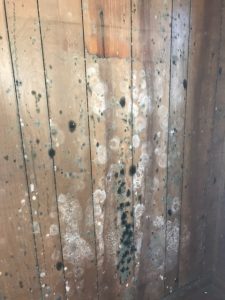 It wasn't too long before mold spores developed filling the property to affect various rooms on multiple floors. But as soon as the homeowners discovered the mess, they immediately called ServiceMaster by Mason for help.
Our technicians responded right away, installing commercial dehumidifiers to remove the excess moisture while utilizing drying equipment to remove the water in the vents.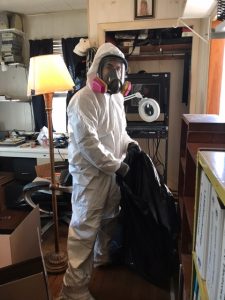 After extracting the water, they proceeded with controlled demolition services to haul away soiled building materials. This included drywall, ceilings, and tile flooring from the bedrooms, closets, kitchen, bathroom, and other rooms throughout the property. ServiceMaster by Mason had also removed the contents and furniture that were consumed by the spores.
The technicians then finished the job by removing finite debris and spores using HEPA vacuums, sanitizing the affected areas, and applying an anti-microbial spray to prevent future mold growth. After a thorough water extraction and mold remediation job, the owners had the peace of mind knowing their home provided a safe and sanitary living environment again.
Fire and Smoke Damage Cleanup of Auto Repair Business in North Smithfield, RI
3/1/2018
When a fire occurs, the damage continues to spread even after the flames have been extinguished; the byproducts will settle into building materials and contents, causing permanent damage if not treated right away.
So when a local auto repair business in North Smithfield, RI experienced a fire in their upper bay areas, they took immediate action to call ServiceMaster by Mason. As soon as we received the call, we made haste to save as much of the building structure and contents as possible.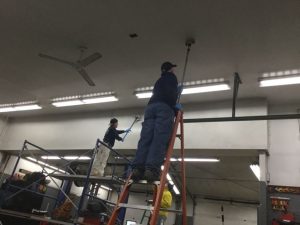 All of the smoke and soot damage was cleaned, both on the interior and exterior, using commercial-grade products. Both building materials and contents were restored, including: walls, overhead doors, high ceilings, fixtures, electronics, and tools.
Then to remove that lingering smoke odor, powerful hydroxyl machines were set up while the technicians pressure-washed the floors to remove the remaining damage.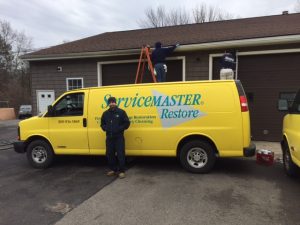 The job was then declared finished after packing up and cleaning out numerous items in the bay areas as well as the battery and tire room. After a full fire damage cleanup project, the auto repair business was back in business, providing a safe and environment for the mechanics and their customers!
Water Damage Restoration from Broken Water Heater in Westerly, RI Home
2/12/2018
When water damage occurs within a property structure, taking quick action to dry it out is essential to preventing mold growth; it can grow in as little as 24 hours afterwards. And when a water heater broke in a local Westerly, RI home, the steam and excess water caused significant water and mold damage to the basement crawlspace.
As soon as the owners called ServiceMaster by Mason, our technicians were quick to respond with professional equipment and cleaning products to restore the area. They started by removing drywall, insulation, debris from the subfloor, as well as the old water heater itself.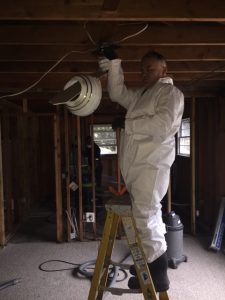 Our professionals had then begun restoring the area by providing temporary electricity and heat while  using HEPA vaccuums throughout the ceiling and areas in the crawlspace. Finally, they cleaned and disinfected the remainder of the affected area to remove all mold growth and excess moisture. After a effective and efficient water damage cleanup service, ServiceMaster by Mason was able to deliver peace of mind that the affected property structure was then fully restored.
Frozen Pipe Water Damage Restoration after Winter Storm in Rhode Island Home
2/1/2018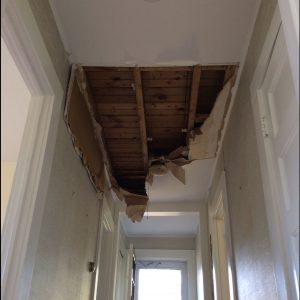 Due to the harsh winter storms, many homes and commercial buildings had been left without power in Rhode Island. But without heat, the risk for frozen and burst pipes is doubled!
Unfortunately for the homeowners of a Rhode Island home, this was exactly what happened. In fact, the cold temperatures caused multiple pipes to burst, allowing water to spread throughout multiple
bedrooms, living room, as well as other rooms in the home.
As soon as they noticed the damage, the homeowners called ServiceMaster by Mason right away. Our team was quick to respond, arriving with professional equipment to restore the property. They  extracted the water, set up powerful drying equipment, and performed necessary demolition to remove drywall, wood flooring, and insulation from the walls and ceiling. The affected debris was then hauled away while hard surfaces were dried and deep-cleaned to eliminate excess moisture and prevent potential mold growth.
Finally, the property owners were given the peace of mind they needed after a thorough cleaning and restoration job.
Frozen Pipe Water Damage Cleanup in Westerly, RI Home
1/18/2018
For everyone living in the state of Rhode Island and Connecticut, winters can be brutal for both homes and homeowners. But one of the biggest fears during extreme cold temperatures is frozen pipes; if they aren't thawed out in time, they can cause extensive water damage throughout the entire property. Within just a few hours, water can be found flowing throughout multiple rooms, threatening to spread further if action isn't taken right away.
Unfortunately, this disaster is exactly what happened to a homeowner in Westerly, RI. After finding water running throughout 3 floors, starting in the upstairs bathroom and down to the rooms below, they called ServiceMaster by Mason for emergency water damage cleanup.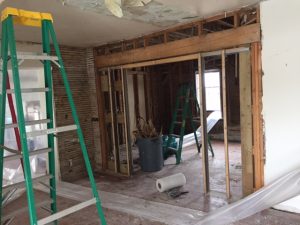 After responding immediately, our technicians made haste to move away and store the affected contents, remove the carpeting, tile, and hardwood floor, and set up a containment chamber to prevent the damage from spreading further. After securing the area, they proceeded to set up professional drying equipment to eliminate the excess moisture from the structure. All porous materials and debris were then removed, including the drywall and insulation, followed by the deep cleaning and sanitation of the remaining surfaces.
After a successful water restoration service, the homeowner was given the peace of mind knowing that the property structure was restored and no longer at risk for mold growth.
Fire Mitigation in Connecticut Home
12/29/2017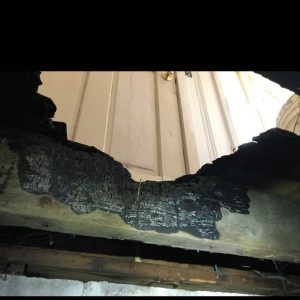 Fireplaces and wood stoves can certainly provide miracles during the coldest temperatures while keeping heating bills down. But they can also be a dangerous fire hazard, causing thousands of dollars in damage if not treated right away.
But when an unfortunate home in Stafford Springs, CT experienced a devastating fire caused by their wood stove, ServiceMaster by Mason responded immediately after the flames were extinguished. Quick to use commercial fire mitigation equipment, our professionals were able to remove heavy smoke and soot particles to restore clean air. They also provided controlled demolition, replaced insulation, ceilings, walls, and hardwood floors in multiple rooms, an attic, and crawlspace.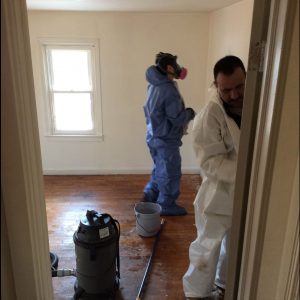 After the demolition, they used specialized cleaning products and techniques to remove smoke and soot byproducts from the windows, walls, wall joists, and floors in multiple bedrooms. This was followed by using HEPA vacuums to remove leftover debris. Finally, they cleaned the affected personal items as well as provided temporary heating.
After much hard work and an effective cleanup, the technicians were able to restore the home to its original condition while providing much needed peace of mind to the homeowners.
Sewer Cleanup in Retail Store
12/22/2017
Despite the holiday shopping rush, a local retail store in Enfield, CT made an unfortunate discovery in their restrooms.  Finding a sewer backup in both rooms, they had to act quickly in order to minimize the impact on the store's customers and staff.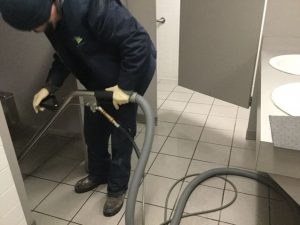 As soon as ServiceMaster by Mason received the call, our technicians responded immediately with all cleaning products and equipment to restore the restrooms in a timely manner. After removing the biohazardous waste, pressure washing, sanitizing and scrubbing the floors and other surfaces, and deodorizing, both bathrooms were ready to go. With an efficient and effective cleanup job, management was able to dive back into the holiday rush – this time with the peace of mind knowing that the bathrooms provided a clean and sanitary environment for the patrons and staff.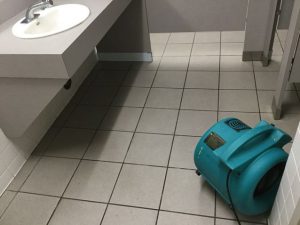 At any time when finding a biohazardous area, such as a sewer or oil spill, don't hesitate to contact ServiceMaster by Mason. We are available 24/7 and will be on our way soon after receiving your call to handle the cleanup job, allowing you to focus on other matters.
December 5, 2019
Donald Madura
Waterford, CT
I have a list of likes: 1. Quick response to my request for service. 2. Competent Crew - They worked together to get the job done expeditiously. 3. Courteous Crew - they listened to and understood my needs. 4. They were respectful of my home and property 5. The finished product was excellent - The odor from the damage was gone 6. I could easily move on to the restoration stage of the damages.
More Reviews