Heavy use and wear can cause your furniture to look dull over time. Furniture refinishing and repair can restore your furniture and antiques to their original condition. Wood refinishing takes an expert craftsman to ensure the integrity of your furniture is kept in tact.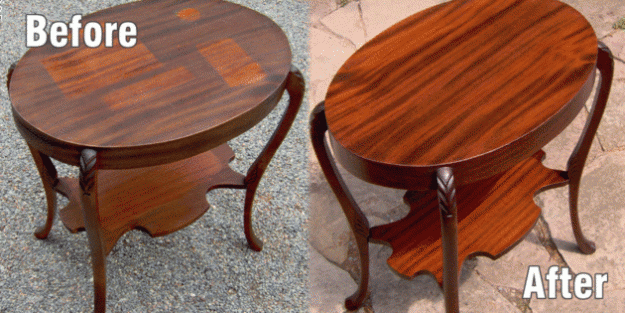 Wood furniture refinishing can be done on:
• Cabinetry
• Hardwood Floors
• Millwork
• Paneling
• Doors
• Banisters
• Mantels
• Tables
• Chairs
• Desks
• Antiques
Furniture refinishing is very important. Preserving furniture is a great way to keep your family heirlooms and pieces preserved and looking like new. By finding a reliable furniture refinishing company, you will find quality and expert services that fit your needs.
Refinishing your furniture will return it to its original beauty and give you many more years of service. An expert craftsman will work within your home to provide the appropriate refinishing of your furniture. Since your furniture and antiques can be a substantial investment, we know the refinishing process can protect that investment and return it to its original state.
Whether it's refinishing antiques or enhancing the natural beauty of your wood furnishings, you can turn to a local expert technician at (630) 412-1400.
Furniture Restoration, Refinishing & Repair Services By Furniture Medic, Highland Park, IL
Furniture Medic provides a wide range of services backed up by half a decade of experience in furniture restoration. We are mainly a furniture and cabinet repair, refinish, and re-upholstery company which specializes in antiques, pianos, and fine quality furniture. What makes our services unique and valuable, however, is the focus on hand-workmanship and the meticulous attention to details. We work with both residential and commercial clients in Highland Park, Illinois to restore the former condition of various treasured belongings and extend their life.
Furniture Repair – West Chicago And Carol Stream, Illinois
Specializing in restoration and repair, Furniture Medic by MasterCare Experts, West Chicago IL will restore your furniture to new. They handle any furniture repair such as broken chairs, desks and tables as well as antiques. Furniture repair should include the repairing of scratches, dents, watermarks, burns and gouges.
Furniture Restoration And Repair – Aurora And Naperville IL
Furniture Medic by MasterCare Experts, Naperville IL 60540, is a leading furniture repair and restoration company in the Chicago suburbs. Furniture Medic technicians are experienced in a variety of furniture repair and restoration needs. From restoring and repairing dining, coffee and end tables, armoires, dressers, antiques to cabinet refacing, our specially-formulated finishes and patented techniques are proven solutions for today's homeowner.
Furniture Restoration & Repair Services – Wheaton And Glen Ellyn, IL 60188
Furniture Medic by MasterCare Experts, Wheaton, IL can handle any enhancement, restoration or refinishing while generally preforming on-site repairs within your home. By utilizing the latest technology and processes, their skilled craftsmen can expertly repair any wood damage. Even broken, water damaged and fire-damaged pieces can often be repaired to a like-new or pre-loss condition.