After a major disaster strikes a home such as a fire, flood, accident, or act of vandalism, the biggest priority for a homeowner is to repair the damage and restore the home which may also include restoring your furniture.  Most furniture, especially wood furniture, can become damaged from excess water, fire, or smoke and though the damage may be severe, your furniture may not need to be replaced.  Furniture repair and restoration experts provide disaster furniture restoration services to repair water damaged and smoke damaged furniture including wooden furniture, cabinets, doors, and hardwood floors.
Why Disaster Furniture Restoration
The damage that water, fire, and smoke can cause to your furniture is usually pretty severe but the skilled craftsmen that provide furniture repair services can restore significant damage to completely revitalize your furniture.  Some furniture may have sentimental value like wood furniture and antique furniture.  Furniture restoration professionals understand this and can save your sentimental pieces so that you do not have to replace or dispose of them.  If you are unsure whether a piece of your water or smoked damaged furniture can be restored, contact a furniture repair specialist for an inspection.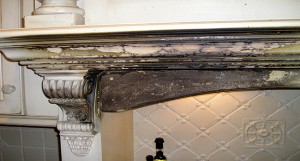 Photo by Furniture Medic by MasterCare Experts
Disaster Furniture Restoration and Repair Process
Many furniture repair professionals provide disaster furniture restoration services that cover damages from smoke, fire, water, or vandalism on a variety of furniture types including:
•    Cabinets
•    Antiques and Heirlooms
•    Millwork, Paneling, Doors, and Banisters
•    Mantles
•    Chipped Granite and Marble Repair
•    Specialty Items
You can expect the following repair services for each type of damage:
Smoke/ Fire
•    Replacement or rebuilding of charred or burned pieces.
•    Restoration and color matching of doors, face frames, and cabinets.
Vandalism
•    Precision repair to fix any scratches, dents, or gouges that occur as a result of vandalism.
Water
•    Repair of the "white cloud" effect from moisture trapped under the wood finish.
•    Stripping and refinishing if moisture causes the finish to separate from the wood.
•    Repair of cracking, splitting, and delaminating which can be caused by moisture.
•    Reveneering of swelled or expanded composite material.
•    Staining of water lines to match existing finish.
Complete disaster furniture restoration typically includes:
•    Claim validation services
•    Structural furniture repair
•    Structural cabinet repair
•    Cabinet refacing
•    Cabinet restoration and refinishing
•    On-site precision furniture repair
•    Expert wood color blending
•    Furniture repair and stabilization
•    Restoration, furniture refinishing, and polishing
•    Watermark removal
•    Fire, smoke, and vandalism furniture repair and restoration
•    Cleaning and restoration of water damaged furniture
If your wood or antique furniture has been damaged in a disaster such as a fire or flood, do not think about replacing it, contact a furniture restoration professional for disaster restoration services.  A furniture repair expert can salvage heavily damaged furniture and save you the cost and trouble of buying a replacement.  Contact us at (630) 412-1400 to find a furniture repair expert near you.