(847) 380-7888
Fires are extremely dangerous because they start out small and spread quickly, consuming all materials in its path. Don't hesitate to call 911 after ensuring that everyone has evacuated the building.
But after the flames have been extinguished, the next important step is to call ServiceMaster by Metzler for fire damage restoration in the Prospect Heights, IL area right away. The fire may be out, but there's still damage occurring to the building and contents; therefore, without restoration, the damage will become permanent.
Fire Damage Repair
Soot and toxins from burning synthetics will discolor, etch, and tarnish household surfaces like chrome, marble, and aluminum. Soot is difficult to remove from walls and ceilings, especially from vaulted ceilings, and doesn't come off well with commercially-available cleaners.
Smoke also seeps into cracks and surfaces, depending on the extent of the flames. The smell soaks into carpet, textiles, and furniture, but cannot be removed with home remedies. The water and firefighting chemicals that helped save your property can also cause permanent damage if restoration doesn't begin immediately.
Fire Damage Cleanup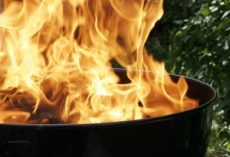 ServiceMaster By Metzler provides full service fire damage restoration services to homes and businesses in Prospect Heights, IL that have experienced fires of any size. We use advanced products and equipment and our technicians are experienced to effectively and efficiently restore all types of building materials. We can even restore items you thought were lost forever, like electronics and heirlooms, but it's important to act quickly.
Our fire damage cleanup services include all of the following:
Emergency pre-cleaning
Deodorization
Wall and ceiling cleaning
Content cleaning and pack-out services
Fire Damage Repair – Check Out This Video
For professional fire and smoke damage restoration, call ServiceMaster by Metzler at (847) 380-7888.
Fire Damage Cleanup – What to Do:
If the property is located in Prospect Heights, IL call for ServiceMaster by Metzler for fire damage restoration as soon as the fire department has extinguished the flames.
Open drawers, closets, and cabinets to allow air to circulate.
Tape a couple layers of damp cheesecloth over both supply and return register vents to prevent soot from being circulated by the HVAC system.
Set aside electronics and other delicate items for priority restoration.
Throw out food from the refrigerator and discard opened cans in the cupboards. The power was disconnected during the fire and the food in the refrigerator isn't safe. Opened cans likely have soot or other contaminants, but sealed cans should be fine.
Change the HVAC filter.
Wipe off porcelain, Formica, chrome, and aluminum surfaces to prevent further etching.
Wipe soot from plants.
Fire Damage Cleanup – What NOT to Do:
Don't touch any surface without gloves. The oils on your hands can cause even more damage to delicate surfaces.
Don't attempt to clean anything yourself. Commercially-available cleaners may not work, or may make things worse, and without proper restoration training, you may make a costly mistake.
Don't use any electrical appliances or use a ceiling fixture on a wet ceiling until they've been checked by an electrician.
In case of a fire, the only course of action should be evacuation. As soon as the first responders give permission, call the highly trained experts at ServiceMaster By Metzler. We'll arrive quickly on the scene of residential or commercial fires in Prospect Heights, IL and surrounding areas to prevent further damage and begin the restoration process.
ServiceMaster By Metzler is available 24 hours a day, 7 days a week at (847)380-7888 for complete service fire damage restoration services in the Prospect Heights, IL area. We also work with insurance.
Related Fire Damage Restoration Services
Fire Damage Cleanup in Elk Grove Village, IL
Smoke Mitigation in Chicago, IL
Fire Damage Repair in Rosemont, IL
Smoke Damage Restoration in Park Ridge, IL
Fire Damage Restoration Des Plaines, IL
---
Recent Reviews
---