(847) 380-7888
Residential and commercial property owners in Prospect Heights, IL, can count on our odor removal services here at ServiceMaster by Metzler to eliminate lingering odors.
This is often needed following property-damaging events and various biological incidents.
No matter the cause of the odor, we will address it at its source. We also utilize advanced air cleaning and deodorizing technologies to sanitize your air spaces. Our ultimate goal is to eradicate nuisance odors from your property instead of simply masking them. This is the only way to leave your property smelling fresh.
About Lingering Odors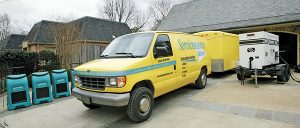 Odors can be caused by a number of things, but many of them boil down to property-damaging events and biological incidents. The types of circumstances we're referring to include the following and more:
The presence of indoor pets
Issues relating to wild animals
The reason that smells caused by these and similar conditions linger is due to the fact that they can circulate throughout the air and become absorbed by porous materials on your property (think about how easily pet odors can spread). If surfaces are directly exposed to the cause of the odor, then this is even more likely to occur (think of a pet having an accident on the carpet).
Removing Lingering Odors
Depending on your unique situation, the odor may be isolated, or it could be present in a number of areas. To determine this, we perform an initial inspection to identify all sources of unsavory smells. We then proceed with treating affected surfaces, and cleaning your air spaces.
The technologies and systems we use to deodorize your air spaces are highly specialized, and include:
Ozone systems
High-Efficiency Particulate Air (HEPA) filters
Hydroxyl generators
Thermal fogging
Professional Deodorization
When it comes to treating affected surfaces, we utilize equally advanced solutions and techniques. This includes the sealing of porous surfaces in order to prevent odors from returning in the future. At the end of our work, we will document our process for your reference.
You do not need to put up with lingering odors on your property, or simply attempt to mask them continuously. Through our deodorization services, we will eliminate the odors at their source, and eliminate the risk of them returning in the future. Our procedures are time-tested and proven to be highly effective.
To learn more about our odor removal services in Prospect Heights, IL, simply give our ServiceMaster by Metzler representatives a call at (847) 380-7888. We are happy to address any of your unique questions or concerns and look forward to assisting you soon.
---
Related Deodorization Services
Deodorization Services in Chicago, IL
Odor Removal Company in Elk Grove Village, IL
Deodorization Company in Des Plaines, IL
Odor Removal Services Park Ridge, IL
Professional Odor Removal in Rosemont, IL
---
Recent Reviews
---