Events that lead to large-scale property damage often have the ability to leave behind odors even after reconstruction efforts have taken place. Similarly, smaller and more isolated incidents are equally as capable of resulting in lingering odors if they are not addressed.
At ServiceMaster by Metzler, we work to eliminate these risks and more through our odor removal services in Des Plaines, IL. We will clean your air spaces and treat affected surfaces in order to eliminate odors at their source.
Common Causes of Odors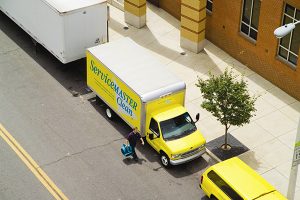 The primary causes of odors that we see involve cases of property damage or biological events. These include things such as:
The presence of pets
Problems with wild animals
While many more items could be included on this list, these occurrences accurately account for the vast majority of lingering odors on properties in Des Plaines, IL. The reasons that they linger are easy to explain, but more difficult to address. Particles can fill your air spaces, and eventually become trapped within porous materials found on your property (this can include anything from structural components of your building to various personal belongings).
These smelly elements can then remain for lengthy periods of time until they are effectively removed. Through the use of specialized equipment and techniques, our ServiceMaster by Metzler technicians will clean and deodorize your air spaces, and treat affected surfaces and materials.
Cleaning Your Air Spaces
The technologies and systems that we use to clean and deodorize air spaces involve very specific functions and purposes. They include:
Thermal fogging to neutralize odors
Hydroxyl generators that utilize hydroxyl radicals to remove odors
Ozone systems to provide an oxidizing agent
High-Efficiency Particulate Air (HEPA) filters to eliminate various smells from the air
Treating Affected Materials
Identifying and treating affected materials is paramount to eliminating lingering odors because it attacks them at their source. When we begin our services, we first perform an inspection to locate all affected areas. We then treat them with specialized equipment and techniques (we perform our air cleaning services during this phase, as well). Additionally, we seal porous surfaces to prevent odors from returning. Once the deodorization process has been completed, we will provide you with thorough documentation of our work.
At ServiceMaster by Metzler, our technicians are specifically trained to tackle odors originating from a variety of events. No matter the cause or scale of the smells on your property, we will eliminate them.
To utilize our odor removal services, simply contact our representatives at (847) 380-7888. We currently operate in the Des Plaines, IL, area.
---
Related Odor Removal Services
Odor Removal Company in Elk Grove Village, IL
Deodorization Services in Chicago, IL
Odor Removal Services in Park Ridge, IL
Deodorization Company in Prospect Heights, IL
---
Recent Reviews
---