Finding your property caked in mud and debris can be an extremely stressful situation, especially right after having construction services. In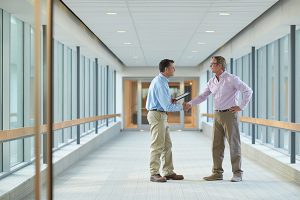 addition, it is also considered unsafe to return to as the sawdust still lingers within the air that can trigger allergies and breathing problems as well as nails and screws causing the risk of injuries. While the cleanup job may not be so hard for smaller homes and buildings, large commercial properties can be overwhelming to handle.
When you have found yourself in this situation and live in the Des Plaines, IL area, call ServiceMaster by Metzler for professional post construction cleaning services. They will handle all aspects of the cleaning while improving the overall condition of the property, making it a safe environment for you and your family or staff to return to.
Cleaning Up Debris from Construction
While the mess caused by the construction workers may not seem so bad on the outside, it can be overwhelming to find the aftermath of the site on the inside. As mud and dirt may have been tracked in, sawdust can be lingering everywhere as it can travel throughout the air duct system. There is also the risk for mold and mildew to occur as any puddles of water left on the floor will promote the growth of bacteria.
As if this doesn't seem like enough, nails and screws left behind on the floor are hard to find unless stepped on. Ultimately, it is necessary to contact the cleanup crew at ServiceMaster by Metzler. They will ensure that all debris and leftover construction materials are completely removed from the property. If an insurance claim was filed, we will also work with your agent to allow you to focus on other matters.
We proudly provide the following cleaning procedures within our services:
Removing paint overspray
Spot cleaning and vacuuming
Sweeping and mopping of all floors
Dusting of all belongings, including furniture and upholsteries
Window cleaning
And more!
Free Estimate
While it can be a relief to finally return home or back to work after discovering the construction process is complete, it can be completely daunting to find the new building materials covered in dirt and debris.
This is why ServiceMaster by Metzler will arrive right away to provide professional post construction cleanup services in the Des Plaines, IL area for both commercial and residential properties. Our cleanup team will ensure that all areas of your home or building will look brand new, ultimately providing a safe and clean environment for you and your family or staff.
For professional post construction cleanup services, we are available at (847)380-7888.
Related Post Construction Cleanup Services
Post Construction Cleanup in Elk Grove Village, IL
Professional Post Construction Cleaning in Park Ridge, IL
Post Construction Cleaning Services in Chicago, IL
Post Construction Cleanup Company in Rosemont, IL
Professional Post Construction Cleanup Services in Prospect Heights, IL
---
Recent Reviews
---