Home and business owners in Des Plaines, IL may not realize the amount of foot traffic that has occurred within each room of their property. Although the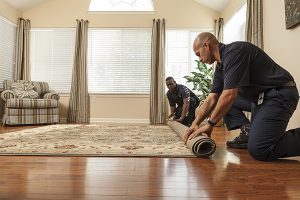 amount will vary for residential and commercial properties, the amount of dirt and debris that has become embedded within the fibers can be surprising. Over the years, this can also cause severe discoloration and deterioration within the carpet as it can actually impact the appearance of the entire room. For business owners, it can even deter a prospective client from doing business as a result of looking disorganized and unprofessional.
ServiceMaster by Metzler provides professional carpet cleaning to all home and business owners in the Des Plaines, IL area. Not only would our services keep the carpet looking like new, it will actually extend the lifespan of the carpet. Our technicians use advanced equipment to deep clean each type of carpeting using a specialized technique, called the hot water extraction method. As this procedure has shown spectacular results, our customers have always been satisfied with the outcome of these services.
Using Hot Water Extraction
Over the past years, ServiceMaster by Metzler has been able to master a specialized technique that is designed to remove even the most deeply embedded dirt and debris from the fibers. Known as the hot water extraction method, this technique utilizes a cleaning wand to apply a sanitizing solution deep into the carpet, loosening the debris.
After repeating this process several times, the debris is extracted into the machine along with the cleaning solution. As this method has proven to have the best results for both commercial and residential carpeting, we are proud to leave our Des Plaines, IL customers happy after a quality service.
All of the following procedures are included in our carpet cleaning services:
Pre-examination of the carpeting to identify areas that need the most attention.
Vacuuming to extract as much loose debris as possible.
Application of the hot water extraction method to remove all stains, dirt, and debris.
Post-treatment to remove lingering spots and stains.
Grooming of carpet fibers to preserve the life of the carpet.
Final inspection to guarantee quality results.
Call for a Free Estimate
Although this method requires only 24 hours to be cleaned and dried completely, our technician can have the job done within a few hours. We ensure to work as effectively and efficiently as possible so you are able to spend more time attending to other matters.
While it may not be noticed at first, the condition of a carpet can have a significant impact on the look and feel of an entire room. As a dirty and deteriorated carpet can negatively impact the first impression of a guest or client, it is important to consider a professional cleaning.
For a free estimate on carpet cleaning in the Des Plaines, IL area, call ServiceMaster by Metzler at (847)380-7888.
---
Related Carpet Cleaning Services
Carpet Cleaning Services in Rosemont, IL
Carpet Cleaning Company in Elk Grove Village, IL
Mt. Prospect, IL Experienced Carpet Cleaning
Prospect Heights, IL Professional Carpet Cleaning
---
Recent Reviews
---