Carpet and Rug Cleaning Services
A room's carpet is considered one the most comfortable and aesthetic flooring options available. While it not only provides padding and softness for the feet, its color also compliments the room. However, if it contains a lot of dirt and debris from frequent foot traffic, it will substantially detract from the rest of the room.
In addition, stains and spills can cause discoloration, fading, and ultimately break down the carpet fibers. However, ServiceMaster by Metzler provides professional carpet cleaning services in the Elk Grove Village, IL area. We use advanced products and equipment to fully restore the new look of your carpet.
Residential Carpet Cleaning Services
Although carpets within the home will not receive nearly as much foot traffic as commercial buildings; however, they will still become prone to accidental spills, dirt, and other debris. Over time, as dust will become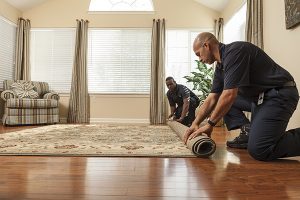 embedded within the fibers, they will start to deteriorate. While a vacuum is able to remove the majority of dirt, it will not remove all particles that have become trapped underneath; they will need to be removed through professional carpet cleaning. As a result, ServiceMaster by Metzler recommends that you have your carpet cleaned at least once a year, not only to maintain the new look, but to extend the overall lifespan.
Carpet Cleaning Process
To have your carpets professionally cleaned, ServiceMaster by Metzler uses an advanced technique that has left carpeting of all types in pristine condition; this is known as the hot water extraction method. In this procedure, a cleaning wand is used to apply a sanitizing solution mixed with warm water deep within the carpet fibers. As the solution loosens the dirt and dust, they are both extracted out of the carpet and into a holding tank. The carpet only then requires 24 hours to be dried effectively.
The following steps are taken in our carpet cleaning services:
Inspection of the carpeted area
Pre-treatment to remove/dampen stains
Pre-vacuuming to remove all loose dirt and dust
Application of the hot water extraction method to remove embedded dirt, stains, and other debris
Post-treatment of stained areas
Grooming of the carpet fibers to preserve them
Insertion of pads underneath furnishings to protect carpeting
Final inspection to guarantee your satisfaction
Commercial Carpet Cleaning Services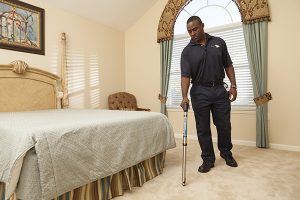 Our commercial carpet cleaning services cover buildings of all types and sizes, from small retail stores to large office buildings. While it is important to keep the workplace as clean and organized as possible, it can easily become dirty and outdated if the carpet contains stains and debris. ServiceMaster by Metzler  in Elk Grove Village, IL will ensure to restore the new look of the carpet, even bringing back the modern and clean appearance to the entire room. Our services also include regular maintenance appointments to maintain that fresh new look at all times.
The following benefits are associated with regular carpet cleaning services:
Maintenance of carpet color and texture
All dirt and debris will be completely removed
Stains and spills can be quickly removed through frequent cleanings
The lifespan of the carpet will be extended
If your carpet looks faded, worn-down, or overall dirty, a vacuuming job can only pick up a portion of the dirt.
Free Estimate
ServiceMaster by Metzler is available at (630) 656-9915 to provide professional carpet cleaning to the homes and businesses of Elk Grove Village, IL. Contact us today to schedule your appointment.
---
Related Carpet Cleaning Services
Carpet Cleaning Company in Prospect Heights, IL
Carpet Cleaning Services in Rosemont, IL
Carpet Cleaning in Chicago, IL
Professional Carpet Cleaning Services – Des Plaines, IL
Experienced Carpet Cleaning – Mt. Prospect, IL
---
Recent Reviews
---