Professional Mold Removal
Mold growth is a natural occurrence in our environment; however, when it shows up within a home or building, it can lead to major problems.  Mold not only causes property damage, including structural damage and discoloration, but it can also cause allergic reactions and other negative health effects, especially in cases of prolonged exposure.
ServiceMaster by Metzler provides mold remediation services to effectively remove mold growth from homes and businesses in Elk Grove Village, IL and restore the damage to the affected surfaces.  Our technicians are certified and equipped to provide effective mold removal services. In addition, we will fix any moisture problems that may lead to future mold growth.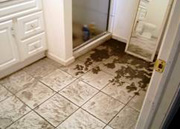 In order for mold growth to appear, the spores must find an environment that includes a moisture and organic food source, such as cellulose that is found in common building materials.
Because mold uses a substance in the affected surfaces as its food source, it can cause devastating damage to wood, drywall, and other surfaces, forcing you to replace the affected materials.  In addition to the physical damage, mold can trigger a range of allergic reactions such as a runny and stuffy nose, itchy eyes and throat, and skin irritation. Prolonged exposure can lead to severe issues such as respiratory infections.
Mold Remediation – Check Out Our Video
Mold Remediation Process
The technicians of ServiceMaster by Metzler in Elk Grove Village, IL are trained and certified to completely remove mold growth from homes and buildings, ensuring that it is eliminated at the source.  We use the best cleaning products and equipment while providing accurate testing to locate and remove hidden mold growth.
You can expect the following basic steps with our mold removal services:
Total evaluation of the damage and testing
Report of our evaluation to your insurance company
Containment of the mold growth to prevent it from spreading
Water damage restoration if needed
Formation of a mold remediation plan based on our evaluation
Mold removal and repair or replacement of the damaged surfaces
Mold Remediation – What to Do
Call ServiceMaster by Metzler in Elk Grove Village, IL right away to remove the mold at its source and prevent it from spreading.
Dry off any walls containing condensation while avoiding contact with moldy surfaces.
Limit the humidity and moisture levels within the property by turning on the A/C system or dehumidifier.
Inspect the HVAC system of your home.
Always wear protection when present around mold, including eye wear, gloves, and mask.
As long as outside conditions permit, air out the home by opening the windows and doors.
Mold Removal – What to Avoid
Do not try to clean any mold with at-home remedies, such as bleach or vinegar. Any improper cleaning techniques can actually worsen the damage and cause it to spread further.
Do not paint or caulk over any moldy surfaces.
Do not touch any moldy surfaces directly as it can release its spores and pose severe health risks.
Mold growth can spread quickly once it starts growing. In addition, the property damage and health issues associated will only grow worse over time.
When this happens, be sure to contact ServiceMaster by Metzler in Elk Grove Village, IL at (847) 380-7888 for complete mold remediation. We are available 24/7.
---
Related Mold Remediation Services
Mold Remediation in Prospect Heights, IL
Mold Removal in Mt. Prospect, IL
Mold Damage Restoration in Rosemont, IL
Mold Remediation Company in Chicago, IL
Mold Removal Professionals in Park Ridge, IL
---
Recent Reviews
---