Mold is a fairly common problem because it often occurs due to water damage or elevated moisture levels and it must be removed quickly to prevent it from spreading or causing negative health reactions.  Mold can cause significant damage to the surfaces it grows on because it uses cellulose, an organic material found in wood and drywall, as a food source, and it will continue to disperse its spores which is what spreads the growth and triggers health issues.  NuEra Restoration and Remodeling provides mold remediation services in Schaumburg, IL to remove mold growth from homes and businesses.  We will fully assess the mold growth in your home or building and create a remediation plan based on the assessment and industry protocols.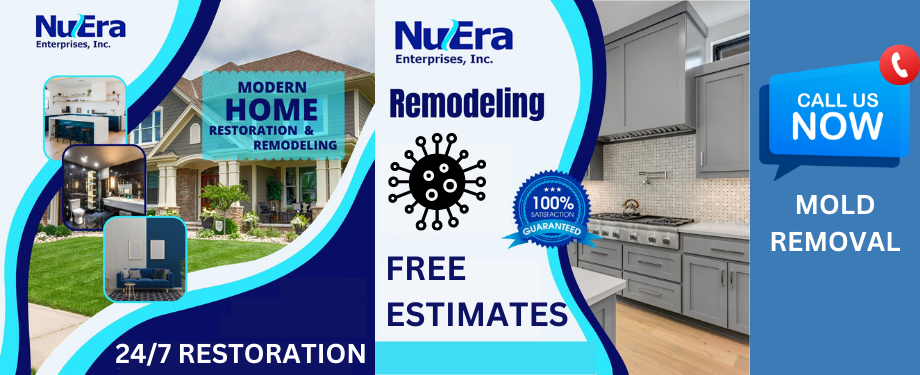 Mold Removal and Remediation
Mold is a fungus that can start growing virtually any time because mold spores are a constant presence in the natural environment.  Once the spores find favorable conditions which include a moisture source and food source, it will form into mold growth.  Mold will eventually destroy the affected surfaces because it feeds on the material and it can also cause a musty odor to permeate your home or building.  The possible health effects of mold should also be a major concern because exposure to mold can cause allergic reactions as well as more serious respiratory issues.  The following are some important characteristics to remember about mold:
Mold needs an organic food source to grow. It usually uses cellulose which is an organic substance in wood and drywall.
Mold needs oxygen and will not grow in areas submerged in water.
Mold needs a moisture source, controlling the moisture level in your home is the best way to prevent mold.
Mold colonies release spores that can spread the growth to other areas and cause health problems.
Watch RestorationMaster Video for more information on mold removal
The mold remediation services we provide include the following steps:
Identification of the Source: We will look for the source of the mold growth during our initial inspection and correct it if found. An industrial hygienist may be needed to do the initial inspection if we cannot determine the source of the mold.
Determining the Extent: Once the source is discovered, we need to uncover the extent of the mold growth to make sure it is completely removed. This step may involve moisture meters, air testing, and other similar methods.
Containment: We use a combination of plastic sheets, negative air machines, and HEPA filtration to keep the mold growth contained and prevent the spores from spreading the contamination to new areas.
Removal: We will decontaminate or remove affected surfaces and materials.
Decontamination: We can effectively decontaminate non-porous building materials with anti-microbial applications, HEPA vacuuming, wire brushing, and sanding.
Final Testing: We will test the home or building after completing the remediation to ensure that the mold levels are back to a safe level. This step can usually be done more effectively by a certified industrial hygienist.
Contact Us for Mold Remediation for Schaumburg, IL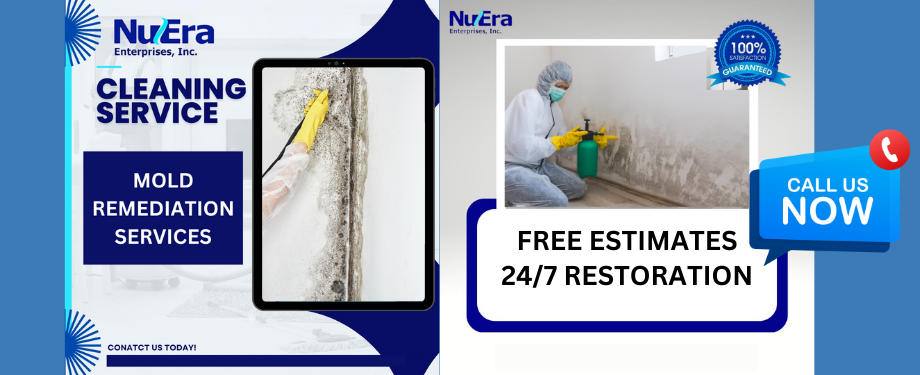 Mold growth can quickly cause extensive damage and increase the risks of negative health reactions so do not hesitate to call NuEra Restoration and Remodeling if you discover mold in your home or building in Schaumburg, IL.  We can properly test for and remove mold and we keep it contained to the already affected area as we work.  You can call us 24 hours a day at (630) 656-9915 for mold remediation in Schaumburg, IL, and the surrounding area.
---
Related Mold Removal and Remediation Services:
Mold Removal and Remediation Experts in Downers Grove, IL
Mold Remediation Professional Company in Mt. Prospect, IL
Black Mold Cleanup Team in Des Plaines, IL
Mold Cleanup Certified Technicians in Elk Grove Village, IL
---
Mold Damage Restoration Tips and Information
The basement is commonly dark. humid, and less organized. Therefore, it is a perfect environment for mold to develop.  If you spot mold growth in your basement, follow these pieces of advice. If it is a small area, you can try to clean the mold yourself using a brush and mix cleaning liquid. However, if mold was not removed to the root but only got cleaned on the surface, it may come back and spread at a more extensive level. It is best to contact an experienced mold remediation company like NuEra Restoration and Remodeling.  We have the equipment and expertise to completely remove mold from your property and protect your family from dangerous exposure and mold-related health risks.
Mold Removal is not a small expense. However, it is not the best decision if you decide to take a huge mold problem into your own hands. It would actually save you more money to contact a mold removal professional, and communicate with them to get assistance on insurance claims if it is a water damage-related mold issue. If your insurance does not cover the cost or if you don't have homeowner insurance, NuEra Restoration and Remodeling offers a no-interest financing plan that you can have mold cleaned up right away to mitigate the mold exposure health effect and complete your payment with installment. The article gives you insight into price ranges for different mold removal situations. Doing research and educating yourself to make sure that your investment is reasonable and worthwhile are the best money-saving tips when it comes to mold removal and remediation.
Tenants often face a challenging situation when it comes to mold, mainly because mold growth frequently stems from maintenance problems that fall under the purview of the landlord's responsibilities. Here are the scenarios when the landlord must be responsible for mold growth and remediation costs.
Mold from poor construction
Mold caused by prolonged leaks
Mold due to excessive humidity or poor ventilation
Mold inside the HVAC systems
---
What Should I Do If I Find Mold In My Attic?
Safety Gear: Prioritize your safety by wearing protective gear, including a mask, gloves, and goggles, to protect yourself from mold spores.
Empty Attic: Remove all belongings and clutter from the attic to create a clear workspace for mold removal.
Seal the Openings: Seal any openings or cracks in the attic, such as windows or vents, to prevent moisture and mold from returning.
Natural Ingredients: Use eco-friendly and natural cleaning solutions to effectively eliminate mold, reducing the environmental impact.
Scrub it Off: Gently scrub the affected areas to remove mold, using a combination of natural cleaning solutions.
Contact a mold remediation expert like NuEra Restoration and Remodeling for professional and effective mold removal.
What Should I Do If I Find Mold In My Bathroom?
It is highly common for mold to grow in the bathroom. The water stream is trapped in the ceiling and wall after each shower increasing the moisture level and leading to mold growth and infestation. You can spray natural cleaning mix on the damaged surface, let it soak for half an hour, scrub it with a brush, and repeat the cycle until the dark mold is seemingly gone. However, if the extent of mold growth is more than what you can manage, it is best to call NuEra Restoration and Remodeling mold remediation technicians to completely remove mold from your house's structure and return your property to its original safety condition.
What Should I Do If I Find Mold In My Crawl Space?
Crawl space is a challenging area to clean mold by yourself because the visibility is limited and it involves potential physical danger. We would recommend contacting a trusted mold damage restoration professional like NuEra Restoration and Remodeling to remove mold from the crawl space. We have the tools and knowledge to navigate, identify, and clean up mold in every size and type of crawl space.
Why and How People Choose a Professional Contractor After a Home Disaster?
---
Recent Reviews
Review by Kiara Robinson
Rating

"Professionalism, Punctuality, Quality, Responsiveness, Value Clint and his team were AWESOME!!! He was very considerate of my time and space. I was very frustrated when he arrived & when he left I felt happy and relieved that my issue was resolved! He made sure to clean everything with non-toxic chemicals so that my kids would be safe, he explained everything he was doing and executed it perfectly. I had a leak in my ceiling and sewage water everywhere. He put in the time and hard work to disinfect, clean, and dry everything throughly. He was quick, efficient, and respectful! I would definitely recommend his services to anyone who has an issue in their space. Thank you Clint."
---
Review by Sara Ofenloch
Rating

"Our technician Alec came in and re-padded the carpet that had been torn up last week due to water damage. He was so friendly and talkative, and worked very quickly to get the job done! In and out within 30 minutes so that I could get on with my day. Would definitely recommend. Thanks Alec!"
---
Review by Saima I
Rating

"After our apartment flooded on Chirstmas Eve, we were worried about dry wall repairs and patches, and disgusted by the stench. NuEra handled our dry wall replacement and patching and our carpets. We didn't get a business card from the man who worked on our walls and ceilings, but he did so without his partner that day. We are so grateful! After the drywall repairs, our carpets were cleaned so thoroughly and efficiently. Alex treated the carpet and scrubbed it out well before applying the deodorizer and scrubbing that in. He even got out a bright yellow stain from the water that had leaked in. It's such a relief to no longer live in a stinky apartment! Alex and Nick were wonderful! Thank you so much!"
---
See All Reviews