How do I get rid of mold growth in my house old underground basement?
Basements can range from purely functional storage spaces to secondary living spaces that add value and square footage to your home. However, mold cleanup and prevention should be considered whether you use your basement or not. Mold exposure can cause mild to moderate illness, especially in the elderly, young children, and people with breathing difficulties and compromised immune systems. Left untreated, mold will give off an unpleasant, earthy odor that will discourage you from using your basement.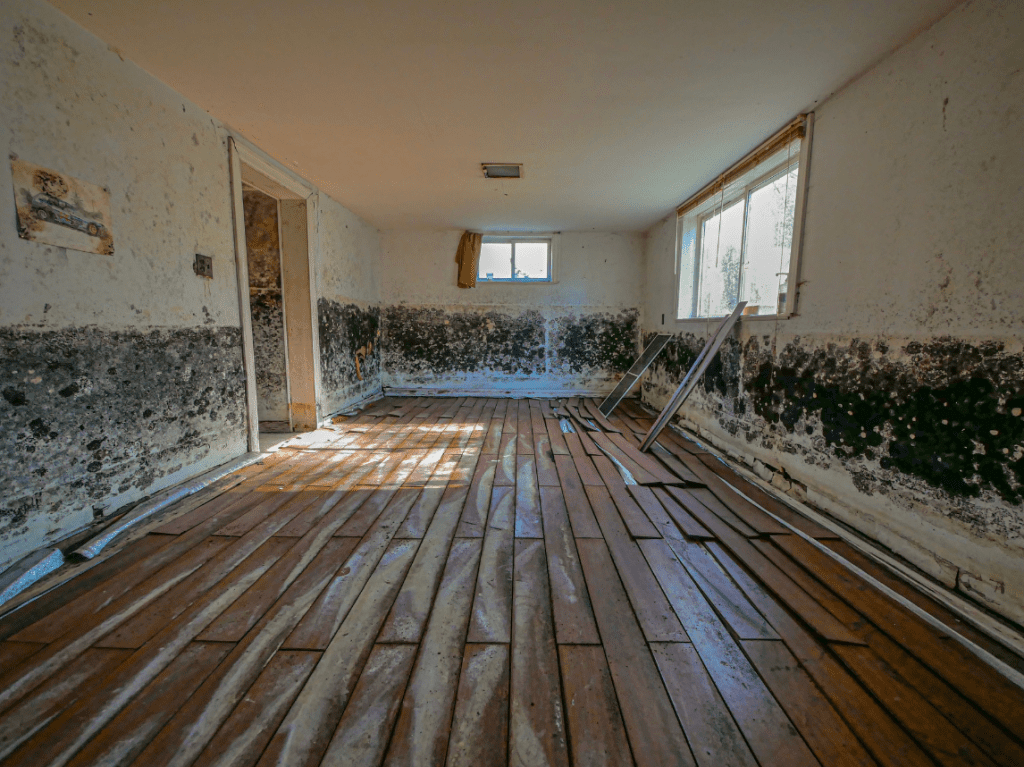 Causes of Basement Mold
Mold grows in areas with moisture, organic materials, moderate temperatures, and low light levels. Because basements are built underground, they are a prime breeding ground for mold. Mold growth is likely to affect common building materials that are soft and porous because they absorb natural water quickly. Mold growth can also happen if the mason did not apply the brick correctly, causing the mortar to leak and allowing the mortar and cement to absorb more water than usual. In many cases, the initial construction plan was not carefully calculated; waterproofing methods such as waterproofing materials misting of moisture were not applied.
Besides, an erratic climate often causes the floor to sweat. When there is no sunlight, the water vapor cannot evaporate, leading to water stagnation for a long time which can lead to mold. Moisture can seep through foundation walls, especially after heavy rains, saturating the wood beams and drywall. Once these materials have absorbed water, they dry out very slowly, giving mold spores a chance to establish their colony. Basement mold can spread to the rest of your house if you do not remove it, so it is best to be proactive about eliminating existing mold and preventing new mold colonies from forming.
How To Remove Mold in Your Basement
Try looking at the corners of your basement to see if there are traces like the picture below!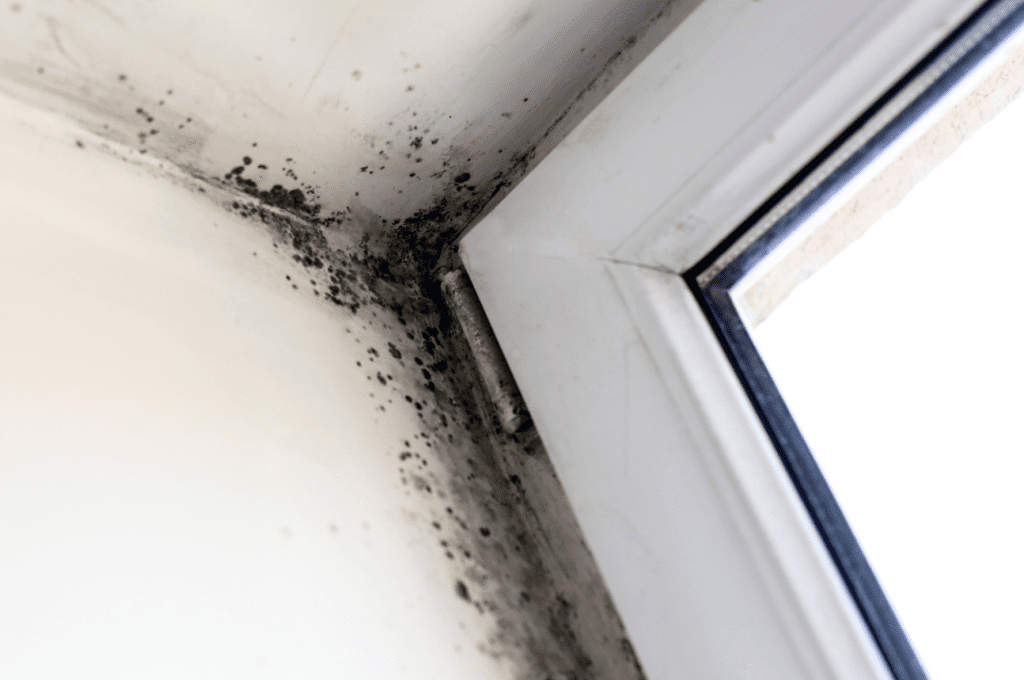 Many people do not pay attention to them because they think mold is only dangerous when ingested. However, experts have found that the mold stains on the walls can spread into the air, causing serious harm to human health. As a result, mold is a cause of asthma in people with genetically weak immune systems. Symptoms of a mold allergy include runny nose, itchy nose, itchy throat, sneezing, and watery eyes. If you find that your wall has a sign of mold, you need to handle it immediately to protect the health of your family.
If the moldy area is relatively small, you can clean the site yourself.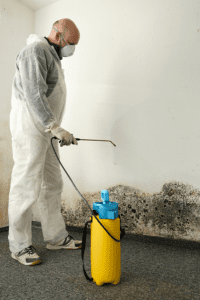 You can partly clear mold away on the surface by sweeping many times with a brush. Then you mix cleaning liquid with water and then use a towel to clean up the outside. If you have asthma, mold allergies, or other breathing difficulties, be sure to wear a protective respirator before beginning to clean and remove the mold from your basement. First, remove all organic material, such as carpeting, drapery, or drywall that is moldy. It will have to be replaced. Next, thoroughly clean the area with a bleach solution or an antifungal cleanser. Finally, allow the area to dry completely before replacing the carpet, drapery, and other furnishings.
However, you should be cautious about this method. The United States Environmental Protection Agency does not recommend the use of chemicals or biocides as a routine practice for mold cleanup. Especially, they warn not to mix chlorine bleach solution with other detergents that contain ammonia. An incorrect mixture of chemicals can negatively affect your health. In addition, trying to clean up the mold with bleach or other household chemicals ineffectively can even cause the spores to disperse.
What you can do is to keep the moisture and humidity levels low by running an air conditioner or dehumidifier. Suppose it is not possible to remove moisture through natural ventilation. In that case, the humidity level will be interrupted, and airborne fungal spores begin to actively multiply inside the house and in the basement. This process takes place on a large scale. If the humidity reaches 70% or more and the air temperature in the room is 15°C, aggressive measures should be taken. First, you need to determine the humidity level with a hygrometer accurately, then move on to identifying the source of the moisture and eliminating the problem.
If mold has colonized a larger area or has established itself inside the walls or heating ducts, it is best to call a professional mold remediation crew.
Mold remediation professionals have the expertise and equipment to remove mold safely and effectively. They can uncover the extent of the moisture in your home or building using an electronic moisture meter. These meters are non-invasive as they can detect moisture levels within porous building materials and building cavities without damaging your walls or ceiling.
Mold technicians use special products and premium professional technologies to remediate mold and fungus in your basement, such as HEPA (High-Efficiency Particulate Air) equipment, air scrubbers, HEPA vacuums, and commercial-strength dehumidification equipment. They can also replace old peeling paint on walls, ceilings, and floors, remove damaged mold plaster from the wall for the quality repair of all defects, clean all cracks and crevices, carefully fill damaged areas with cement mortar, and saturate all walls with an effective remedy against fungus and mold.
Reference 4 Things You Can Do to Prevent Water Damage Blog for more information on remediating moisture in your home's basement.
How To Prevent Mold from Coming Back

Humidity causes wet spots, mold, and a sweltering stench. It makes wooden structures deteriorate, and stone and concrete structures begin to crumble. Metal parts are covered with rust, and wooden parts can quickly rot. Eliminating moisture is the most effective way to prevent mold from returning. Invest in a dehumidifier or have your basement professionally sealed. For the human body, the average humidity is about 40-60%. It is much higher for people at risk of chronic respiratory diseases, skin diseases, dangerous bronchial asthma. Dehumidifiers will prevent humidity from reaching above the necessary level and eliminate the damp conditions mold needs to grow while making your basement a more pleasant place to be. Besides dehumidifiers, you should also purchase other structural waterproofing devices like basement insulation, grated drainpipes, sump pumps, and wall coverings.
If your basement experiences mold growth, contact a local Restoration Company immediately for professional mold remediation cleanup services. They use advanced cleaning products and equipment to inspect and eliminate mold. They can also help coordinate claims with your insurance company.