While mold usually develops in a small area, it has the ability to spread quickly. When this occurs, spores are released into the air, attaching to another organic surface. Without proper treatment, mold and mildew will continue to spread, causing structural damage to porous elements in your property. However, NuEra Restoration and Remodeling responds immediately to provide mold remediation services in Mt. Prospect, IL. Our technicians use advanced products and equipment in order to eliminate mold at its source, preventing it from returning in the future.
Because mold often grows in hidden areas, it can be difficult to find. Water damage, heavy rain, poor insulation, and high humidity can also cause mold growth in areas including basements, crawlspaces, and the attic. However, when you call NuEra Restoration and Remodeling in Mt. Prospect, IL, trained and certified professionals will first assess the severity of the damage. They will then determine which rooms need treatment with advanced testing, creating a mold remediation plan based on the assessment.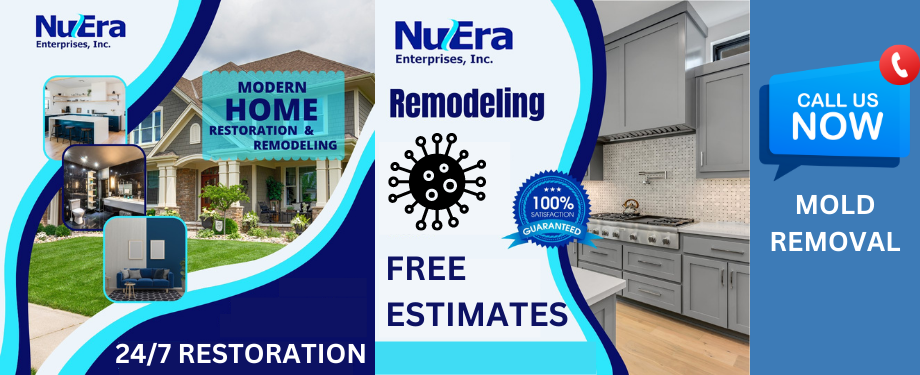 For professional mold damage restoration in Mt. Prospect, IL and the surrounding area, contact NuEra Restoration and Remodeling at (630) 656-9915.
Mold Remediation – What to Do
If the building is located in Mt. Prospect, IL, call NuEra Restoration and Remodeling right away to remove the mold at its source and prevent it from spreading.
Wipe down any walls containing condensation as long as they do not contain mold.
Wear protective equipment, including eye wear, gloves, and a mask.
Limit the humidity levels in the property by running dehumidifiers and the A/C unit.
Check the HVAC system.
Increase air circulation throughout the property by turning on the fan or A/C unit.
Mold Removal – What NOT to Do
Do not disturb any visible mold.
Do not try to clean any mold yourself as improper cleaning techniques can spread the damage and cause negative health effects.
Do not place a fan directly in front of the mold.
Do not paint or caulk over any moldy walls or floors.
Watch RestorationMaster video for more information on mold remediation
You can expect the following procedures with our mold removal services:
Evaluation of the damage and air testing
Report of our extensive  evaluation to your insurance company
Containment of any mold growth to prevent it from expanding
Formation of a mold remediation plan based on our evaluation
Mold removal and repair or replacement of the affected surfaces
Post-inspection to ensure all areas are restored
Contact Us for Mold Remediation in Mt. Prospect, IL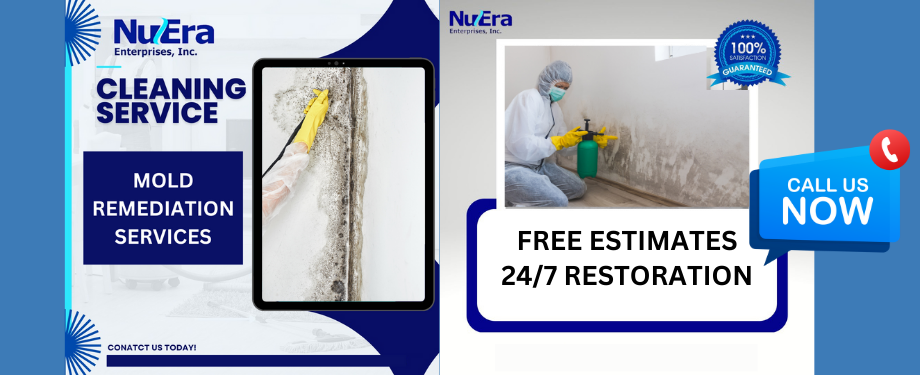 Once mold gets in, it can be hard to contain as it spreads to affect other areas of the home, not to mention the negative health effects that are created. Even minor cases of mold growth can quickly become major problems. If you suspect mold in your home or business in Mt. Prospect, IL, call NuEra Restoration and Remodeling at (630) 656-9915. We are available 24/7.
---
Related Mold Remediation Services
Mold Removal Professionals in Downers Grove, IL
Mold Remediation Technicians in Elk Grove Village, IL
Black Mold Cleaning and Restoration in Des Plaines, IL
Mold Cleanup Expert in Schaumburg, IL
---
Related Mold Removal and Cleanup for Home Improvement Tips
Mold growth on painted surfaces such as the walls of your home or business can look very unpleasant, and aside from aesthetics, mold can pose serious health risks such as asthma and other upper respiratory issues. If you are dealing with mold growth on painted surfaces, you can follow these instructions for a clean-up process you can do yourself.
Are you fueled by a genuine enthusiasm for house restoration? Do you find yourself captivated by the idea of revitalizing a historic property and infusing it with a new lease on life? If this resonates with you, then it's time to seriously modernize an older home. Should you choose to embark on this exciting journey of design and transformation, it's crucial to take note of this guidance. Presented here is a comprehensive outline of the steps you need to take to ensure your home modernization project flourishes and attains success.
If you find yourself in a situation where you can smell musty odor of mold, but you are unsure where it comes from. Here are the seven most common places that mold tends to grow and spread in your property. Check all of these places to identify the sources for effective mold removal and remediation.
---
Water damage-related mold removal Frequently Asked Questions
Do different types of mold require different removal methods?
There are multiple different types of mold. However, most of them can be removed with the same mold removal methods either by cleaning products in your household or professional mold removal services with large colonies of mold infestation.
How does mold affect indoor air quality?
Mold can affect the indoor air quality through the release of minuscule spores that can disperse throughout the air. These mold spores can provoke respiratory problems, and allergies, and even exacerbate asthma in certain individuals. Prolonged exposure to mold may result in more severe health complications, including lung infections and the development of chronic bronchitis.
What are the first steps to take if I suspect mold in my home?
If you suspect mold in your home due to an unpleasant odor and you cannot locate the sources, it is best to contact a mold testing professional and a mold remediation expert like NuEra Restoration and Remodeling. We provide comprehensive restoration services from mold removal, and water damage restoration, to odor removal and reconstruction to return your property to its safe and mold-free condition.
Why and How People Choose a Professional Contractor After a Home Disaster?
---
Recent Reviews
Review by Kiara Robinson
Rating

"Professionalism, Punctuality, Quality, Responsiveness, Value Clint and his team were AWESOME!!! He was very considerate of my time and space. I was very frustrated when he arrived & when he left I felt happy and relieved that my issue was resolved! He made sure to clean everything with non-toxic chemicals so that my kids would be safe, he explained everything he was doing and executed it perfectly. I had a leak in my ceiling and sewage water everywhere. He put in the time and hard work to disinfect, clean, and dry everything throughly. He was quick, efficient, and respectful! I would definitely recommend his services to anyone who has an issue in their space. Thank you Clint."
---
Review by Sara Ofenloch
Rating

"Our technician Alec came in and re-padded the carpet that had been torn up last week due to water damage. He was so friendly and talkative, and worked very quickly to get the job done! In and out within 30 minutes so that I could get on with my day. Would definitely recommend. Thanks Alec!"
---
Review by Saima I
Rating

"After our apartment flooded on Chirstmas Eve, we were worried about dry wall repairs and patches, and disgusted by the stench. NuEra handled our dry wall replacement and patching and our carpets. We didn't get a business card from the man who worked on our walls and ceilings, but he did so without his partner that day. We are so grateful! After the drywall repairs, our carpets were cleaned so thoroughly and efficiently. Alex treated the carpet and scrubbed it out well before applying the deodorizer and scrubbing that in. He even got out a bright yellow stain from the water that had leaked in. It's such a relief to no longer live in a stinky apartment! Alex and Nick were wonderful! Thank you so much!"
---
See All Reviews