Residential and commercial property owners in Mt. Prospect, IL, can count on NuEra Restoration and Remodeling for efficient and effective sewage cleaning services. Through these services, our highly trained technicians will remove all dangerous substances from your property, sanitize salvageable materials, and remove lingering odors, and dry affected areas.
In essence, we will restore your property, and prevent future problems from occurring. We offer 24/7 emergency response capabilities in order to help you during your time of need.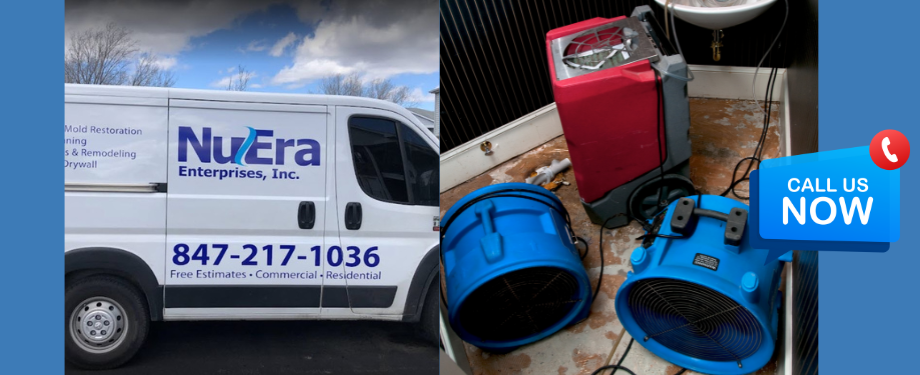 Damage Caused by Sewage Water
While our sewage cleaning services focus on contaminated fluids, it is still important to understand the nature of water damage as a whole. Floods, leaks, burst pipes, and similar events are common causes of water damage, and result in a number of troubling circumstances.
Building components can become discolored and structurally damaged, electronics can be ruined, the water can spread with ease, and the resulting moisture can lead to mold growth.
Contaminated Sewage Water
The above types of damage can also occur in cases of sewage backups and other situations involving free-flowing, contaminated water. The difference is that these substances are extremely hazardous to your health.
Bacteria and viruses within these liquids can result in the spread of diseases and infections. As a result, specific and deliberate cleaning procedures must be followed in order to prevent health complications.
Watch RestorationMaster video for more information on sewage cleanup:
Emergency Sewage Contamination Cleanup
At NuEra Restoration and Remodeling, we implement time-tested and certified procedures to remove dangerous substances from your property. Our technicians are experts in these practices, and understand the behaviors of the fluids in question. This means that no matter the extent of the damage, our experienced professionals will restore your property and belongings to the fullest extent possible.
When you choose to make use of our 24/7 sewage cleanup services, you can expect an optimal result. We are dedicated to improving the condition of your property from initial inspections through final verifications. The steps in the middle include the following:
Extraction of sewage, water, and other contaminated substances from your property (this includes unsalvageable materials)
Repair services to fix the initial problem
Sanitization services to clean and decontaminate salvageable surfaces, materials, and belongings
Deodorization services that make use of state-of-the-art air and surface cleaning technologies
Dehumidification and drying services to prevent future mold growth and other problems
Emergency Contact for Sewage Cleanup Services in Mt. Prospect, IL
Addressing scenarios that call for sewage cleaning services is undoubtedly stressful. We understand this, as well as all of the uncertainty surrounding these situations. When you choose to work with us here at NuEra Restoration and Remodeling, you will benefit from the services of seasoned professionals.
To learn more, or to utilize our industry-leading services, simply give our representatives a call at (630) 656-9915. We are available 24 hours a day, and look forward to restoring your property in Mt. Prospect, IL.
---
Related Sewage Cleanup Services
---
Recent Reviews
Review by Kiara Robinson
Rating

"Professionalism, Punctuality, Quality, Responsiveness, Value Clint and his team were AWESOME!!! He was very considerate of my time and space. I was very frustrated when he arrived & when he left I felt happy and relieved that my issue was resolved! He made sure to clean everything with non-toxic chemicals so that my kids would be safe, he explained everything he was doing and executed it perfectly. I had a leak in my ceiling and sewage water everywhere. He put in the time and hard work to disinfect, clean, and dry everything throughly. He was quick, efficient, and respectful! I would definitely recommend his services to anyone who has an issue in their space. Thank you Clint."
---
Review by Sara Ofenloch
Rating

"Our technician Alec came in and re-padded the carpet that had been torn up last week due to water damage. He was so friendly and talkative, and worked very quickly to get the job done! In and out within 30 minutes so that I could get on with my day. Would definitely recommend. Thanks Alec!"
---
Review by Saima I
Rating

"After our apartment flooded on Chirstmas Eve, we were worried about dry wall repairs and patches, and disgusted by the stench. NuEra handled our dry wall replacement and patching and our carpets. We didn't get a business card from the man who worked on our walls and ceilings, but he did so without his partner that day. We are so grateful! After the drywall repairs, our carpets were cleaned so thoroughly and efficiently. Alex treated the carpet and scrubbed it out well before applying the deodorizer and scrubbing that in. He even got out a bright yellow stain from the water that had leaked in. It's such a relief to no longer live in a stinky apartment! Alex and Nick were wonderful! Thank you so much!"
---
See All Reviews