(847) 380-7888
When a disaster hits your property, you have more than just your building at stake. Everything inside is open to damage and sometimes replacing your personal items can be costly. Water, fire, and mold damage can continue to affect your valuables after the disaster, even becoming permanent if they are not treated right away. But when your valuables need cleaning and restoration, they must be cleaned and handled with care by experienced professionals.
In addition to disaster restoration services, ServiceMaster by Metzler provides content cleaning and pack-out services to all homes and businesses in Mt. Prospect, IL. With years of experience and training, our technicians will restore all content to their original condition, no matter the type of damage. In the event that your items cannot be restored on-site, they will be delivered to our facility for complete cleaning.
Content Cleaning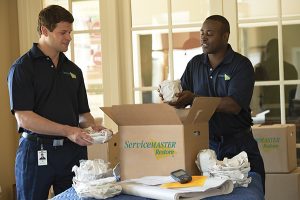 When your belongings are the victims of a natural disaster, they must be cleaned right away to prevent additional or even permanent damage. Our technicians have extensive experience with advanced technology to repair, clean, and restore your items. Upon arrival, ServiceMaster by Metzler will first inspect all items that have been damaged, separating them according to their material types.
For water-damaged items, we will dry and dehumidify large both furnishings and small belongings, such as pillows and blankets. For fire-damaged items, we will use unique products to create complex chemical reactions to remove all smoke and soot residue. Odor removal products will also be used for items retaining foul smells. If your home has suffered more extensive damage, we also offer pack out services. In this case, we will deliver your items to our facility for efficient and effective cleaning and storage.
Pack-Out Services
When the damage to your home or business is too severe, you will need to remove your belongings to prevent accidental damages. When this occurs, ServiceMaster by Metzler provides pack out services in which your items are carefully packed and transported to our climate-controlled facility. A detailed inventory is also created in the process, providing you and your insurance provider with a copy. They will then be effectively cleaned and restored at our facility until the restoration work on your home is complete. When you are ready, they will be delivered to your front door.
Immediate Response
While restoration services are essential in effectively returning building materials to their original condition, they do not cover the repair work of your personal items. In the event that they have also received damage, be sure to call for professional services right away.
ServiceMaster by Metzler is available 24/7 to provide content cleaning and pack-out services at (847) 380-7888 in Mt. Prospect, IL.
Related Contents Restoration and Pack Out Services
Contents Restoration and Pack Outs in Elk Grove Village, IL
Content Cleaning and Pack Out Services in Park Ridge, IL
Contents Restoration and Pack Out Company in Prospect Heights, IL
Professional Content Cleaning and Pack Outs in Rosemont, IL
Emergency Content Cleaning and Pack Out Company in Des Plaines, IL
---
Recent Reviews
---