One of the most disheartening things that can occur following a construction or restoration project is discovering a lingering odor. Unfortunately, this occurs with relative frequency because of the porous nature of many building materials (such as wood, drywall, and more).
At ServiceMaster by Metzler, we provide property owners in Mt. Prospect, IL, with odor removal services to address these situations. We also eliminate smells that originate from more isolated incidents (like pets or undetected deaths), and clean affected air spaces.
Causes of Odors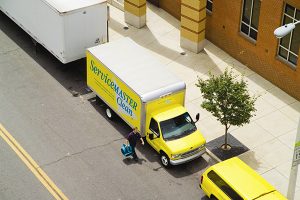 There are a number of reasons why odors may be lingering on your property. In the case of construction and restoration projects, porous materials tend to be the culprit. This is because they absorb and trap various smells for lengthy periods of time. If your property suffers from fire or water damage, there is a very real possibility that odors will linger. The same is true in instances of mold growth or exposure to smoke.
Additionally, there are isolated events that can lead to odors in residential and commercial settings. Pets can obviously create a variety of different smells depending on the types of animals you own. Wild animals can create similar havoc by making your home theirs. Undetected deaths are unfortunately rather common, as well. In each of these cases, the problem usually starts off small, but expands if left unaddressed.
Cleaning and Deodorizing Airspaces
A unique capability that we offer at ServiceMaster by Metzler is the removal of odors from your air spaces. We implement advanced air cleaning and deodorization technologies, equipment, and techniques to do this. They include:
Hydroxyl generators
High-Efficiency Particulate Air (HEPA) filters
Thermal fogging
Ozone systems
Professional Deodorization
Our technicians are specifically trained to deodorize affected building materials and personal belongings. We tackle odors at their source, and will locate all problem areas on your property. Once identified, we treat affected elements, and work to deodorize them. This includes the sealing of porous surfaces in order to minimize the likelihood of odors returning in the future.
Additional Benefits of Deodorization
When you work with us here at ServiceMaster by Metzler, you will benefit from time-tested odor removal methodologies, and state-of-the-art deodorization equipment. Our technicians are highly skilled in removing odors from even the most stubborn materials. Once we have treated all affected areas on your property, we will provide you with documentation of the steps we took for your reference.
If you are interested in making use of our odor removal services, we encourage you to give us a call. Our ServiceMaster by Metzler representatives can be reached at (847) 380-7888. We are happy to address any of your questions or concerns about our services. We currently operate in the Mt. Prospect, IL, area, and look forward to working with you soon.
---
Related Odor Removal Services
Odor Removal Company in Elk Grove Village, IL
Deodorization Services in Park Ridge, IL
Des Plaines, IL Deodorization Services
Odor Removal Services in Prospect Heights, IL
---
Recent Reviews
---