The carpeting within a room can significantly impact the look and feel of the entire area. A clean carpet will complement its aesthetics while a dirty carpet will negatively impact the first impression of a guest. In an office building, a prospective client may even feel deterred to do business as a result of the company looking unprofessional. In addition, accidents will happen as the carpet will sustain a number of stains if it is not treated frequently.
To put all worries to rest, ServiceMaster by Metzler provides professional carpet cleaning services in the Mt. Prospect, IL area to effectively remove all stains, dirt, and debris. Our technicians have years of experience in applying the proper products to return the new look and feel of the carpet.
In-Home Carpet Cleaning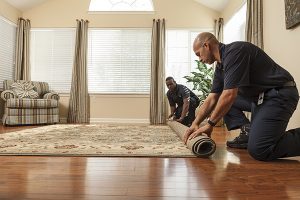 While the carpeting in homes will not receive nearly as much foot traffic as commercial buildings, dirt and debris from shoes can still become trapped within the carpet fibers. In addition, a residential carpet will require more maintenance due to the longer fibers and extra padding, whereas the commercial carpeting is similar to a mat and may not require deep cleaning.
Regardless, the professional carpet cleaning services provided by ServiceMaster by Metzler will clean deep within the fibers, removing all debris that have become trapped underneath. As a result, annual carpet cleanings will not only keep your carpet looking new, they will extend its overall lifespan.
Using the Hot Water Extraction Method
When it comes to professionally cleaning your carpet, ServiceMaster by Metzler uses an advanced method that is guaranteed to remove all dirt and dust that a regular vacuuming job was not able to remove; this is known as the hot water extraction method. During this procedure, a sanitizing solution mixed with warm water is applied deep within the carpet fibers, using a special cleaning wand. As the solution is mixed with all of the dirt, it is extracted from the carpet and into our truck-mounted holding tank.
It will then be transported to a secure facility for disposal. While the drying time requires 24 hours, the cleaning procedure will only take a few hours. This way you won't have to wait too long for your carpet to dry effectively.
Our carpet cleaning services effectively cover all of the following steps:
Inspection of the entire area that will need cleaning
Pre-treatment of the carpet
Pre-vacuuming to remove the majority of loose dirt and debris
Use of the hot water extraction method to remove all embedded debris from carpet fibers
Post-treatment to remove any lingering stains and spots
Grooming of the carpet fibers to extend the lifespan of the carpet
Complete inspection to guarantee your satisfaction with our work
Carpet Cleaning for Businesses
While the carpet fibers within a commercial building are shorter and do not contain as much padding to hold dirt and debris, it receives significantly higher foot traffic than residential carpeting. Whether there are 10 or 1,000 people walking on the carpet daily, it will quickly become worn down, flattened, and even deteriorated over time.
To make matters worse, a prospect client or customers may be deterred by the overall appearance of the room as a result of the dirty carpet. This is why ServiceMaster by Metzler also provides carpet cleaning services for commercial buildings in Mt. Prospect, IL to completely restore the new look of a carpet. We are also available to provide frequent maintenance cleanings to keep them looking clean all of the time.
With regular carpet cleaning services, you can expect the following benefits:
All dirt and debris will be effectively removed
The lifespan of the carpet is extended
All stains and spills in the carpet will be removed
The carpet will maintain its new look and feel
While a worn-down carpet will quickly detract from the entire room's appearance, it cannot be restored with a simple vacuuming job.
ServiceMaster by Metzler is available at (847) 380-7888 to provide professional carpet cleaning services in Mt. Prospect, IL and the surrounding communities.
---
Related Carpet Cleaning Services
Professional Carpet Cleaning in Prospect Heights, IL
Experienced Carpet Cleaning Services in Elk Grove Village, IL
Carpet Cleaning Company in Des Plaines, IL
Professional Carpet Cleaning Services in Park Ridge, IL
Experienced Carpet Cleaning Company in Chicago, IL
---
Recent Reviews
---