While reconstruction services can provide some much-needed peace of mind after a natural disaster, it can still be stressful to discover that there is a huge mess left behind from the renovation technicians. Construction materials, dirt, and mud will not only detract from the property's aesthetics, but can actually cause safety hazards. Leftover screws and nails are dangerous when left on the floor and sawdust can trigger allergy and even respiratory problems. It can also create blockages within the HVAC system as it becomes trapped within the ductwork.
However, there is a solution to avoid these problems. NuEra Restoration and Remodeling provides professional post construction cleanup services in the Mt. Prospect, IL area to effectively remove all aftermath left over from a construction site. Our technicians have years of experience in using advanced products and equipment that will effectively return your property to a clean and sanitary condition once again.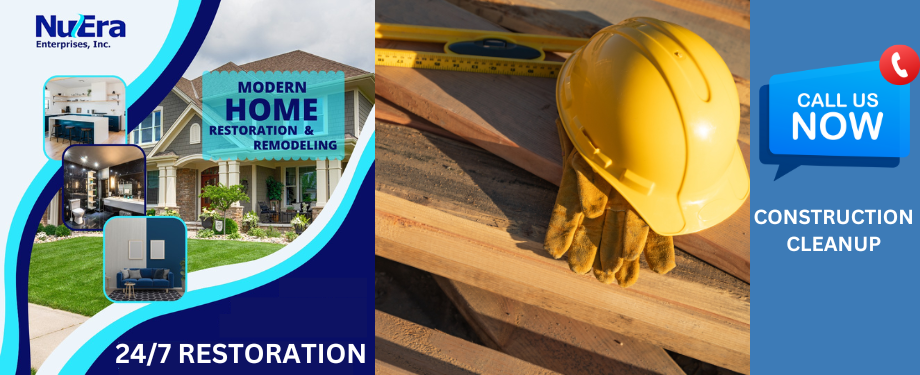 Post Construction
While a minor cleanup job after remodeling services may not seem tough to handle, larger projects can easily become overwhelming. As water, dirt, and mud may have been tracked in from the construction workers, the entire property can quickly become dirty as a result of high foot traffic. In addition, any water that may have been brought in will need to be removed as soon as possible to prevent mold growth. Ultimately, the leftover construction materials, dirt, and debris not only cause problems for the property right now, they will grow into larger issues that will cause damage to the building materials in the future.
This is why it is important to call NuEra Restoration and Remodeling for professional post construction cleanup services as soon as possible. With our services, all areas of the home or building will be properly addressed and cleaned completely. A trained field supervisor will also be assigned to the project and inform you of its progress every step of the way.
Our technicians cover all of the following in the post construction cleanup process:
Complete cleaning of all building materials
Spot cleaning of interior glass
Sweeping and mopping of hard surface floors
Dusting air diffusers and vents
Spot cleaning and vacuuming
Post Construction Cleanup
Nothing can be more exciting than to find out that the renovation or reconstruction process on your home or building is finally complete; however, when you discover that there is a huge mess left behind, it can turn into a whole new headache. While dust and debris will create blockages in the HVAC system over time, any small puddles will run the risk of future mold growth. This is why it is important to have professional services handle these large projects.
NuEra Restoration and Remodeling will work with you on all aspects of the property, addressing any concerns you may have along the way. Finally, we will handle the insurance claims process with your provider, allowing you to focus on other matters.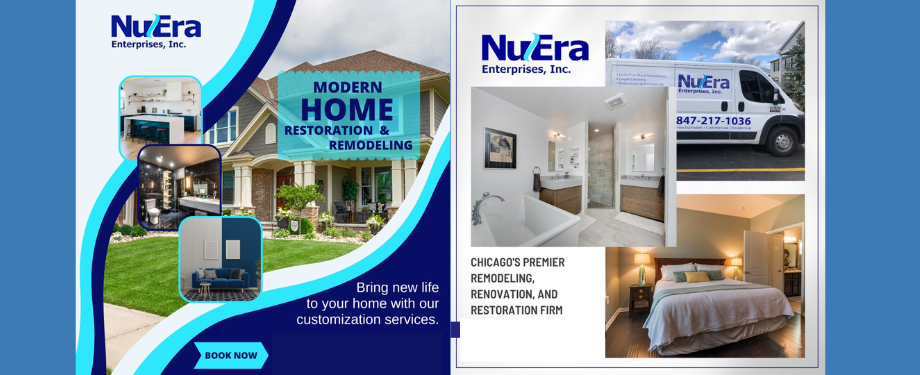 Free Estimate for Post Construction Cleanup Services in Mt. Prospect, IL
If there are large amounts of aftermath leftover from a construction site on your property, it is important to have it cleaned up right away in order to avoid future problems.
NuEra Restoration and Remodeling is available 24/7 at (630) 656-9915 for professional post construction cleanup services in the Mt. Prospect, IL area.
---
Related Post Construction Cleanup Services
Post Construction Cleaning in Des Plaines, IL
---
Recent Reviews
Review by Kiara Robinson
Rating

"Professionalism, Punctuality, Quality, Responsiveness, Value Clint and his team were AWESOME!!! He was very considerate of my time and space. I was very frustrated when he arrived & when he left I felt happy and relieved that my issue was resolved! He made sure to clean everything with non-toxic chemicals so that my kids would be safe, he explained everything he was doing and executed it perfectly. I had a leak in my ceiling and sewage water everywhere. He put in the time and hard work to disinfect, clean, and dry everything throughly. He was quick, efficient, and respectful! I would definitely recommend his services to anyone who has an issue in their space. Thank you Clint."
---
Review by Sara Ofenloch
Rating

"Our technician Alec came in and re-padded the carpet that had been torn up last week due to water damage. He was so friendly and talkative, and worked very quickly to get the job done! In and out within 30 minutes so that I could get on with my day. Would definitely recommend. Thanks Alec!"
---
Review by Saima I
Rating

"After our apartment flooded on Chirstmas Eve, we were worried about dry wall repairs and patches, and disgusted by the stench. NuEra handled our dry wall replacement and patching and our carpets. We didn't get a business card from the man who worked on our walls and ceilings, but he did so without his partner that day. We are so grateful! After the drywall repairs, our carpets were cleaned so thoroughly and efficiently. Alex treated the carpet and scrubbed it out well before applying the deodorizer and scrubbing that in. He even got out a bright yellow stain from the water that had leaked in. It's such a relief to no longer live in a stinky apartment! Alex and Nick were wonderful! Thank you so much!"
---
See All Reviews