Water damage can be derived from numerous sources, causing it to be the most common type of property damage. These can include heavy rain and excessive humidity; however, incidents such as sewer backups and burst pipes can quickly cause extensive damage. When water is destructive to your building or home, NuEra Restoration and Remodeling is prepared to provide emergency water damage restoration and flood cleanup services in Mt. Prospect, IL.
We take water damage of all sizes seriously, inspecting the property completely for any additional signs of damage. The water will then be extracted, followed by the installation of our high-velocity air movers and dehumidifiers. Finally, we will use moisture detection meters to ensure that all layers of the floor and walls have been properly dried.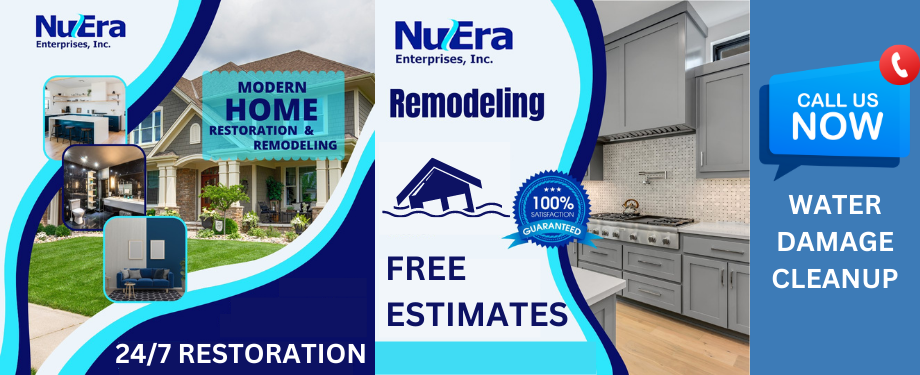 Preventing the Spread of Water Damage
As water damage can start small and grow quickly, porous materials will sustain greater amounts of damage than others. These include drywall, paint, fabrics, and wood. In addition, if they are not treated right away, the affected area will develop mold, running the risk of allergy and respiratory problems for everyone.
When called immediately to Mt. Prospect, IL,  NuEra Restoration and Remodeling will arrive right away to stop the damage from spreading. However, if there is mold present, we will have it removed with mold remediation services. With advanced drying equipment and cleaning products, you can be sure that the affected area(s) will be completely restored, giving you the peace of mind that your deserve.  Our technicians also coordinate with insurance providers to allow the claims process to run as smoothly as possible for you.
Watch RestorationMaster Video for water damage restoration
Sewage Backup Cleaning
As you may know, there are various forms of water damage, fresh water, gray water, and contaminated water. This is most commonly referred to as sewage water. When this occurs, it is essential that you avoid all contact due to the contaminants that pose a severe threat to the health of you and everyone on the property. As these contain feces, urine, and other byproducts, the damage must be restored by a professional technician.
NuEra Restoration and Remodeling will arrive quickly to Mt. Prospect, IL and secure the affected area, dispose of all contaminated porous materials, disinfect the remaining structure, and dry out the area. With our sewage backup cleaning services, you can be sure that the damaged materials will be decontaminated and restored effectively.
Our complete water damage restoration services include:
Damage Assessment
Removing the source of the moisture
Water removal
Anti-microbial treatments
Structural drying and dehumidification
Mold inspection and remediation
Discovering Water Damage – What to Do
If you live or work in Mt. Prospect, IL NuEra Restoration and Remodeling right away to prevent the damage from spreading.
Remove any paintings, sculptures, and wall fixtures from the walls and place in a high, safe location.
Pack books tightly in the shelves.
Wipe down all wet furniture to prevent mold growth.
Remove any carpeting that is not tacked down to the floor.
Increase the air flow throughout the building by opening cabinets, closet doors, and drawers.
Flood Extraction – What to Avoid
Do not use a household vacuum to extract the water.
Do not enter any room with severe structural or water damage.
Do not touch or disturb visible mold.
Do not use any electrical appliances that have sustained water damage.
Contact Us For Water Damage Mitigation in Mt. Prospect, IL
Because water cannot be easily contained, it is crucial to contact emergency services as soon as possible. Our technicians will arrive promptly to Mt. Prospect, IL, immediately securing the area and starting the restoration process. We then dry out all affected areas with advanced drying equipment.
NuEra Restoration and Remodeling is available 24/7 at (630) 656-9915 to provide effective water damage restoration and flood cleanup services in the Mt. Prospect, IL areas.
---
Related Water Damage Restoration and Cleanup Services:
Flood Mitigation in Des Plaines, IL
Water Damage Extraction  in Downers Grove, IL
Water Damage Cleanup Team in Elk Grove Village, IL
Water Damage Repair in Schaumburg, IL
---
Review by P.P.
Disaster Restoration
Rating

"The service was easy to schedule and the technician was very thorough."
---
Water Damage Repair Frequently Asked Questions
Do I need professional help for water damage restoration, or can I do it myself?
Depending on the severity and extent of the water damage, you can determine whether you can resolve it yourself. If it is a minor water damage that only requires simple dry out and ventilation, you can implement a DIY restoration process. However, most of the time, water damage is more substantial than what we can handle due to flood, sewage, etc. In these situations, it is best to contact a water damage restoration professional like NuEra Restoration and Remodeling to clean, dry, restore, repair, and reconstruct your house to its initial state.
How do you assess the extent of water damage in a property?
You can assess the water damage through the signs on the structural surface like water rings, sagging ceiling, bubbled walls, or obvious appearances like flood and sewage overflow. Water Damage Restoration experts like NuEra Restoration and Remodeling will use technical tools like digital moisture meters, etc. to accurately measure the moisture level and see the damages behind the walls and inside the property's structure.
What safety precautions should be taken during the water damage restoration process?
The utmost important safety precaution that you need to take during the water damage restoration process is to turn off all the electricity on your property and avoid contact with standing water. Experienced water damage restoration technicians like NuEra Restoration and Remodeling will thoroughly assess the condition, and implement the restoration process with careful safety measures.
Why and How People Choose a Professional Contractor After a Home Disaster?

---
Recent Reviews
Review by Kiara Robinson
Rating

"Professionalism, Punctuality, Quality, Responsiveness, Value Clint and his team were AWESOME!!! He was very considerate of my time and space. I was very frustrated when he arrived & when he left I felt happy and relieved that my issue was resolved! He made sure to clean everything with non-toxic chemicals so that my kids would be safe, he explained everything he was doing and executed it perfectly. I had a leak in my ceiling and sewage water everywhere. He put in the time and hard work to disinfect, clean, and dry everything throughly. He was quick, efficient, and respectful! I would definitely recommend his services to anyone who has an issue in their space. Thank you Clint."
---
Review by Sara Ofenloch
Rating

"Our technician Alec came in and re-padded the carpet that had been torn up last week due to water damage. He was so friendly and talkative, and worked very quickly to get the job done! In and out within 30 minutes so that I could get on with my day. Would definitely recommend. Thanks Alec!"
---
Review by Saima I
Rating

"After our apartment flooded on Chirstmas Eve, we were worried about dry wall repairs and patches, and disgusted by the stench. NuEra handled our dry wall replacement and patching and our carpets. We didn't get a business card from the man who worked on our walls and ceilings, but he did so without his partner that day. We are so grateful! After the drywall repairs, our carpets were cleaned so thoroughly and efficiently. Alex treated the carpet and scrubbed it out well before applying the deodorizer and scrubbing that in. He even got out a bright yellow stain from the water that had leaked in. It's such a relief to no longer live in a stinky apartment! Alex and Nick were wonderful! Thank you so much!"
---
See All Reviews