(847) 380-7888
Water Damage Related Info
Water damage can be derived from numerous sources, causing it to be the most common type of property damage. These can include heavy rain and excessive humidity; however, incidents such as sewer backups and burst pipes can quickly cause extensive damage. When water is destructive to your building or home, ServiceMaster by Metzler is prepared to provide emergency water damage restoration and flood cleanup services in Mt. Prospect, IL.
We take water damage of all sizes seriously, inspecting the property completely for any additional signs of damage. The water will then be extracted, followed by the installation of our high-velocity air movers and dehumidifiers. Finally, we will use moisture detection meters to ensure that all layers of the floor and walls have been properly dried.
Preventing Spread of Water Damage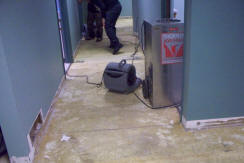 As water damage can start small and grow quickly, porous materials will sustain greater amounts of damage than others. These include drywall, paint, fabrics, and wood. In addition, if they are not treated right away, the affected area will develop mold, running the risk of allergy and respiratory problems for everyone.
When called immediately to Mt. Prospect, IL,  ServiceMaster by Metzler will arrive right away to stop the damage from spreading. However, if there is mold present, we will have it removed with mold remediation services. With advanced drying equipment and cleaning products, you can be sure that the affected area(s) will be completely restored, giving you the peace of mind that your deserve.  Our technicians also coordinate with insurance providers to allow the claims process to run as smoothly as possible for you.
Water Damage Repair – Check Out Our Video
For water damage cleanup in Mt. Prospect, IL, call ServiceMaster by Metzler at (847) 380-7888.
Sewage Backup Cleaning
As you may know, there are various forms of water damage, fresh water, gray water, and contaminated water. This is most commonly referred to as sewage water. When this occurs, it is essential that you avoid all contact due to the contaminants that pose a severe threat to the health of you and everyone on the property. As these contain feces, urine, and other byproducts, the damage must be restored by a professional technician.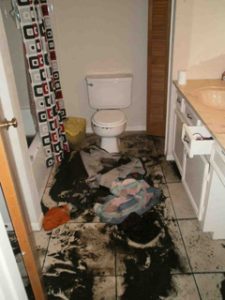 ServiceMaster by Metzler will arrive quickly to Mt. Prospect, IL and secure the affected area, dispose of all contaminated porous materials, disinfect the remaining structure, and dry out the area. With our sewage backup cleaning services, you can be sure that the damaged materials will be decontaminated and restored effectively.
Our complete water damage restoration services include:
Damage Assessment
Removing the source of the moisture
Water removal
Anti-microbial treatments
Structural drying and dehumidification
Discovering Water Damage – What to Do
If you live or work in Mt. Prospect, IL ServiceMaster by Metzler right away to prevent the damage from spreading.
Remove any paintings, sculptures, and wall fixtures from the walls and place in a high, safe location.
Pack books tightly in the shelves.
Wipe down all wet furniture to prevent mold growth.
Remove any carpeting that is not tacked down to the floor.
Increase the air flow throughout the building by opening cabinets, closet doors, and drawers.
Flood Extraction – What to Avoid
Do not use a household vacuum to extract the water.
Do not enter any room with severe structural or water damage.
Do not touch or disturb visible mold.
Do not use any electrical appliances that have sustained water damage.
Because water cannot be easily contained, it is crucial to contact emergency services as soon as possible. Our technicians will arrive promptly to Mt. Prospect, IL, immediately securing the area and starting the restoration process. We then dry out all affected areas with advanced drying equipment.
ServiceMaster by Metzler is available 24/7 at (847) 380-7888 to provide effective water damage restoration and flood cleanup services in the Mt. Prospect, IL area.
Related Water Damage Restoration Services
Water Damage Cleanup in Rosemont, IL
Water Extraction in Des Plaines, IL
Water Damage Restoration in Chicago, IL
Flood Cleanup in Prospect Heights, IL
Water Mitigation in Elk Grove Village, IL
Water Damage Repair in Park Ridge, IL
---
Review by P.P.
Disaster Restoration
Rating

"The service was easy to schedule and the technician was very thorough."
---
Recent Reviews
---