When a natural disaster strikes, traditional restorations services are used to repair the damages. However, some disasters can be more destructive than others, causing a major loss to your home or business. In addition, structural damages can be hazardous and create dangerous condition within the property.
When this happens, call NuEra Restoration and Remodeling right away for emergency reconstruction services in the Mt. Prospect, IL area. Our technicians are fully trained with years of experience to handle residential and commercial property losses of all sizes. We are IICRC, OSHA, and EPA-certified, making us one of top reconstruction services in the Mt. Prospect, IL area. Finally, our office assists with the insurance claims process, allowing you to focus on personal matters during this stressful time.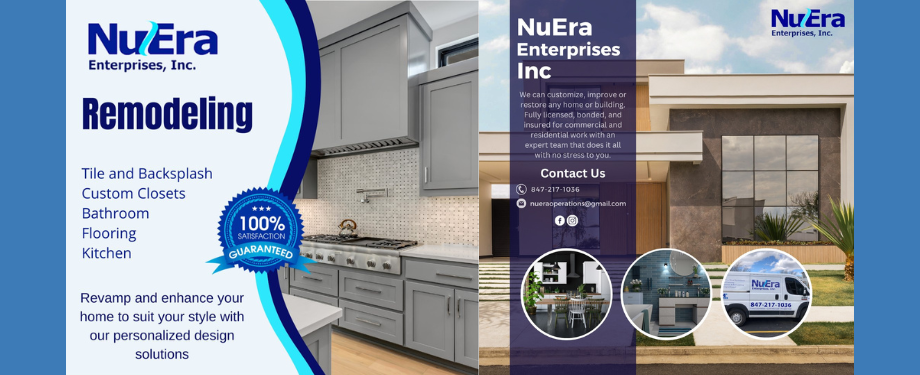 Reconstruction for Commercial and Residential Properties
When you experience a severe loss, it can put your whole life on hold. The structural damage your property will suffer can leave you without a home or unable to do business. When this happens, professional reconstruction services must be called right away. With over 30 years of experience,the technicians at NuEra Restoration and Remodeling have trained and certified staff to ensure your home or building is effectively repaired.
Consisting of handymen, subcontractors, electricians, and plumbers, they are experienced in reconstructing all areas of the property. A project manager will also be assigned to oversee the process, notifying you of the progress each step of the way. With our services, you won't have to worry about hiring a contractor; our team is able to handle all aspects of the repair work.
Our full reconstruction services include the following:
Complete project management, scheduling, and planning
Thorough evaluation of the damage
Controlled demolition services
Estimates
Detailed explanation of repairs
Full communication and agreement on price with insurance company
Consultation and design
Roof tarping
Full service remodeling
Building stabilization
Compliance with all codes
Restoration services
Reconstruction and Restoration
While natural disasters can include multiple forms of damage that can leave your property in an unstable condition, these can include water, fire, mold, or other type of damage. While reconstruction services do not usually restore these building materials, NuEra Restoration and Remodeling specializes in water, fire, and mold restoration services. Our technicians are also experienced in effectively preventing the damage from spreading and removing its source. We will also provide replacements for any materials that have become unsalvageable. Finally, you can depend on us not only to reconstruct the home, but restore any damage caused by a natural disaster.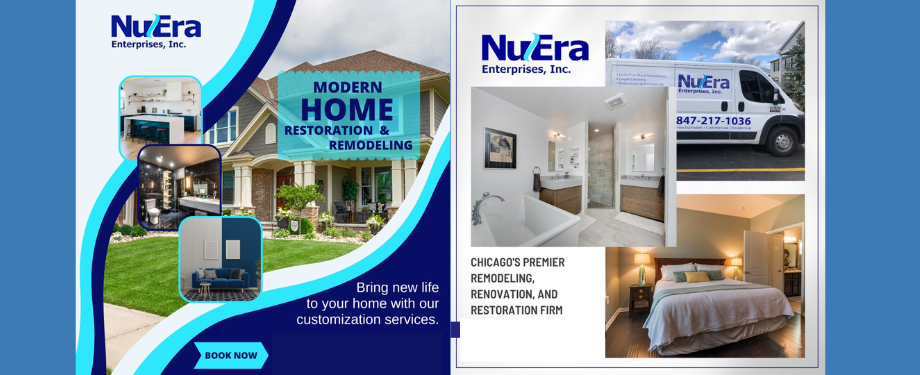 Emergency Response for Reconstruction Services in Mt. Prospect, IL
When your home or business cannot be repaired by restoration alone, you will need a reconstruction company you can trust. NuEra Restoration and Remodeling has years of experience in effectively repairing all property damage while restoring any building materials caused by fire, water, or mold.
If you experience a natural disaster with severe devastation in the Mt. Prospect, IL area, call (630) 656-9915 for emergency disaster restoration and reconstruction services. We are available 24/7.
---
Related Reconstruction Services
Construction Services in Des Plaines, IL
---
Recent Reviews
Review by Kiara Robinson
Rating

"Professionalism, Punctuality, Quality, Responsiveness, Value Clint and his team were AWESOME!!! He was very considerate of my time and space. I was very frustrated when he arrived & when he left I felt happy and relieved that my issue was resolved! He made sure to clean everything with non-toxic chemicals so that my kids would be safe, he explained everything he was doing and executed it perfectly. I had a leak in my ceiling and sewage water everywhere. He put in the time and hard work to disinfect, clean, and dry everything throughly. He was quick, efficient, and respectful! I would definitely recommend his services to anyone who has an issue in their space. Thank you Clint."
---
Review by Sara Ofenloch
Rating

"Our technician Alec came in and re-padded the carpet that had been torn up last week due to water damage. He was so friendly and talkative, and worked very quickly to get the job done! In and out within 30 minutes so that I could get on with my day. Would definitely recommend. Thanks Alec!"
---
Review by Saima I
Rating

"After our apartment flooded on Chirstmas Eve, we were worried about dry wall repairs and patches, and disgusted by the stench. NuEra handled our dry wall replacement and patching and our carpets. We didn't get a business card from the man who worked on our walls and ceilings, but he did so without his partner that day. We are so grateful! After the drywall repairs, our carpets were cleaned so thoroughly and efficiently. Alex treated the carpet and scrubbed it out well before applying the deodorizer and scrubbing that in. He even got out a bright yellow stain from the water that had leaked in. It's such a relief to no longer live in a stinky apartment! Alex and Nick were wonderful! Thank you so much!"
---
See All Reviews