No matter the disaster, finding your property left in ruins can be extremely traumatic. Not only have your building materials been severely damaged, but the entire home or business could be left in an unstable condition. As time is of the essence when reacting to this situation, you must call NuEra Restoration and Remodeling for immediate reconstruction services in the Des Plaines, IL area.
Whether caused by a fire, flood, debris, or other type of disaster, they will arrive right away to stabilize its condition and develop a plan for the reconstruction process. From board ups to painting to installing windows, our construction team will handle all aspects of the job while providing open communication so you are aware of the progress at all times.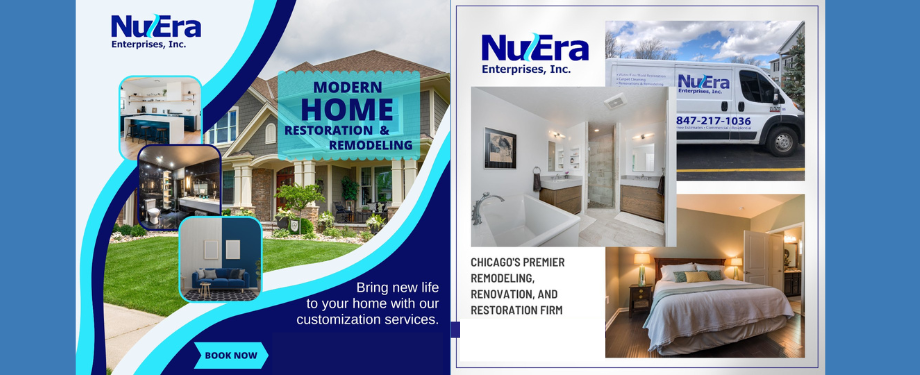 Immediate Reconstruction After a Disaster
Although it can feel stressful to wait for the repairs on your home to be complete, our team will ensure that you are receiving the highest quality services that are performed in the least amount of time possible. Our team of construction staff consists of carpenters, general contractors, and handymen with years of experience in rebuilding properties. A project manager will also oversee their work and provide you with updates along the way.
Our reconstruction services will handle a variety of procedures, including the following:
Architecture and blue prints
Handling of Licenses and permits
Roof repairs and restructuring
Painting and staining
Sealing of smoke
Custom window design and installations
Wallpapering
Electrical and plumbing
License and Permit Handling
General contracting
And more!
We make it our goal to handle all aspects of the project to save you the trouble of coordinating with multiple contractors or companies. NuEra Restoration and Remodeling is also IICRC-certified to provide any restoration services in the event of a flood or fire.
Finally, after construction work is complete, our project manager will conduct a final inspection, followed by a walk-through of all areas to ensure your peace of mind and satisfaction.
Emergency Response for Reconstruction Services in Des Plaines, IL
If you have incurred severe damage on your residential or commercial property in the Des Plaines, IL area, it is imperative to reach out to help right away as it is prone to additional damage. NuEra Restoration and Remodeling is available 24/7 at (630) 656-9915 for emergency reconstruction services. We also work with insurance to allow the claims process to run smoother for you.
---
Related Reconstruction Services
Construction Services in Elk Grove Village, IL
---
Recent Reviews
Review by Kiara Robinson
Rating

"Professionalism, Punctuality, Quality, Responsiveness, Value Clint and his team were AWESOME!!! He was very considerate of my time and space. I was very frustrated when he arrived & when he left I felt happy and relieved that my issue was resolved! He made sure to clean everything with non-toxic chemicals so that my kids would be safe, he explained everything he was doing and executed it perfectly. I had a leak in my ceiling and sewage water everywhere. He put in the time and hard work to disinfect, clean, and dry everything throughly. He was quick, efficient, and respectful! I would definitely recommend his services to anyone who has an issue in their space. Thank you Clint."
---
Review by Sara Ofenloch
Rating

"Our technician Alec came in and re-padded the carpet that had been torn up last week due to water damage. He was so friendly and talkative, and worked very quickly to get the job done! In and out within 30 minutes so that I could get on with my day. Would definitely recommend. Thanks Alec!"
---
Review by Saima I
Rating

"After our apartment flooded on Chirstmas Eve, we were worried about dry wall repairs and patches, and disgusted by the stench. NuEra handled our dry wall replacement and patching and our carpets. We didn't get a business card from the man who worked on our walls and ceilings, but he did so without his partner that day. We are so grateful! After the drywall repairs, our carpets were cleaned so thoroughly and efficiently. Alex treated the carpet and scrubbed it out well before applying the deodorizer and scrubbing that in. He even got out a bright yellow stain from the water that had leaked in. It's such a relief to no longer live in a stinky apartment! Alex and Nick were wonderful! Thank you so much!"
---
See All Reviews