Fires are every property owner's worst nightmare. Once ignited, the flames will consume anything in their path; from carpeting to personal belongings and drywall, the effects of this natural disaster are extremely traumatic. There are a number of steps that can be taken in order to prevent them, however, they are not completely avoidable. If it does occur on your property in Des Plaines, IL, do not hesitate to call the fire department right away to put out the flames immediately.
Although there may have been a significant amount of damage that was incurred within the property, many home and business owners are left not knowing what to do. However, it is times like these that are extremely crucial in the restoration process; therefore, as soon as the flames have been extinguished, call ServiceMaster by Metzler right away for emergency fire and smoke damage restoration services in Des Plaines, IL. Our technicians will arrive right away to restore as many of your building materials as possible.
Damage Incurred to Properties from Fire and Smoke
Although there may be a considerable amount of damage caused by the flames, it is the smoke and soot that have the most devastating effects. As they are left behind to cover the building materials, they cause etching and tarnishing that will compromise the structural makeup of the material without proper treatment.
The smoke mitigation specialists at ServiceMaster by Metzler completely understand this as they will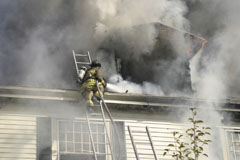 arrive right away to save as many building materials as possible. They will do this by utilizing a set of specialized products that are designed for removing all smoke and soot residue that have become embedded deep within the material. Ultimately, these experts will be able to save you hundreds, or even thousands of dollars in replacement costs.
When contacting ServiceMaster by Metzler for fire and smoke damage cleanup services, the following is included:
Immediate Response: With open and clear communication, ServiceMaster by Metzler will arrive within 2 hours of your first call to stabilize the Des Plaines, IL property. We will then start the cleaning right away to prevent the damage from spreading while explaining to you the details of the restoration process.
Emergency Tarping and Board Up Services: In order to prevent additional damage from outside conditions, we will board up your home immediately. This will also help to stabilize the structure.
Complete Inspection of All Areas: In order to focus our priorities on the areas that need immediate attention, we will inspect all areas of the property, identifying the source and spread of damages. We will then create a custom plan that will allow for the most effective restoration and cleaning process.
If you are thinking about starting the fire damage cleaning process before the specialists arrive, you can take these following steps:
Call ServiceMaster by Metzler right away if the property is located in Des Plaines, IL.
Wipe off any plant leaves containing soot.
Wipe down any of the following materials to prevent tarnishing: Formica, aluminum, porcelain, and chrome.
If the temperature within the property exceeds 60 degrees Farenheit, air it out as much as possible.
Change the HVAC filter.
Tape 2 pieces of cheese cloth over each supply and return air register.
Throw out all exposed food from the fire.
Unplug the refrigerator and dispose of all food items.
Deliver any clothing and fabrics to a specialized restoration dry cleaner for immediate use.
When starting the smoke damage cleaning process yourself, please avoid any of the following:
Do not attempt to clean any building materials that were not mentioned above. Improper cleaning techniques will only cause the damage to spread.
Do not try to clean any furniture or upholstery yourself.
Do not use any electrical machinery until it has been inspected by a licensed electrician.
Do not touch any materials with your bare hands.
As you have already experienced, dealing with a significant amount of fire damage is a nightmare. As it can feel like you have nowhere left to turn, you can rely on our fire and smoke damage restoration services. ServiceMaster by Metzler guarantees a 24/7 availability at (847)380-7888 and will be there for you during any emergency situation in Des Plaines, IL. With efficient and effective services, you can expect your property restored to its original condition as soon as possible.
Related Fire Damage Cleanup Services
Fire Damage Repair in Elk Grove Village, IL
Smoke Damage Repair in Prospect Heights, IL
Smoke Mitigation in Rosemont, IL
Fire Damage Restoration in Mt. Prospect, IL
Smoke Damage Cleanup in Park Ridge, IL
---
Recent Reviews
---