Fires are every property owner's worst nightmare. Once ignited, the flames will consume anything in their path; from carpeting to personal belongings and drywall, the effects of this natural disaster are extremely traumatic. There are a number of steps that can be taken in order to prevent them, however, they are not completely avoidable. If it does occur on your property in Des Plaines, IL, do not hesitate to call the fire department right away to put out the flames immediately.
Although there may have been a significant amount of damage that was incurred within the property, many home and business owners are left not knowing what to do. However, it is times like these that are extremely crucial in the restoration process; therefore, as soon as the flames have been extinguished, call NuEra Restoration and Remodeling right away for emergency fire and smoke damage restoration services in Des Plaines, IL. Our technicians will arrive right away to restore as many of your building materials as possible.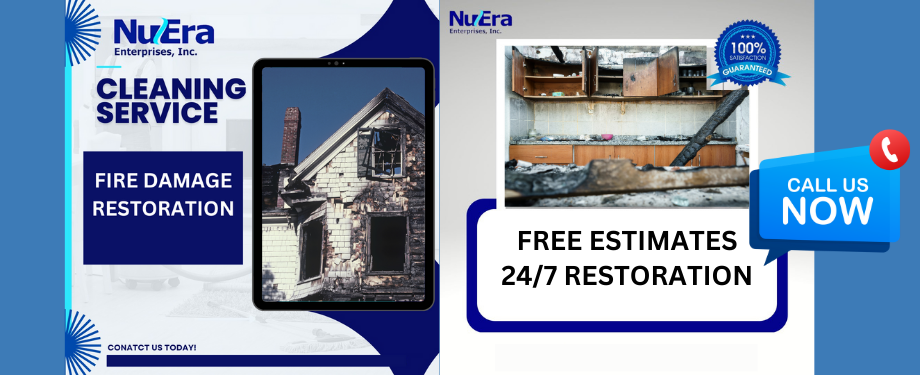 Damage Incurred to Properties from Fire and Smoke
Although there may be a considerable amount of damage caused by the flames, it is the smoke and soot that have the most devastating effects. As they are left behind to cover the building materials, they cause etching and tarnishing that will compromise the structural makeup of the material without proper treatment.
The smoke mitigation specialists at NuEra Restoration and Remodeling completely understand this as they will arrive right away to save as many building materials as possible. They will do this by utilizing a set of specialized products that are designed for removing all smoke and soot residue that have become embedded deep within the material. Ultimately, these experts will be able to save you hundreds, or even thousands of dollars in replacement costs.
For more information on fire damage restoration, watch RestorationMaster video:
When contacting NuEra Restoration and Remodeling for fire and smoke damage cleanup services, the following is included:
Immediate Response: With open and clear communication, NuEra Restoration and Remodeling will arrive within 2 hours of your first call to stabilize the Des Plaines, IL property. We will then start the cleaning right away to prevent the damage from spreading while explaining to you the details of the restoration process.
Emergency Tarping and Board Up Services: In order to prevent additional damage from outside conditions, we will board up your home immediately. This will also help to stabilize the structure.
Complete Inspection of All Areas: In order to focus our priorities on the areas that need immediate attention, we will inspect all areas of the property, identifying the source and spread of damages. We will then create a custom plan that will allow for the most effective restoration and cleaning process.
If you are thinking about starting the fire damage cleaning process before the specialists arrive, you can take these following steps:
Call NuEra Restoration and Remodeling right away if the property is located in Des Plaines, IL.
Wipe off any plant leaves containing soot.
Wipe down any of the following materials to prevent tarnishing: Formica, aluminum, porcelain, and chrome.
If the temperature within the property exceeds 60 degrees Farenheit, air it out as much as possible.
Change the HVAC filter.
Tape 2 pieces of cheese cloth over each supply and return air register.
Throw out all exposed food from the fire.
Unplug the refrigerator and dispose of all food items.
Deliver any clothing and fabrics to a specialized restoration dry cleaner for immediate use.
When starting the smoke damage cleaning process yourself, please avoid any of the following:
Do not attempt to clean any building materials that were not mentioned above. Improper cleaning techniques will only cause the damage to spread.
Do not try to clean any furniture or upholstery yourself.
Do not use any electrical machinery until it has been inspected by a licensed electrician.
Do not touch any materials with your bare hands.
Contact Us for Fire Damage Repair in Des Plaines, IL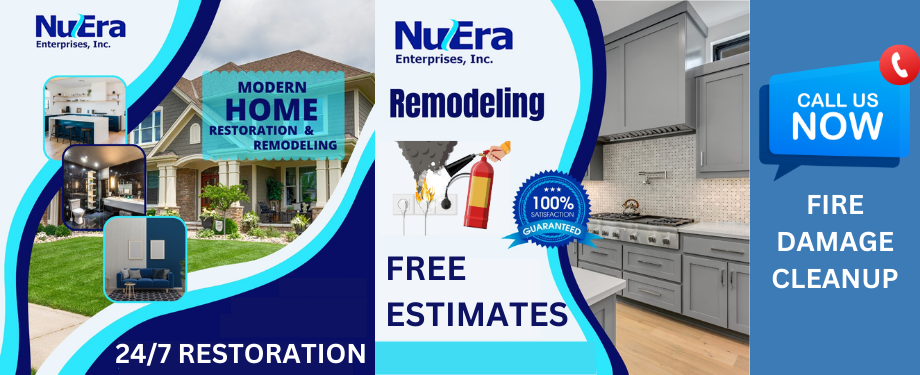 As you have already experienced, dealing with a significant amount of fire damage is a nightmare. As it can feel like you have nowhere left to turn, you can rely on our fire and smoke damage restoration services. NuEra Restoration and Remodeling guarantees a 24/7 availability at (630) 656-9915 and will be there for you during any emergency situation in Des Plaines, IL. With efficient and effective services, you can expect your property restored to its original condition as soon as possible.
Related Fire Damage Cleanup Services
Fire  Damage Repair Professional Team  in Elk Grove,  IL
Fire Damage Restoration Certified Technicians in Mt. Prospect, IL
Fire  Damage Cleanup 5-star Company  in Schaumburg, IL
Fire Damage Restoration Firm in Downers Grove, IL
---
Related Fire Damage Restoration Tips and Information
In the event of a fire, smoke generated by the flames permeates all building materials, impacting the entire property. This smoke leaves behind a thick, black residue that can compromise the structural integrity of surfaces if immediate treatment is not administered. Moreover, any existing humidity within the premises can combine with smoke, leading to corrosion. It's important to note that damage continues even after extinguishing the flames, as lingering smoke continues to spread and affect all surfaces until it eventually dissipates.
It is strongly advised not to undertake any cleaning on your own, as using improper products and techniques can worsen the situation. While there are actions you can take to prevent further damage, it is crucial to consult with your technician before doing so. This will guarantee the most efficient and effective fire damage restoration process. For detailed information and answers to common questions about fire damage restoration, we encourage you to refer to our comprehensive guide and FAQ.
Fire damage restoration services are crucial for addressing the aftermath of property fires, but it's important to recognize that each home or building presents a unique situation. For instance, a large commercial building might necessitate board up services to secure the premises, while a smaller structure might require content restoration due to the impact of smoke and soot on personal belongings. To assist you in understanding the potential procedures required for your specific property, we have prepared a comprehensive checklist.
---
How does fire affect different building materials and construction types?
Type 1 – Fire-Resistive: Fire-resistive structures are designed to withstand fire for an extended period, offering high resistance to heat and flames. These buildings are typically made of non-combustible materials like concrete and steel, minimizing fire damage.
Type 2 – Non-Combustible: Non-combustible buildings are constructed from materials that do not readily ignite or contribute to fire spread. This type provides a high level of fire protection and is often used in commercial and industrial settings.
Type 3 – Ordinary: Ordinary construction uses a combination of materials, including wood and masonry, making it vulnerable to fire damage. These structures can be compromised by fire more easily than fire-resistive or non-combustible types.
Type 4 – Heavy Timber: Heavy timber construction features large wooden beams and columns. While it offers a rustic and aesthetically pleasing design, it can be susceptible to fire due to the combustible nature of wood.
Type 5 – Wood-Framed: Wood-framed buildings are primarily constructed with wooden components. These structures are at higher risk of fire damage, and precautions like fire-resistant materials and sprinkler systems are often necessary to improve fire safety.
Can fire-damaged electronics and appliances be salvaged?
You can rescue the majority of appliances as long as crucial components haven't been burned or melted in the fire. In cases where the fire has affected the wiring or controls, make sure you repair the affected parts for the appliances to be functional again. It is best to consult with an electrician before reusing salvaged electrical appliances. Reusing a damaged appliance poses a risk of another fire.
How do you clean and restore items that have smoke damage?
Based on the American Red Cross Organization, to eliminate soot and smoke residue on walls, furniture, and floors, go for a gentle soap or detergent. Alternatively, you can create a cleaning solution yourself by mixing 4 to 6 tablespoons of tri-sodium phosphate with 1 cup of household cleaner or chlorine bleach per gallon of warm water. While handling this solution, wear rubber gloves. After cleaning, be sure to rinse the surfaces with clear, warm water and thoroughly dry them.
Why and How People Choose a Professional Contractor After a Home Disaster?
---
Recent Reviews
Review by Kiara Robinson
Rating

"Professionalism, Punctuality, Quality, Responsiveness, Value Clint and his team were AWESOME!!! He was very considerate of my time and space. I was very frustrated when he arrived & when he left I felt happy and relieved that my issue was resolved! He made sure to clean everything with non-toxic chemicals so that my kids would be safe, he explained everything he was doing and executed it perfectly. I had a leak in my ceiling and sewage water everywhere. He put in the time and hard work to disinfect, clean, and dry everything throughly. He was quick, efficient, and respectful! I would definitely recommend his services to anyone who has an issue in their space. Thank you Clint."
---
Review by Sara Ofenloch
Rating

"Our technician Alec came in and re-padded the carpet that had been torn up last week due to water damage. He was so friendly and talkative, and worked very quickly to get the job done! In and out within 30 minutes so that I could get on with my day. Would definitely recommend. Thanks Alec!"
---
Review by Saima I
Rating

"After our apartment flooded on Chirstmas Eve, we were worried about dry wall repairs and patches, and disgusted by the stench. NuEra handled our dry wall replacement and patching and our carpets. We didn't get a business card from the man who worked on our walls and ceilings, but he did so without his partner that day. We are so grateful! After the drywall repairs, our carpets were cleaned so thoroughly and efficiently. Alex treated the carpet and scrubbed it out well before applying the deodorizer and scrubbing that in. He even got out a bright yellow stain from the water that had leaked in. It's such a relief to no longer live in a stinky apartment! Alex and Nick were wonderful! Thank you so much!"
---
See All Reviews