Fires are one of the most devastating disasters that can occur in Downers Grove, IL. Buildings can be destroyed in what seems like mere moments, while smoke and soot can continue to cause problems for days following the event. At NuEra Restoration and Remodeling, we offer fire damage restoration services to address these problems. Through swift action and a proven restoration plan, we will limit the extent of the damage, restore affected areas and belongings, and do everything in our power to return your property to its original condition. Because of the time-sensitive nature of these events, we remain available 24/7.
Our technicians at NuEra Restoration and Remodeling have undergone a background check and completed extensive training to properly handle the restoration of fire and smoke damage in Downers Grove, IL, and the surrounding areas. They are always prepared to carefully pack up your belongings and take them to our facility for cleaning and restoration.
Contact our representatives at (630) 656-9915 for 24/7 fire restoration services in the Downers Grove, IL, area.
Fire Damage Restoration
In residential and commercial settings alike, fires have the potential to cause extreme levels of damage. Even when the fire begins in a localized area, it can spread in seemingly no time at all. In Downers Grove, many fires begin because of cooking accidents, lint in dryer vents, electrical issues, and accidents with fireplaces or candles.
No matter the cause of a fire, it is important to address it as quickly as possible. It is also important to understand that the fire itself is not your only concern. Water used to combat the fire can result in damage to your property, and so can corrosive smoke and soot. These elements all have the ability to spread to seemingly unaffected areas of your property. As a result, extensive corrosion, discoloration, and permanent damage can occur.
Fire Damage Removal
At NuEra Restoration and Remodeling, our 24-hour fire damage restoration services are your best option for achieving a full recovery. We can begin our restoration procedures as soon as the fire is effectively extinguished. When we arrive, we start by stabilizing your building in order to ensure that it does not collapse. We then provide emergency pre-cleaning services to help salvage at-risk items and materials. We continue the overall restoration and sanitization process until all affected areas and belongings have been addressed.
If you are not sure if you should file an insurance claim for the damage, we can advise you on this once we have completed our initial inspection of the damage. If we believe the damage warrants an insurance claim, we will recommend filing a claim.  We can also bill your insurance provider directly for the claim with our direct billing services.
Watch RestorationMaster Video for more information on fire damage restoration
While we make sure to respond as quickly as we can, there are still things you can do to remain proactive as our personnel make their way to your property:
Open windows to increase air circulation
Throw away any potentially contaminated food
Get your children and pets to a safe, smoke-free environment
Document the levels of damage sustained for future reference, our technicians will take a full inventory of your damaged belongings and provide you with a copy for insurance purposes.
You should also adhere to the actions listed below:
Do not keep any exposed food (this includes canned food)
Do not take medications that may have been exposed to the fire or smoke
Do not lay down newspaper to walk on because the ink will transfer to the surface below and cause stains
Do not touch or clean porous surfaces (e.g. drywall, furniture, wood, etc.)
Do not turn on any electrical appliances or devices until they have been professionally inspected
Do not sit on (or attempt to clean) any upholstery
We can capture any loss in its entirety, including its exact dimensions. Not only does this serve the purpose of thoroughly documenting the condition of the structure, but it also captures the condition of people's personal belongings and a business's inventory. We can easily share the job link with the customer, their adjuster, and the contractor that will be performing the build back. This type of documentation reduces disputes over the severity of the loss and improves efficiency all the way around.
When it comes to insurance claims, it is critical that we have an agreed scope of work with the adjuster. Providing meticulous documentation of the damage helps move the claims process along. If your home or business has suffered a fire or water loss, NuEra Restoration and Remodeling is your beginning to end resource.
Contact Us for Fire Damage Restoration for Downers Grove, IL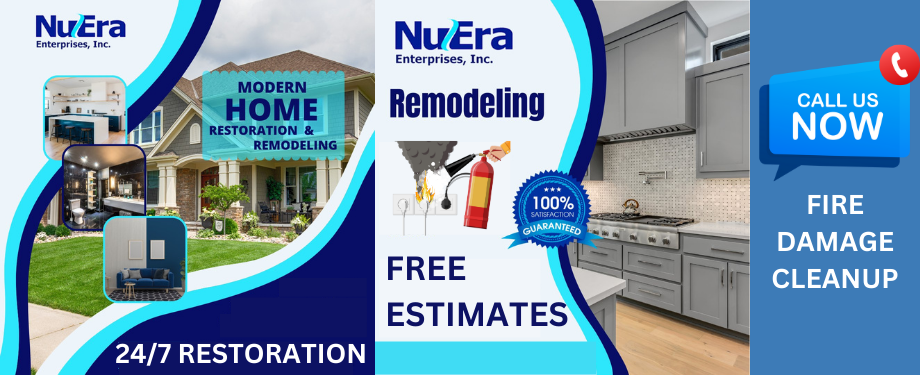 At NuEra Restoration and Remodeling, it is our goal to provide you with greater peace of mind through our fire damage restoration services. We understand the consequences of fires, and always have your best interest in mind when providing restoration. We will also help keep out-of-pocket costs low with our price match guarantee that applies to non-covered claims.  We will match or beat estimates from other professionals that adhere to the IICRC's standard of care.
To utilize our 24-hour services, contact our representatives at (630) 656-9915. We respond as rapidly as possible to emergencies in the Downers Grove, IL, area.
---
Related Fire and Smoke Damage Repair Services:
Fire  Damage Repair  in Elk Grove,  IL
Fire Damage Restoration in Mt. Prospect, IL
Fire  Damage CleanupTechnicians  in Schaumburg, IL
Fire Damage Restoration Professionals in Des Plaines, IL
---
Related Fire and Smoke Damage Restoration Tips
The expenses associated with fire damage restoration services can vary significantly for both homeowners and business proprietors, typically falling within a range of $800 to $93,000. For more extensive scenarios, such as restoring an entire home, the restoration costs can surpass the $100,000 threshold. On average, most property owners tend to pay somewhere between $3,200 and $25,000 for fire damage restoration. The prevailing national average cost for fire damage cleanup stands at approximately $12,000. It's important to note that these figures can fluctuate based on the scope of the damage, the extent of restoration required, and other factors specific to each situation.
Homes hold a special place as havens of comfort and relaxation, often referred to as "home sweet home." This sentiment underscores the sense of security and tranquility that homes provide. Nonetheless, when unforeseen disasters strike, the very foundation of your sanctuary can be threatened, potentially leading to substantial smoke damage. The impact of such an event can be significant, with the nature and extent of the damage playing a pivotal role. In the aftermath of a disaster, the once-cozy abode can transform into an environment marred by hazards and instability, necessitating extensive restoration efforts. This becomes especially apparent in the aftermath of a fire, which can profoundly alter the landscape of your home. The process of recovering from such a situation entails more than just physical repairs; it involves restoring the sense of security and comfort that a home inherently embodies. As you navigate the challenges of restoration, the goal is to transform what may have become a compromised dwelling into a renewed haven that once again lives up to the cherished phrase "home sweet home."
oot, a toxic element, is commonly encountered in areas commonly inhabited by humans, such as household fireplaces, basement furnaces, and vehicle exhaust systems. The minuscule size of soot particles contributes to the potential health risks associated with its presence. As a result, individuals in various walks of life, including typical homeowners, should remain vigilant about the potential hazards posed by soot exposure and take appropriate measures to mitigate its impact.
---
Recent Reviews
Review by Kiara Robinson
Rating

"Professionalism, Punctuality, Quality, Responsiveness, Value Clint and his team were AWESOME!!! He was very considerate of my time and space. I was very frustrated when he arrived & when he left I felt happy and relieved that my issue was resolved! He made sure to clean everything with non-toxic chemicals so that my kids would be safe, he explained everything he was doing and executed it perfectly. I had a leak in my ceiling and sewage water everywhere. He put in the time and hard work to disinfect, clean, and dry everything throughly. He was quick, efficient, and respectful! I would definitely recommend his services to anyone who has an issue in their space. Thank you Clint."
---
Review by Sara Ofenloch
Rating

"Our technician Alec came in and re-padded the carpet that had been torn up last week due to water damage. He was so friendly and talkative, and worked very quickly to get the job done! In and out within 30 minutes so that I could get on with my day. Would definitely recommend. Thanks Alec!"
---
Review by Saima I
Rating

"After our apartment flooded on Chirstmas Eve, we were worried about dry wall repairs and patches, and disgusted by the stench. NuEra handled our dry wall replacement and patching and our carpets. We didn't get a business card from the man who worked on our walls and ceilings, but he did so without his partner that day. We are so grateful! After the drywall repairs, our carpets were cleaned so thoroughly and efficiently. Alex treated the carpet and scrubbed it out well before applying the deodorizer and scrubbing that in. He even got out a bright yellow stain from the water that had leaked in. It's such a relief to no longer live in a stinky apartment! Alex and Nick were wonderful! Thank you so much!"
---
See All Reviews