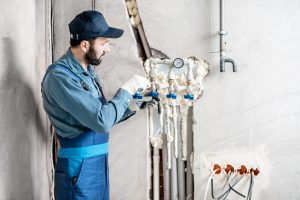 For over a decade, residents of Tinley Park, IL, and the surrounding areas have been able to count on RestorationMaster for premier disaster restoration and cleaning services.
Through our 24-hour emergency-response services, we help residential and commercial property owners get back on their feet swiftly and effectively. Whether water, smoke, fire, mold, or something else is the cause of the damage, we will respond rapidly to begin the recovery process. Your peace of mind and well-being are our top priorities.
In order to guarantee quality service, we demand a lot out of our technicians. Each one is IICRC certified and receives continually-scheduled training in disaster restoration fields. This includes how to respond to water damage, fire damage, mold damage, and more.
We also require training on state-of-the-art restoration equipment and processes. Finally, as a rule of thumb, all of our staff members must pass an extensive background check in order to work for us, and work on your property.

At RestorationMaster, we offer comprehensive water damage restoration services to property owners in Tinley Park, IL. Through these 24/7 services, we respond rapidly whenever you experience property damage due to excess water and moisture.
We utilize advanced water extraction equipment and proven structural drying techniques to eliminate excess water and restore affected materials. No matter the cause of the water damage, our talented technicians have you covered.

It is critical to respond to a fire on your property as rapidly as possible. This involves contacting your local fire department as soon as you can, and then calling a restoration professional right after the fire is put out.
At RestorationMaster, we offer 24/7 fire damage restoration services to stabilize your building, stop the spread of damage, and restore affected areas and belongings. We address damage caused by fire, smoke, soot, and more, and offer these services to property owners in Tinley Park, IL.

Mold can be extremely hazardous to your property and health if it is left to grow unabated. At RestorationMaster, we eliminate these risks through our mold remediation services.
We utilize state-of-the-art mold removal equipment and procedures to address all cases of mold growth on your property. If you notice any mold, we encourage you to contact us right away to begin the restoration process. We offer these services to property owners in Tinley Park, IL.

Water damage can be dangerous because of how water and excess moisture get absorbed in porous materials like wood, drywall, flooring, and furnishings.  Regardless of the source of the excess moisture, it needs to be addressed immediately because water damaged materials may sustain structural damage or become affected by mold growth.  At RestorationMaster, we provide complete dehumidification and drying services for water damaged homes and businesses in Tinley Park, IL.  Our technicians can thoroughly dry affected building materials and furnishings using the most advanced dehumidification equipment and methods available.
Overall, we are committed to delivering the best services possible to our clients, regardless of the situation. Whether you live alone in a small home, or own multiple businesses, we will respond rapidly and with purpose.
In cases of large-scale damage, we will leverage our vast connections in the construction industry to help you from start to finish. We will work with your insurance company if you file a claim and even provide direct billing to them to ensure that they pay the claim.
Contact Us
We are available 24/7 and will get a team of technicians to your property in short order. We also offer price matching services in which we will match estimates from other professionals who work within the IICRC's standards of care. RestorationMaster offers our services to property owners in the Tinley Park, IL, area.
Our RestorationMaster representatives are available at (888) 915-7197
---
Related Disaster Restoration Services:
Water & Fire Damage Mitigation Lombard IL
Disaster Restoration Services Elmhurst IL
Disaster Restoration in Downers Grover, IL 
Disaster Restoration in Berwyn, IL