Rainbow International Restoration of South & West Suburbs
Fires are terrifying disasters because they cause very serious damage, put lives at risk, and they can happen at virtually any time.  A fire in a home or building may start due to electrical issues, cooking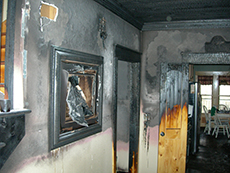 accidents, dryer malfunctions, or candles among other potential causes, many of which can be prevented.  Fires cause very serious damage to the affected objects and materials, and the byproducts of the fire including soot and smoke can cause even more extensive damage after the fire is extinguished.  When a fire occurs, you need to clear the home or building and ensure everyone's safety before calling the fire department.  After the fire is out, you cannot hesitate to call a professional to start the restoration process.
Rainbow International Restoration of South & West Suburbs can help clean up and restore homes and businesses affected by fire in Tinley Park, IL with our fire damage restoration services.  We are properly trained and equipped to deal with any level of fire damage, including structural repairs and cleaning of surfaces and objects affected by smoke and soot.  The damage caused by the corrosive byproducts of a fire can become permanent without quick cleaning which is why you must call our professionals as soon as the fire department leaves your property.  Our technicians are not only highly trained to provide quality restoration services after a fire, but they have also passed a background check and can be trusted to work on your property.
Professional Fire Damage Mitigation
You must call our experts once the fire is out or the damage to your property could become much worse.  That is because the smoke, soot, and other corrosive byproducts created by the heat of the fire will continue to linger throughout the property and cause damage and discoloration to the affected materials.  It is common for these byproducts to spread to areas the fire itself didn't reach and the damage can become permanent if the affected objects and materials are not properly treated.
Our technicians will quickly assess the damage and stabilize the building to help prevent more serious structural damage or collapse.  We will repair significant structural damage caused by the fire and we have powerful cleaning products that can restore various surfaces and objects affected by smoke and soot.  Regardless of the extent of the damage, our technicians will form a complete restoration plan to get your home or business back to its original condition.
When dealing with the aftermath of a fire, it is common to involve insurance.  Our technicians can advise you on whether to involve your insurance company based on the extent of the damage and your deductible compared to the estimate to restore the damage.  If you do file an insurance claim, we provide direct billing to bill your insurance company for the claim.
Once the fire has been put out, you must call Rainbow International Restoration of South & West Suburbs to start the restoration.  As you wait for our professionals to arrive, you can do the following to help limit the damage:
Open the windows to allow smoke and odors to escape.
Make sure your children and pets are somewhere safe such as the home of a neighbor or family member.
Dispose of all food in your home and refrigerator and clean your refrigerator thoroughly if there is no power.
Take pictures of your property to document the damage. Our technicians will help make an inventory of your damaged items and provide you with a copy for your insurance company.
You must avoid the following actions after a fire to protect yourself and prevent further damage:
Do not clean wood, drywall, furniture, or other porous surfaces
Do not sit on upholstered furniture
Do not keep any food exposed to the fire, smoke, and other elements
Do not keep or take medications that have been exposed
Do not put newspaper down anywhere because the ink can transfer and cause stains
Do not use electronic devices or electric appliances unless they have been inspected
The damage from a fire is not done when the fire is out which is why you need to call our professionals for fire damage restoration.  Our technicians will work quickly to stop the spread of the damage and get your home or building rebuilt to its original condition.  We can also help keep the cost of the restoration low with our price match guarantee in which we will match or beat any estimate you get from a professional that works in accordance with IICRC's standards.  You can call us 24 hours a day at (708) 571-2550 for fire damage restoration in Tinley Park, IL.
---
Related Fire Damage Services:
Fire Damage Restoration in Oak Lawn, IL 
Fire Damage Removal in Orland Park, IL
Fire Damage Recovery in Hickory Hills, IL
Fire Damage Removal in Downers Grover, IL
---
Recent Reviews
Review by

Joanne Deangelo
Rating

"I just wanted to say thank you to the staff of Rainbow Restoration for all of their help and assistance when my home flooded."
---
Review by

Carlos Semanate
Rating

"Rainbow is the best water and fire damage restoration company. I have seen the awesome work that they do and that they always go the extra mile for the customers.Rainbow Intl always #1"
---
Review by

Lisa Perez
Rating

"Very pleased. They arrived when they said they would and did what they said they would do. Thank you guys for cleaning everything up. I would definitely use you again!"