RestorationMaster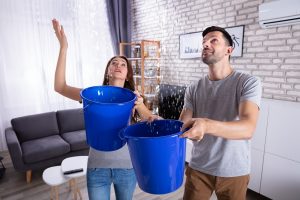 Water damage tends to be pervasive in homes and commercial buildings because water and excess moisture has the ability to spread through porous building materials.  This type of damage can be caused by many different sources including rain, floods, and other weather conditions as well as pipe bursts, leaks, plumbing issues, and sewage backups.
The damage may start out minor, causing discoloration and warping of the affected materials, but the damage will soon get worse and even lead to mold growth.  You need to call for professional restoration as soon as you discover water damage on your property.
RestorationMaster provides water damage restoration services to deal with any level of water damage in homes and commercial buildings in Tinley Park, IL.  We have the right equipment to remove standing water as well as extract moisture from affected furnishings and structural elements.  Our highly trained technicians have each passed an extensive background check and they are ready to handle all cases of water damage.  Make sure you call us immediately so we can contain the damage and begin the restoration.
Water Damage Restoration
The extent of the damage caused by water will vary depending on the amount of water and how much time it is given to spread.  Building materials like drywall, wood, and flooring absorb water and will experience some warping and discoloration.  As these materials absorb more water, the water will spread over a larger area and get deep enough into these materials to cause structural damage.  Materials affected by water are also at risk for mold growth.  You cannot hesitate to call RestorationMaster once the water damage begins.
Water Damage Removal

We use advanced water extraction and drying equipment to remove any amount of water and ensure that the affected materials are properly dried with our Rapid Structural Drying process.  With this process, we extract the moisture that has been absorbed in furnishings and building materials with our drying equipment so the moisture can evaporate.  We can salvage your furniture, structural elements, and other affected items effectively with this process.  Our technicians will also locate water damage in hidden areas using moisture meters.
Sometimes when dealing with water damage, it can be difficult to tell if you should involve your insurance provider.  Our technicians will immediately evaluate the extent of the damage and provide you with an estimate of the cost of the restoration.  We can then help you decide if it is worth filing an insurance claim based on our estimate and your insurance deductible.  In cases involving an insurance claim, we provide direct billing to your insurance provider.
You must take the following steps if there is water damage on your property:
Contact RestorationMaster right away to begin the water damage restoration process.
Shut off the water if the damage is excessive.
Turn off the electricity before you unplug any appliances or electrical devices.
Put aluminum foil under the legs of your furniture to prevent carpet stains.
Get your curtains or drapes off the floor.
Lift the upholstery of your furniture if it touches the floor.
Move vulnerable items such as shoes, books, and potted plants to a safe, dry area.
Do not take any of these actions because you can make the water damage worse:
Do not remove standing water with a vacuum cleaner, this is extremely dangerous.
Do not try to dry wet areas with newspaper because the ink can transfer and stain.
Do not walk on wet carpeting if you can avoid it.
---
It is important to contact RestorationMaster immediately after finding water damage in your home or building.  We will assess the damage and begin the restoration process right away to save damaged materials and restore the affected areas to their original condition.
RestorationMaster also offers a price match guarantee in which we will match or beat any estimate you receive from a professional that works within IICRC's standard of care.
We are available 24 hours a day at (888) 915-7197 to provide water damage restoration services in Tinley Park, IL.
---
Related Water Damage Services:
Water Damage Removal in Downers Grover, IL
Water Damage Restoration in Berwyn, IL
Water Restoration Burr Ridge, IL
Water Damage Repair Darien, IL
Water Restoration Services Oak Brook, IL
Water Restoration in Oak Park, IL