Water Damage Related Info
When living in the Des Plaines, IL area, there are a number of conveniences available to the property owners, such as living close to Chicago, Lutheran General Hospital, a number of restaurants, and the beautiful scenery of the Des Plaines River. However, when living along this body of water, there lies the constant risk of flooding to homes and businesses.
Especially during the spring time, rising water levels within the river can it to spill over and seep into foundations, causing significant amounts of damage. When this happens, it is important to call ServiceMaster by Metzler for water damage restoration and flood cleanup services in Des Plaines, IL right away. Whether you have been flooded by the river or have noticed a significant amount of water damage, our technicians are available 24/7 to respond to all emergency situations for both commercial and residential homes.
Flood Damage
When water seeps into a foundation, it can pool very quickly, depending on the pressure. It can also be caused by a burst pipe during the winter time, a sewage backup, or a leak in the roof. As a result, water damage is one of the most common types of disasters experienced on a property, due to the significant amount of sources.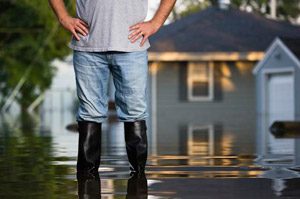 When a Des Plaines, IL property incurs damage, the water will first flow to the areas of least resistance. These include porous materials, such as particleboard, drywall, paint, and wood flooring and walls. Because these materials will act like sponges to the oncoming water, it is most important that they are treated first.
Flood Cleanup – Watch Our Video
For flood cleanup services in Des Plaines, IL, call ServiceMaster by Metzler at (847) 380-7888.
Immediate Flood Cleanup
As soon as ServiceMaster by Metzler is called, our technicians will arrive right away, starting the water mitigation process right away. As this will prevent the damage from spreading, they will then devise a custom plan that will address the materials with the most amount of damage first.
Once all standing water has been completely extracted and the plan is made, we will set up our advanced drying equipment to dry out all building materials.
You can expect the following from the drying process
Examination of all Affected Areas: Each area that has sustained water damage will be inspected thoroughly. This is to allow for the drying equipment to be placed in the positions that accommodate quick and effective drying.
Open and clear communication: As your technician will have years of experience in restoring building materials from water damage and is IICRC-certified, he/she will be able to answer any questions you may have throughout the process. They will also explain to you the duration of the process as well as what to do in unexpected situations.
Complete Drying of All Areas: ServiceMaster by Metzler will set up our advanced drying equipment in the best positions to effectively and efficiently dry out all saturated areas. However, please keep in mind that some materials, such as carpeting, will take longer to dry than others.
Restoration and Cleaning: Once dried, each area will be cleaned thoroughly to inhibit microbial growth. If needed, deodorizers will be applied to rid the air of any unwanted smells.
Sewage Cleanup
In the event that you have a sewage backup on your property in Des Plaines, IL, it is extremely important to avoid all contact. This is because the water contains an incredible amount of harmful bacteria that can cause severe infections when not handled properly. However, the specialists at ServiceMaster by Metzler know exactly how to proceed in these cases, immediately extracting all water and disposing of all soiled porous materials within the first visit.
We will then work tirelessly until the entire affected area is dry, cleaned, and decontaminated to provide a safe environment once again.
If you would like to start the water damage cleanup process right away, here are some things you can do yourself:
Call ServiceMaster by Metzler right away to prevent the damage from spreading if the property is located in Des Plaines, IL.
Mop up as much standing water as you can.
Remove any items from all affected areas.
Pack any books tightly within the shelves.
Place a piece of foil between all furniture legs and the floor.
When it comes to water restoration, it is best to leave the heavy-duty work and major cleaning to the technicians. Please do not attempt any of the following:
Do not come into contact with any sewage water.
Do not enter any room with severe structural or electrical damage.
Do not handle any water-damaged machinery while the electricity is on.
Do not try to vacuum any of the water.
Do not touch any moldy surfaces.
As you can see, there are many causes for water damage and flooding for property owners. Especially for those living close to Des Plaines River, it is important to be prepared at all times. In the event that you have found any amount of water damage within your home or building, do not hesitate to call ServiceMaster by Metzler for 24/7 professional water damage cleanup and flood extraction services in the Des Plaines, IL area at (847)380-7888.
Related Water Damage Mitigation Services
Water Damage Restoration in Elk Grove Village, IL
Water Damage Repair in Rosemont, IL
Water Cleanup in Mt. Prospect, IL
Flood Restoration in Chicago, IL
Flood Cleanup in Park Ridge, IL
---
Recent Reviews
---