Commercial Water Damage Restoration – Repair, Costs and Recovery
Water damage on residential properties can be unfortunate for the homeowner because they must pay for repairs and possibly move their family out of the house temporarily. However, water damage on commercial properties is often more inconvenient because business must halt while the repairs are being done.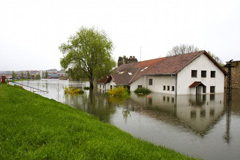 Suffering Water Damage
The company loses money from being closed during business hours as well as paying for repairs from the water damage restoration professionals. Commercial properties are also usually much larger than residential properties, so there could be significantly more damage to pay for.
Water damage can be caused by roof leaks, burst pipes, or flooding. Regardless of the source, you must act fast to address the problem or it will only become worse. Water damage spreads quickly and the longer it goes unaddressed, the more likely it is to cause mold or weaken the structure of your property. Commercial water damage restoration is no easy task and the best way to get efficient work is to call a professional restoration service.
Here are some commercial water damage cleanup and restoration tips on cost, recovery, and repairs:
Water Damage Repair
There are many steps to be taken in the water damage repair process. Water damage restoration companies do the following when cleaning and restoring your property:
Water mitigation
Dehumidification
Temporary air conditioners
Odor control
Temporary roofing
Water mitigation
Water mitigation is the process of clearing out all standing water before restoration begins. It is responsible for preventing further water damage on items that need to be replaced and restored. Water mitigation stalls the negative effects water damage can have on a building before it is removed by water restoration professionals.
Dehumidification
Dehumidifiers help with moisture control on your property and the aim is to lower the building's moisture levels. The building needs to be dried out completely in order to begin repairs and dehumidification is the best process for that. Temporary air conditioners and cooling towers also help to dry out the building. These machines control the temperature and climate in your building and will make it easier to dry out. There is a risk of mold growth if moisture levels in the building are not addressed right away.
If mold does begin to grow on your property, restoration professionals can eradicate it. The smell often lingers after the mold has been removed, but fortunately, odor control is another service restoration professionals offer. After removing the mold or mildew from your property, the technicians will then remove the toxic or unpleasant odors.
Board Ups and Tarping
Temporary roofing is provided to repair any harm on the exterior of your property if your water damage was the result of a flood or excessive rain.
Board ups and tarping are also services used protect the outside of the building while restoration is being performed inside. It is important to prevent further damage on the exterior of the property, so temporary fixes are done until the damage can be properly addressed.
Water Damage Restoration Cost
The cost of commercial water damage restoration varies depending on the size of the property, the area it's located, and the extent of the damage.
Many restoration companies will charge differently depending on the size of property, area, and extent of damage. Call your local service provider to see if they provide free estimates and to determine a fair price, following inspection.
Your insurance should cover most of the damage, depending on your coverage plan and how the water damage occurred. If your water damage was from flooding, it may not be covered in your insurance policy. Discuss the details with your insurance agent and consider buying flood insurance now. Discover if your property is in a low or high-risk area to determine the best coverage options for you.
Water Damage Recovery
Restoration companies often work with your insurance company in order to keep the payment process simple and to alleviate your worries during an emotionally and financially stressful time. It is essential to have a restoration company that will work efficiently on the property damage and complete the work in a timely manner. However, the restoration and cleaning process can range from one week to several months, depending on how severe the damage is.
Quick recovery time is especially important for commercial properties because business owners are losing money every day their business is shut down. Addressing the water damage quickly will reduce the risk of mold growth and other problems, saving you money in the long run. Get a restoration company that values your time and gets the job down as effectively and efficiently as possible.