RestorationMaster
Water damage may be difficult to prevent, but reacting to it quickly will help you avoid serious damage and save money on the repairs.  It is possible for excess water to get into your home or building due to severe weather conditions like flooding and rain, but you can also experience water damage from internal issues like overflows, leaks, or burst pipes.  Quick reaction is the key to limiting water damage because the excess water and moisture will keep spreading through your home or building until it is addressed.  RestorationMaster provides water damage restoration and cleanup services to assess and restore water damage for homes and businesses in Peabody, MA.  We arrive on the scene quickly to help stop the spread of the water and prevent serious issues like mold growth and structural damage.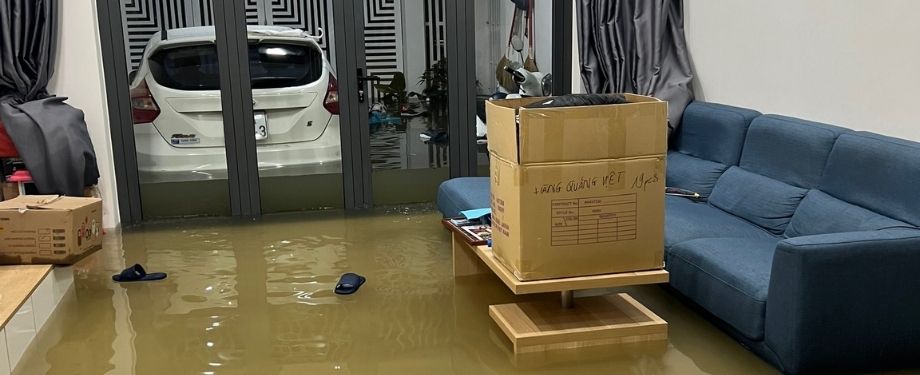 You should never ignore any type of water damage you find on your property.  Even small leaks can eventually create serious issues.  Common building materials like drywall, flooring, wood, and insulation absorb water, which allows it to spread further and deeper into your home.  The affected materials may become discolored or warped by the water, and they can weaken enough to cause severe structural damage.  The possibility of mold growth is another concern with water damage because mold appears in areas that provide it with a moisture source.  Mold will cause even more damage to the already affected surfaces and trigger allergic reactions or more serious health effects with extended exposure.
Water Damage Restoration in Peabody, MA
At RestorationMaster, we are prepared to deal with all levels of water damage in homes and commercial buildings.  Our water extraction equipment can remove any amount of standing water. We can also set up specialized dying and dehumidification equipment to treat building materials and furnishings that have absorbed water.  The exact method of water damage restoration and cleanup will vary from case to case, but you can expect the following basic steps:
Water extraction and complete drying
Restoration of damaged building materials and furnishings
Content cleaning and restoration of your personal belongings
Carpet, rug, and upholstery cleaning
Mold Remediation
Document restoration and recovery
For water damage restoration and flood cleanup in Peabody, MA, contact RestorationMaster at (781) 604-1476.
What to Do in Case of Water Damage in Peabody, MA
Contact RestorationMaster as soon as possible to prevent the damage from spreading and causing bacteria or mold growth.
Remove excess water by mopping or blot drying only.
Remove rugs and other temporary flooring, but not permanent carpeting or flooring.
Put the drapery bottoms through a coat hanger and put the hanger on the rod to keep your drapes off the wet floor.
Wipe water from your wet furniture and put aluminum foil under the legs to prevent damage to the carpet.
Put delicate objects like photos and valuables in a safe location.
Leave water-damaged books close together on the shelf so that the pages do not warp. We can treat wet books with specialized drying.
Open up the doors in your home to help with the drying.
What Not to Do in Case of Water Damage in Peabody, MA
Do NOT enter a flooded room unless you are certain the power is out.
Do NOT use a regular vacuum cleaner to remove water.
Do NOT remove permanent flooring or carpeting.
Do NOT use electrical appliances if the floor is wet or if they may be damaged.
Do NOT try to remove mold growth yourself.
Remember, the quicker you address water damage, the lower the risk of experiencing extensive structural damage or mold growth.  Our technicians at RestorationMaster can arrive less than 4 hours after your call and we provide free estimates before we start the work.
Call Us 24/7 for Emergency Water Damage Restoration in Peabody, MA
At our company, we pride ourselves on providing exceptional customer service and treating every client with the utmost care and respect. We understand that water-related disasters can be stressful and disruptive, so we work quickly and efficiently to minimize the impact on your daily life.
You can call us 24 hours a day at (781) 604-1476 for emergency water damage restoration and cleanup services in Peabody, MA, and the surrounding areas.
---
Related Water Damage Restoration and Cleanup Services
---
Related Water Damage Tips
The Drying Techniques of Water Damage Restoration Professionals