ServiceMaster by Disaster Associates, Inc.
Torrential downpours and flooding from local waterways are just two of the ways water can damage your home or business. Include faulty water pipes and defective appliances, and you can expect water damage within your property at some point.
Water damage may seem entirely harmless. However, water seeping into your residence or office space is tremendously hazardous to the safety of the occupants. Building materials, such as drywall, absorb liquid in any form. As a result, excessive water inside your property is likely to cause building structures to weaken or become a festering source for mold and bacteria growth. Property damage is the costly and devastating result.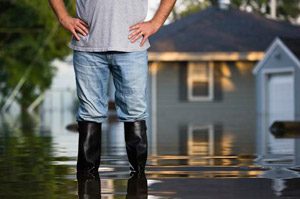 Water Damage Restoration in Rochester, NH
When you first notice water leaking into your home or business, contact a professional water damage restoration service right away. The experts at ServiceMaster by Disaster Associates, Inc. service homes and businesses within the Rochester, NH area that have become contaminated with seeping water. Our water damage restoration technicians arrive within two to four hours of your call to tackle the intrusion of water and limit structural damage to your property.
Our specialists are extensively trained to remove excess moisture and water using state-of-the-art water damage restoration technology. A small, noticeable leak may house a larger, hidden infestation behind walls or in pipes. Our technicians are skilled in locating the sources of water damage to ensure your property is structurally safe and habitable. We are equipped to dry and restore properties of any size, from small residential settings to large business warehouses. Our service team also restores water damaged items to their pre-damaged conditions.
Water Damage Restoration & Cleanup in Rochester, NH – Watch Our ServiceMaster Video:
For Flood and Water Damage Restoration services in Rochester, NH, contact ServiceMaster by Disaster Associates, Inc. at (603) 967-4744.
ServiceMaster Water Damage Restoration Process
Our water damage restoration process is as follows:
Thoroughly dry and dehumidify the space.
Our technicians offer content cleaning and pack-out as necessary.
Restoration of structures, furnishings, fine art and electronics; we even dry and recover documents.
Clean water-drenched carpets and furniture.
Removal of any mold growth that results from existing water damage.
Follow these important tips when water seepage invades your property
Contact ServiceMaster by Disaster Associates, Inc. immediately to limit the damage and the spread of mold within your property.
Ventilate the space by propping open doors, closets, and drawers.
Mop water-soaked spaces to dry them as much as possible.
Remove only temporary floor coverings, like rugs. (Do not attempt to remove permanent flooring or carpeting.)
Fold draperies over the rods to prevent standing water from saturating drapes.
Blot dry furniture. Place foil underneath furniture legs to limit loss.
Place all wall hangings, including photos and artwork, in a safe and dry space.
Pack water-damaged books tightly on shelves to limit the effects of warping. Our team restores books using a specialized water drying process.
Our technicians specify certain activities to avoid when your property is affected with water damage:
Never enter a water-logged property unless the power is switched off.
Never use electrical appliances when standing on a wet floor.
Avoid using a vacuum cleaner to remove excess moisture.
Do not uninstall water-soaked carpeting or flooring; leave this task to professionals.
Do not clean up mold growth; attempting to do so will only scatter mold spores to other areas of your property.
Contact Us 24/7 for Flood or Water Damage Restoration in Rochester, NH
If your residence or business endures water damage of any scope, call ServiceMaster by Disaster Associates, Inc. Our experienced technicians will respond to your call immediately in the Rochester, NH area. We understand that tiny water leaks can blow into mammoth proportions within hours.
We are available 24 hours a day in the event of emergencies. Call us at (603) 967-4744 for immediate flood or water damage restoration service and/or details.
---
Related Water Damage Restoration and Cleanup Services
Water Damage Removal and Restoration in Cambridge, MA
Water Damage Restoration in Derry, NH
Water Damage Cleanup and Restoration in Dover, NH
Water Damage Cleanup and Restoration in Manchester, NH
Water Damage Restoration in Nashua, NH
Water Damage Restoration and Cleanup in Peabody, MA
May 7, 2021
Christine Keenan
Stoneham, MA
April 27, 2021
Jodee Seitz Timothy Seitz
BOSTON, MA
We appreciated how quick the first group arrived to help mitigate the water/moisture from our home. Within an hour of calling our insurance company SM was there on a Sunday. I also appreciate that the demo crew covered my personal belongings with heavy plastic and made a plastic room in part of the house to try and keep items clean. We also thought SM did a good job cleaning up at the end of each day. And the demo crew was able to save our countertops which should be a big help savings wise during the rebuild.
See All Reviews