ServiceMaster by Disaster Associates, Inc.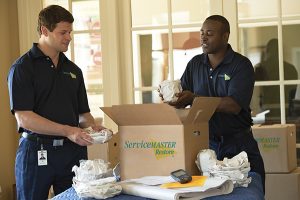 Homes and businesses that have been ravaged by a natural disaster, including fires, flooding or mold, require intense financial and emotional investments to recoup. One essential step that makes the recovery process smoother is content cleaning.
Content cleaning is an involved process where items, like furniture from a home or office space, are salvaged from unfortunate circumstances and restored to their pre-disaster condition. Home and business owners who opt to use content cleaning services spend far less financially than replacing items at full cost.
ServiceMaster by Disaster Associates, Inc. provides content cleaning and pack-out services for damaged homes and businesses in Rochester, NH. You can rely on our technicians to perform the job with diligence and speed. Our mission is to salvage your valuable items with the safest, most thorough procedures available.
Pack-Out & Content Cleaning in Rochester, NH – Watch Our ServiceMaster Video:
For Pack-Out and Content Cleaning Services in Rochester, NH, contact ServiceMaster by Disaster Associates, Inc. at (781) 604-1476.
Content Cleaning and Restoration in Rochester, NH Area
Call on us right away after a disaster strikes for the best chances of restoring your goods. If your belongings are wet, moldy, or damaged by fire, our service professionals are equipped to begin the restoration process immediately.
If the situation allows, our experienced technicians will perform on-the-spot cleaning at your home or business to restore your goods. We'll clean and deodorize them as well, to ensure the best chances of complete restoration.
Pack-Out Services
Should your home or business remain uninhabitable due to the severity of the destruction, ServiceMaster by Disaster Associates, Inc.
will move your belongings to our location for thorough cleaning. Our team offers convenient pack-out services that include carefully packing of your affected belongings, transport to our secured facilities for cleaning, and storage of your items until they are ready to be returned. Once the restoration is complete in your home or business, we will deliver your cleaned goods.
Our pack-out services are secure and reliable. Each item we pack is entered into our detailed inventory list. You will receive a copy of this list for easy tracking and reference.
ServiceMaster specialists are trained to make the process as effortless as possible from start to finish. In addition to our pack-out and content cleaning services, we will work with your insurance company to help you file claims for damaged goods.
Recovering from a disaster is a slow battle. However, services like those offered by ServiceMaster by Disaster Associates, Inc. help ease the burden. Keep in mind that the quicker you start the restoration process after a disastrous event, the better your chances are to salvage your valuables.
If you're in the middle of a disaster in Rochester, NH or the surrounding areas, our technicians are ready and available to take your call. We'll take swift action to professionally pack out and clean the contents of your home or business and offer the best chances to salvage your goods. Call us at (781) 604-1476 for details.
---
Related Pack-Out and Content Cleaning Services:
Pack-Out and Content Cleaning Services – Cambridge, MA
Pack-Out and Content Cleaning – Derry, NH
Content Cleaning and Pack-Out – Dover, NH
Pack-Out and Content Cleaning Services – Manchester, NH
Content Cleaning and Pack-Out Services – Nashua, NH
Content Cleaning and Pack-Out Services – Peabody, MA
See All Reviews