The contents of your home or business rarely escape the damage when disaster strikes. Fires, floods, and other catastrophes ruin furniture, structural elements, electronics, and other items and the longer you wait to start the restoration, the greater the chance of permanent damage. ServiceMaster by Disaster Associates, Inc. provides content cleaning  and pack-outs for residential and commercial clients in Derry, NH and the surrounding areas who have experienced a wide range of disasters. We do the work on-site as much as possible for your convenience and peace of mind. In some cases, the building itself has been heavily damaged and isn't structurally stable. Our employees' safety is our top priority, so in these cases we carefully inventory and pack-out your damaged items and transport them to our secure, climate-controlled facility for restoration. We'll store the items until the building has been rebuilt, and then deliver them to you.
Content Cleaning After Flood, Water or Fire Damage
Professional content cleaning is the best hope to restore personal possessions after a disaster. The technicians at ServiceMaster by Disaster Associates,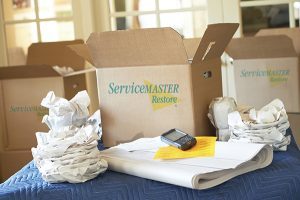 Inc. have extensive experience and training in content cleaning and restoration, so we can salvage all types of items, including the expensive electronics that fill our modern homes. We use the most effective equipment and products available in the industry to thoroughly but gently clean and restore even the most hopeless looking items. That's why it's important to call for restoration right away, and never throw away anything until we've appraised it. We do our restoration and deodorization work on site as much as possible, and we work together with your insurance company to make the claims process as painless as possible.
Pack-Out Services
In some situations, the disaster caused enough structural damage to the building, making on site restoration unsafe. In these cases, the damaged content must be moved to be restored, for the safety of our staff and your property.
ServiceMaster by Disaster Associates, Inc.'s Pack-Out Services include:
Inventory of all items we remove from the site, with a copy for you;
Careful pack-out of damaged items;
Transportation of items to our secure facility for thorough restoration;
Storage of items in our climate-controlled facility until your building has been restored;
Delivery of your items back to you once your building is ready for them.
The aftermath of a disaster is a challenging time, and having to deal with the cleanup of the items inside, especially cherished heirlooms or a ruined home office, may be too much to bear. ServiceMaster by Disaster Associates, Inc. can restore and repair all types of content that's been damaged by all kinds of disasters in Derry, NH and the surrounding areas. We do most restoration work on site, but if the building isn't secure, we'll pack-out the items and transport them to our secure facility for restoration. It's important to call us quickly because some items, like electronics, can't wait for restoration. Call ServiceMaster by Disaster Associates, Inc. 24 hours a day, 7 days a week at (603) 967-4744 for content cleaning and pack-out services.
---
Recent Reviews
More Reviews