ServiceMaster by Disaster Associates, Inc.
Mold does more than just cause unsightly marks on the basement wall. It causes property damage and health issues, and what you see is only a small indication of what may be infesting your home. The spores are everywhere in the air and there's no way to remove them, even with the most expensive air purifier. They feed from common household food sources like paper and drywall, so all they need is a source of moisture to start growing. This is why mold growth begins in as fast as 48 hours after a water leak. Once mold starts growing, it moves fast and if it gets into hidden areas like inside a wall, it can spread throughout your home or business undetected. That's why it's important to call ServiceMaster by Disaster Associates, Inc. at the first sign of mold in Derry, NH or the surrounding areas. We'll arrive fast to test for traces of mold. If we find any mold, we'll develop a comprehensive remediation plan to eradicate all traces of it, as well as restore and rebuild any damaged items and structural elements.
Anything that causes excess water or moisture in your home or business has the potential to cause mold growth. You can't clean all the spores out of the air, and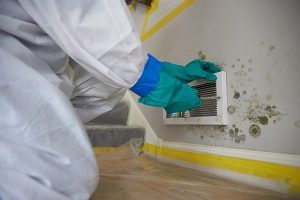 since they're surrounded by food sources, a little moisture is all they need to become a destructive force. The technicians at ServiceMaster by Disaster Associates, Inc. have years of experience and training to safely and effectively remove all traces of mold without spreading it to other areas or infecting others. Our testing equipment can even find mold in hidden places, so we can remove it the first time. We can also restore and rebuild any items damaged by mold, as well as repair the original source of excess water.
ServiceMaster by Disaster Associates, Inc.'s Mold Remediation includes:
A full assessment of the mold contaminated area and damage;
Development of a remediation plan to remove all traces of the mold and rebuild damaged items;
Containment of the area to stop the spread of mold;
Remediation of all traces of mold, as well as restoration/repair of damaged items;
Copies of all paperwork for you and your insurance company.
To learn mold removal and remediation from a professional may be necessary, watch this video:
What To Do If You Find Mold
It's important to take mold seriously. There's no immediate threat, but you shouldn't wait to call for remediation. While you wait for our professionals to arrive, take these steps to get a jump on the process.
Open doors and windows to let in fresh air if the outdoor temperatures are warm and humidity is low.
Wear protective equipment like nonporous gloves and eyewear when in the presence of mold.
Use a dehumidifier in the area with mold to lower humidity.
Look for the source of excess moisture. There may be a crack in the foundation, a leaking appliance, or a broken pipe.
What Not To Do If You Find Mold
Don't paint over the mold. It doesn't kill the mold and painting over an uneven surface won't look right.
Don't try to clean the mold yourself. Commercially available cleaners aren't tough enough to kill it, and spraying them onto the mold can spread the spores into the air where they can irritate eyes, lungs, and nasal passages.
Don't spray bleach or other chemicals onto the mold; it will cause the spores to disburse into the air.
Finding mold in your home or business in Derry, NH or surrounding areas isn't a reason to panic, but you should take it seriously. Call the trained experts at ServiceMaster by Disaster Associates, Inc. for expert mold remediation before you experience worsening health symptoms. We're available 24 hours a day, 7 days a week at (603) 967-4744 for first class mold remediation.
---
Related Mold Remediation and Removal Services:
Mold Remediation Services  in Cambridge, MA
Mold Remediation and Removal in Dover, NH
Mold Remediation and Removal in Manchester, NH
Mold Remediation and Removal in Nashua, NH
Mold Remediation and Removal Services  in Peabody, MA
Mold Remediation and Removal in Rochester, NH
May 7, 2021
Christine Keenan
Stoneham, MA
April 27, 2021
Jodee Seitz Timothy Seitz
BOSTON, MA
We appreciated how quick the first group arrived to help mitigate the water/moisture from our home. Within an hour of calling our insurance company SM was there on a Sunday. I also appreciate that the demo crew covered my personal belongings with heavy plastic and made a plastic room in part of the house to try and keep items clean. We also thought SM did a good job cleaning up at the end of each day. And the demo crew was able to save our countertops which should be a big help savings wise during the rebuild.
See All Reviews